(BPT) – According to AARP, 87 percent of adults age 65 or older and 71 percent of those age 50 to 64 want to stay in their current home and community as they age. The message is clear: Baby Boomers and Gen-Xers prefer to "live in place" as they get older. How can you best prepare your home's bathrooms for the future? Here are 10 tips to enhance any size bathroom with safety and style top of mind.
1. Raise the bathroom sink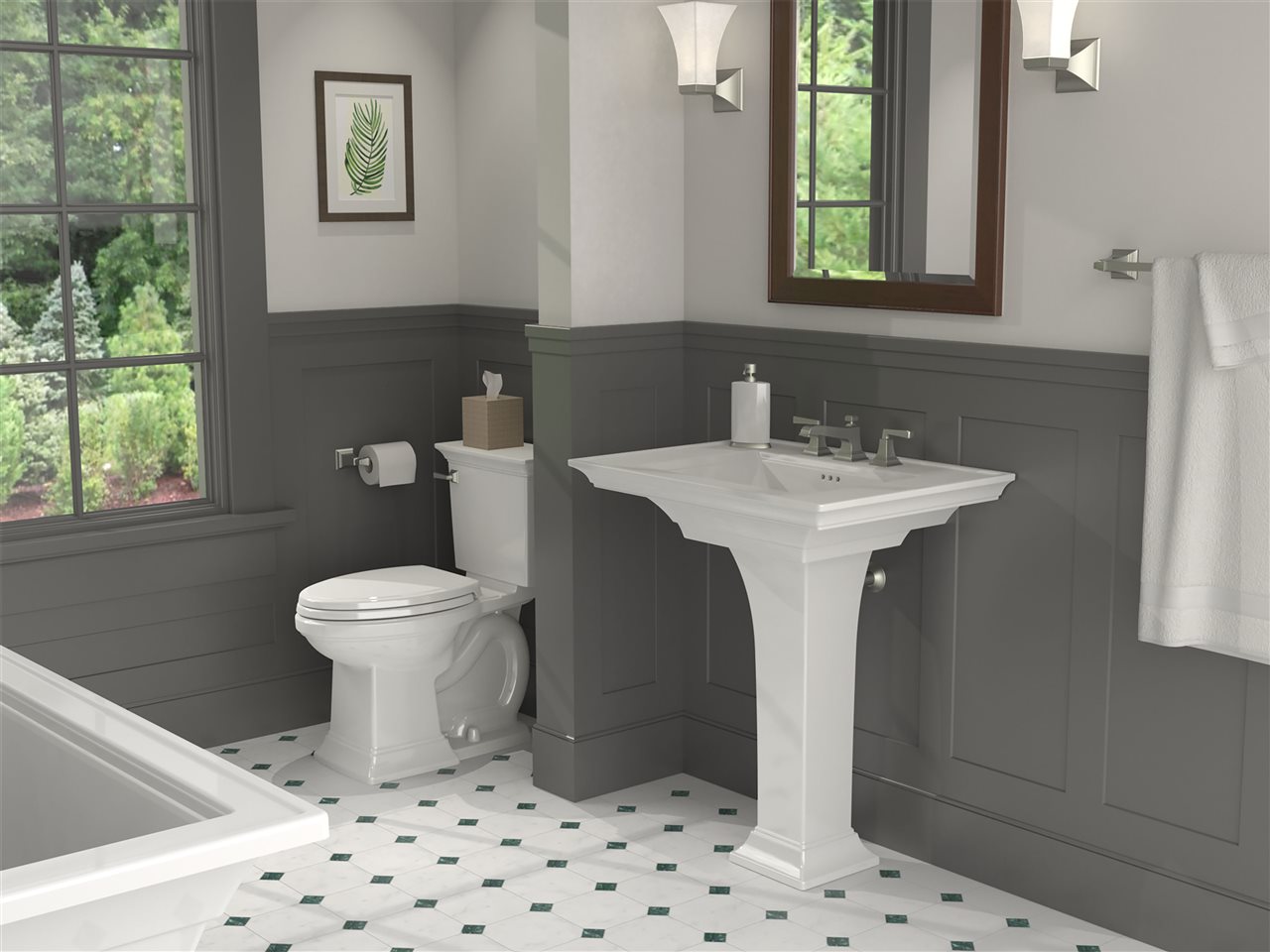 Standard sink height is about 30 inches. Taller sinks, like stylish pedestal sinks, offer a more comfortable 35- to 36-inch height, requiring less bending. Plus, they are a space-saving bathroom fixture that makes the bathroom look more roomy. Their classic design lines fit traditional and transitional settings and are ideal for living-in-place upgrades.
2. Replace older faucets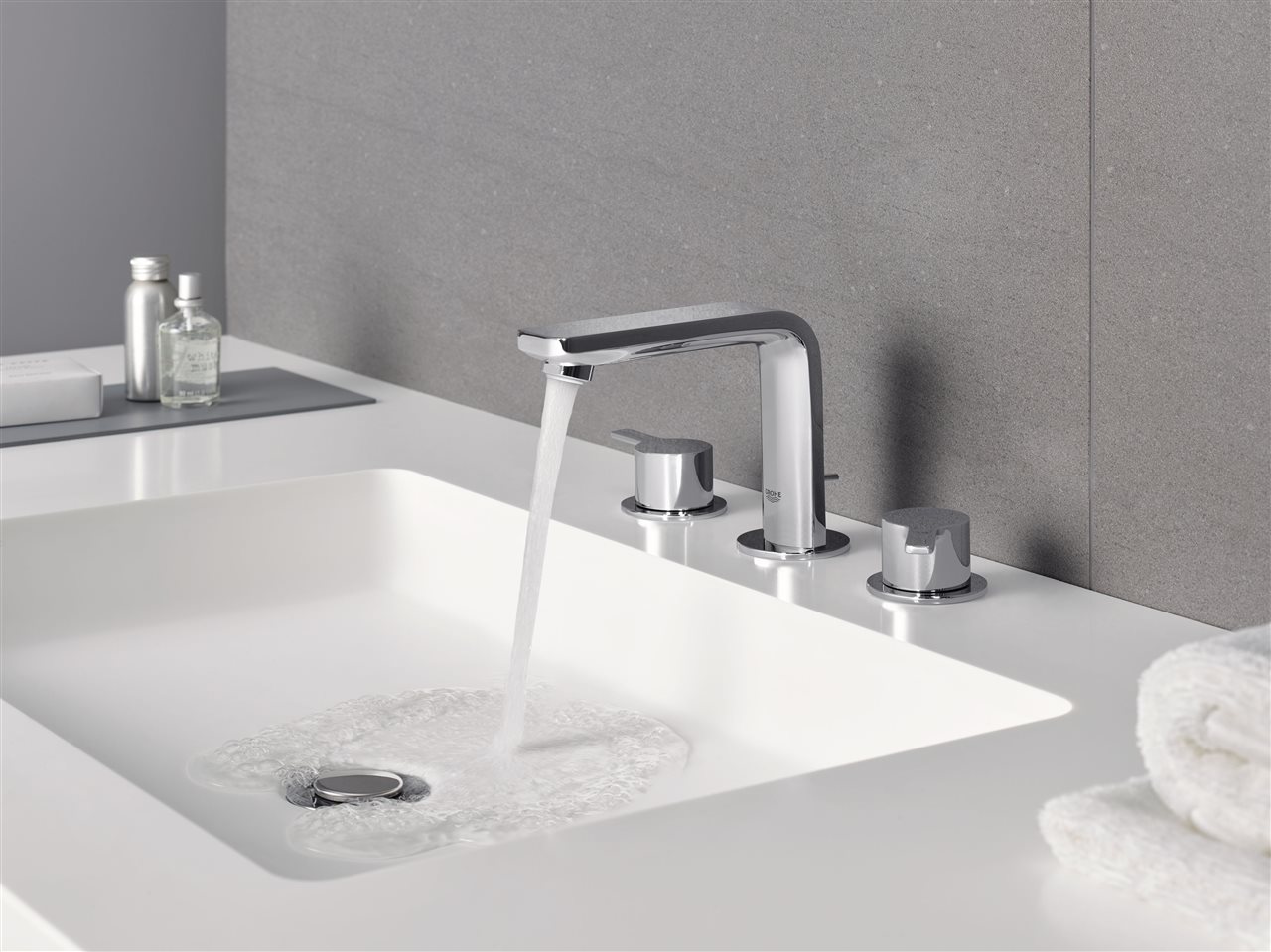 Conventional two-knob twist faucets can be difficult to manage for people with arthritis or decreased flexibility in their hands. Single-handle and lever-style faucets are alternatives that are convenient and easy to use. Check for ADA-compliant faucets that are simple to operate and suitable for guests of various mobility levels and ages.
3. Try a taller toilet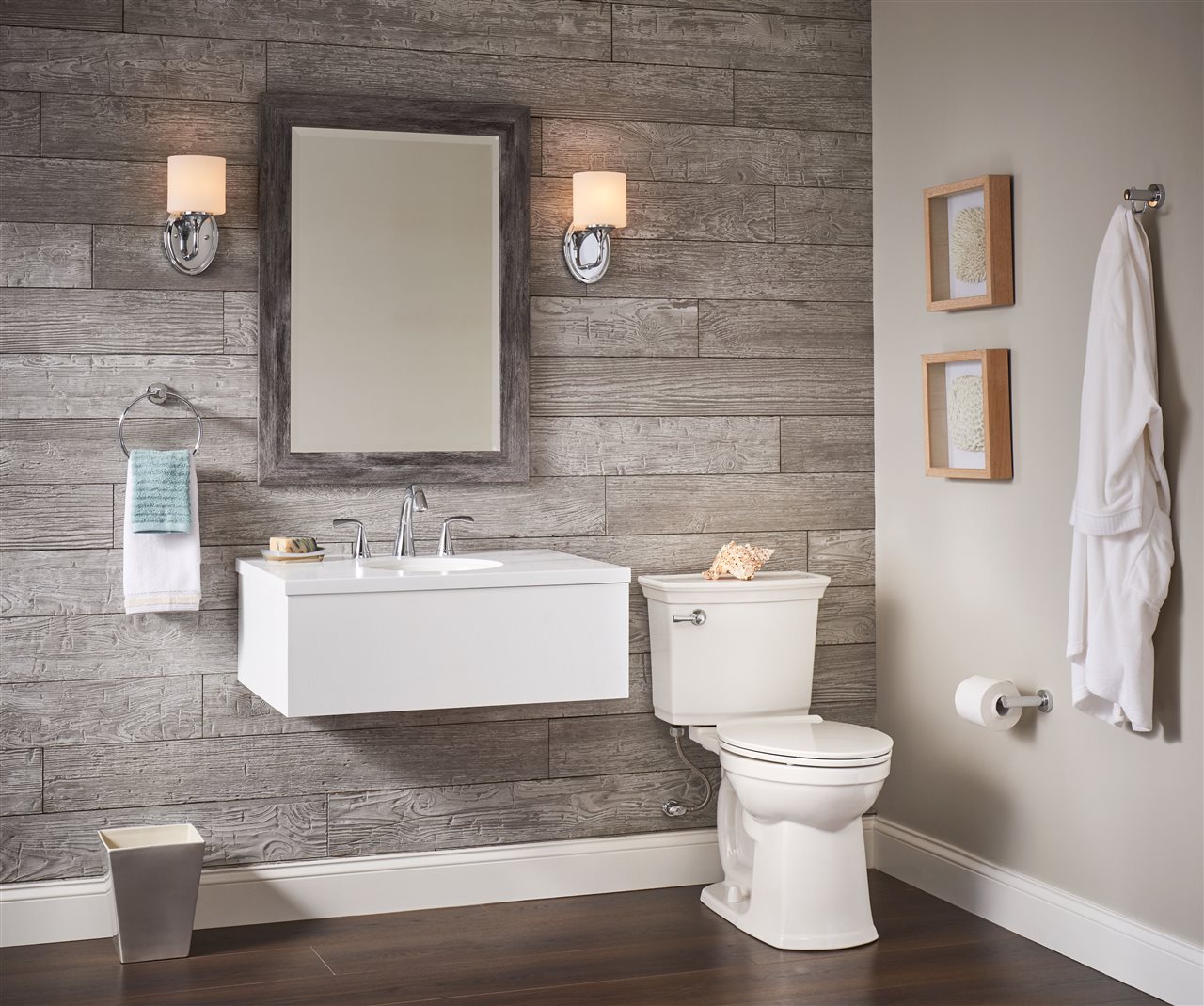 Standard toilets have a bowl height of about 14 to 15 inches. Universal design models are 16 to 17 inches high, which makes sitting down and getting back up less stressful on the body, and also can help prevent falls while using the toilet. Consider a Right Height toilet, like this VorMax Plus model from American Standard, which is taller and ADA-compliant.
4. Look at lighting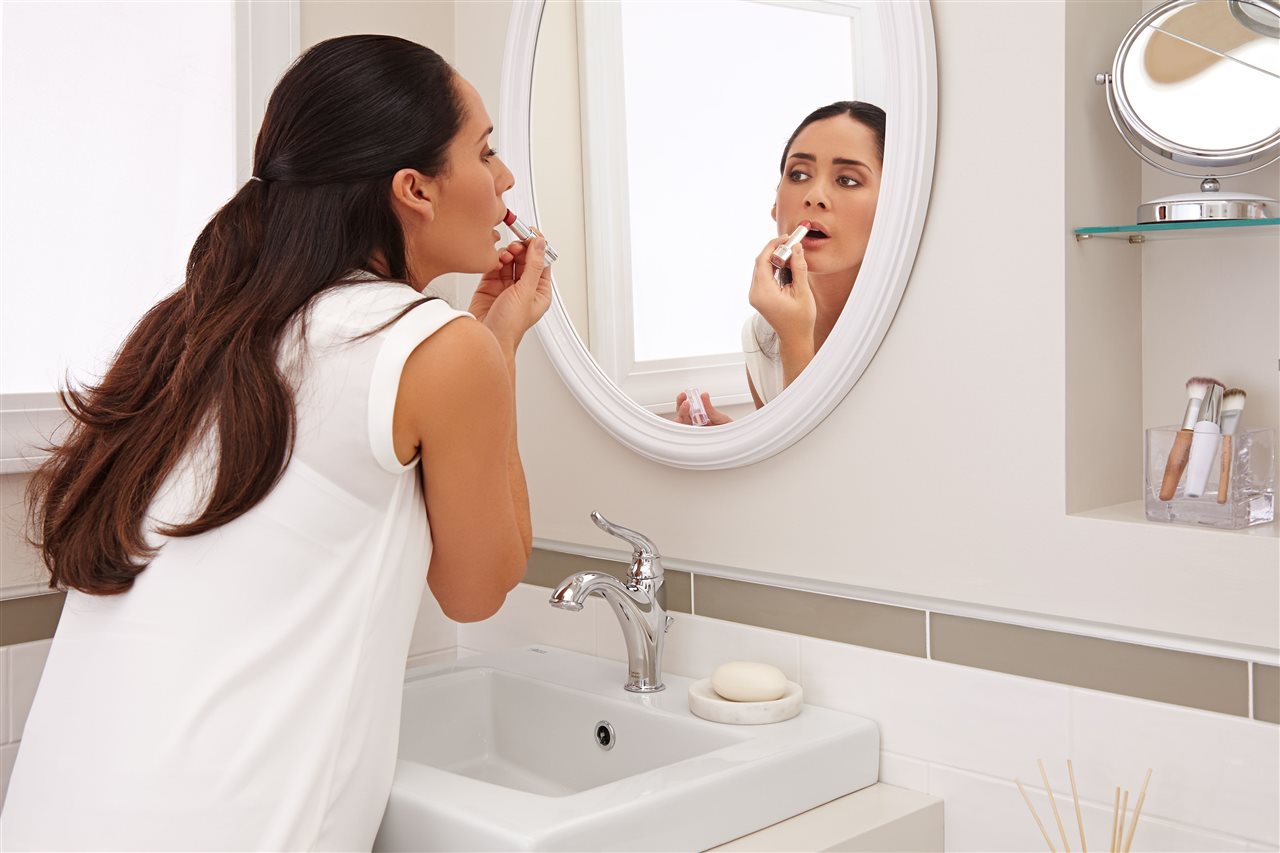 Bathroom lighting should provide ample illumination, while minimizing glare and shadows that can hinder depth perception. Waterproof lighting over showers and bathtubs can enhance visibility and safety for when you are climbing in or out of bathing areas. Natural light can also boost well-being and mood. Consider installing a skylight or replacing traditional window panes with options that provide privacy without blocking light, such as glass blocks or frosted glass.
5. Add a bidet seat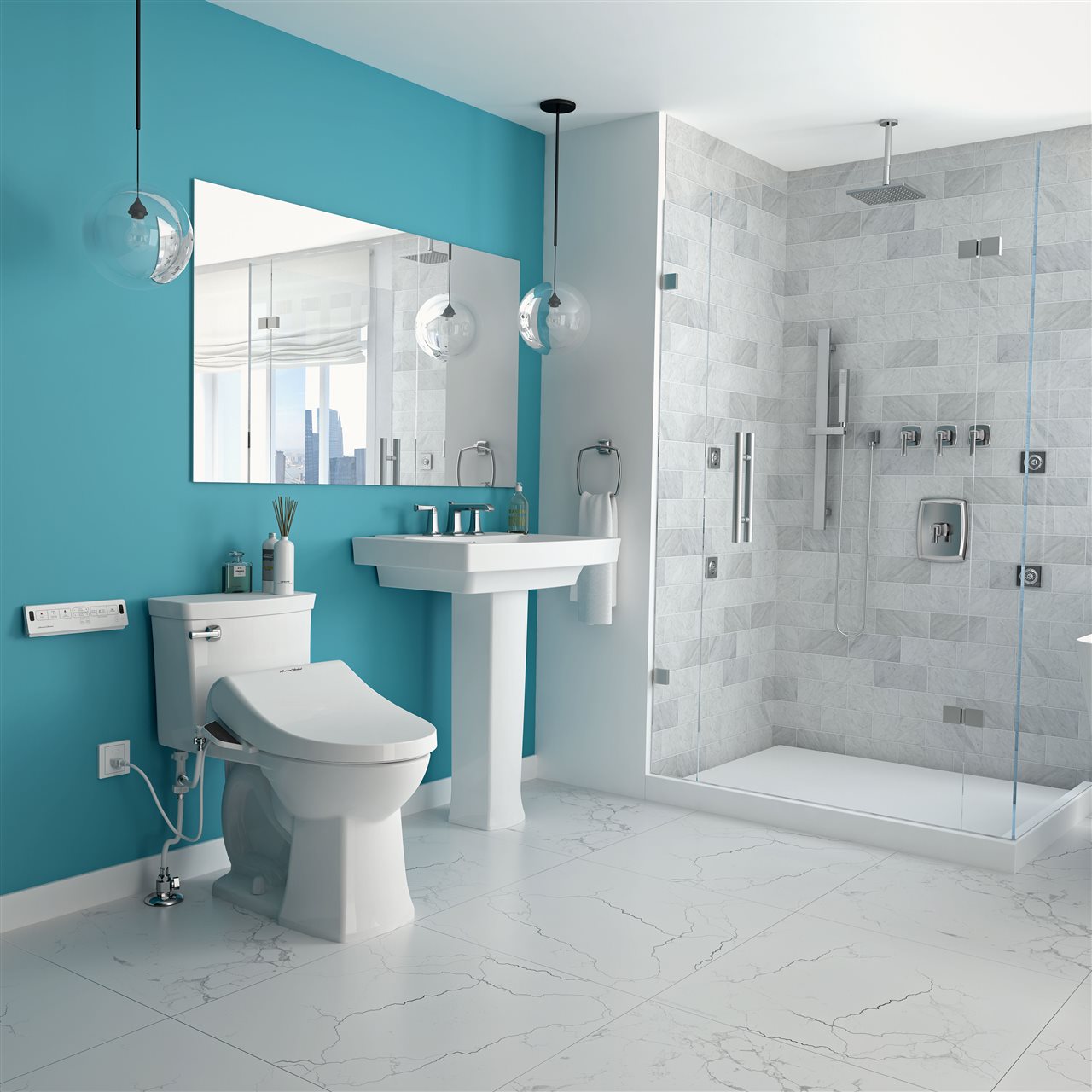 As you age, limited dexterity can make it more difficult to maintain personal hygiene. The SpaLet bidet seat from American Standard makes it easy to stay clean every time you use the bathroom. With a gentle, customized water spray, the seat offers the benefits that have made bidets popular around the world. Think about it: Why use paper that can spread germs when a more comfortable and hygienic alternative is available?
6. Limit hot water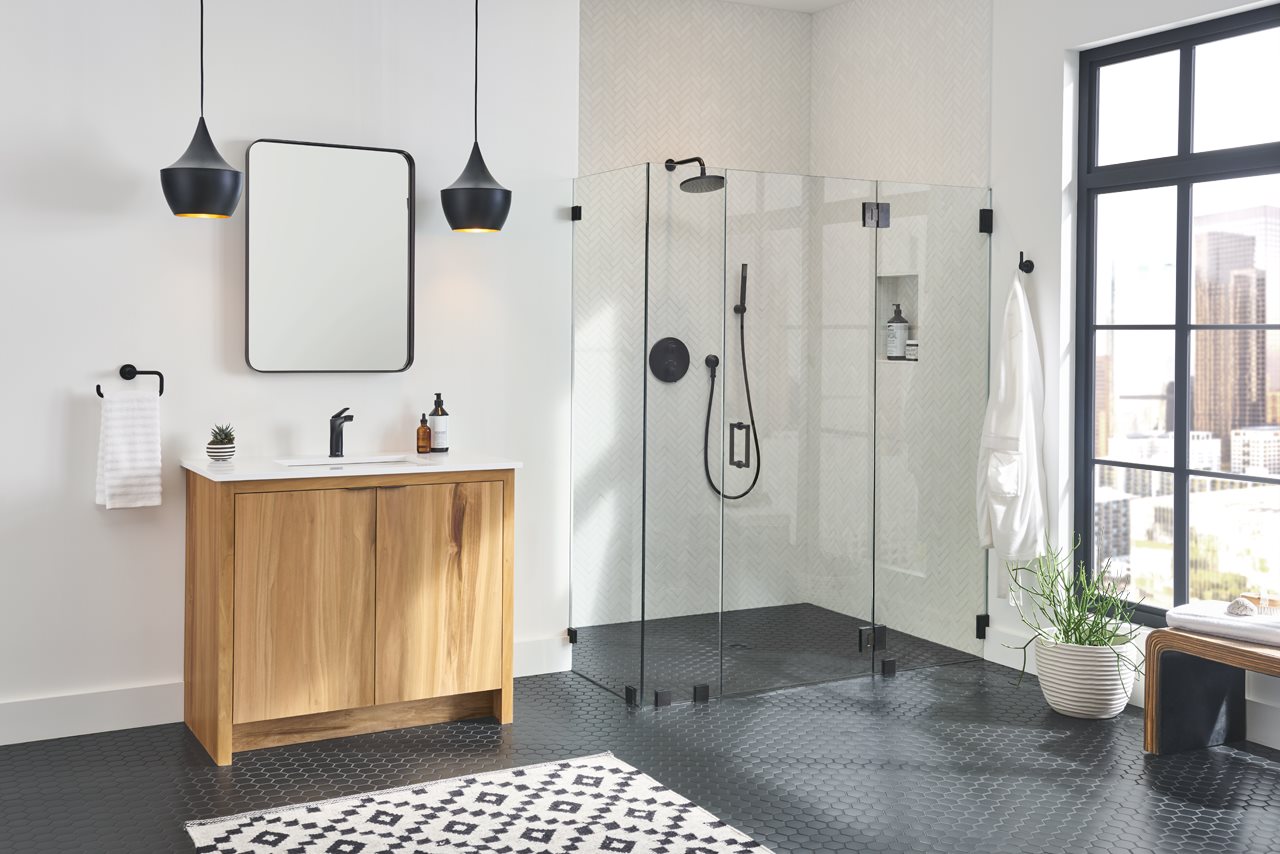 For single-handle faucets, be sure to look for a model with a hot limit safety stop, which restricts how far the handle can be pushed toward the hot side. The same thing goes for showers: purchase those with a thermostatic mixing valve that allows the temperature to be preselected. Both of these choices will prevent sudden changes in temperature that can scald the bather, and possibly startle him/her and cause a fall in the tub or shower.
7. Secure the environment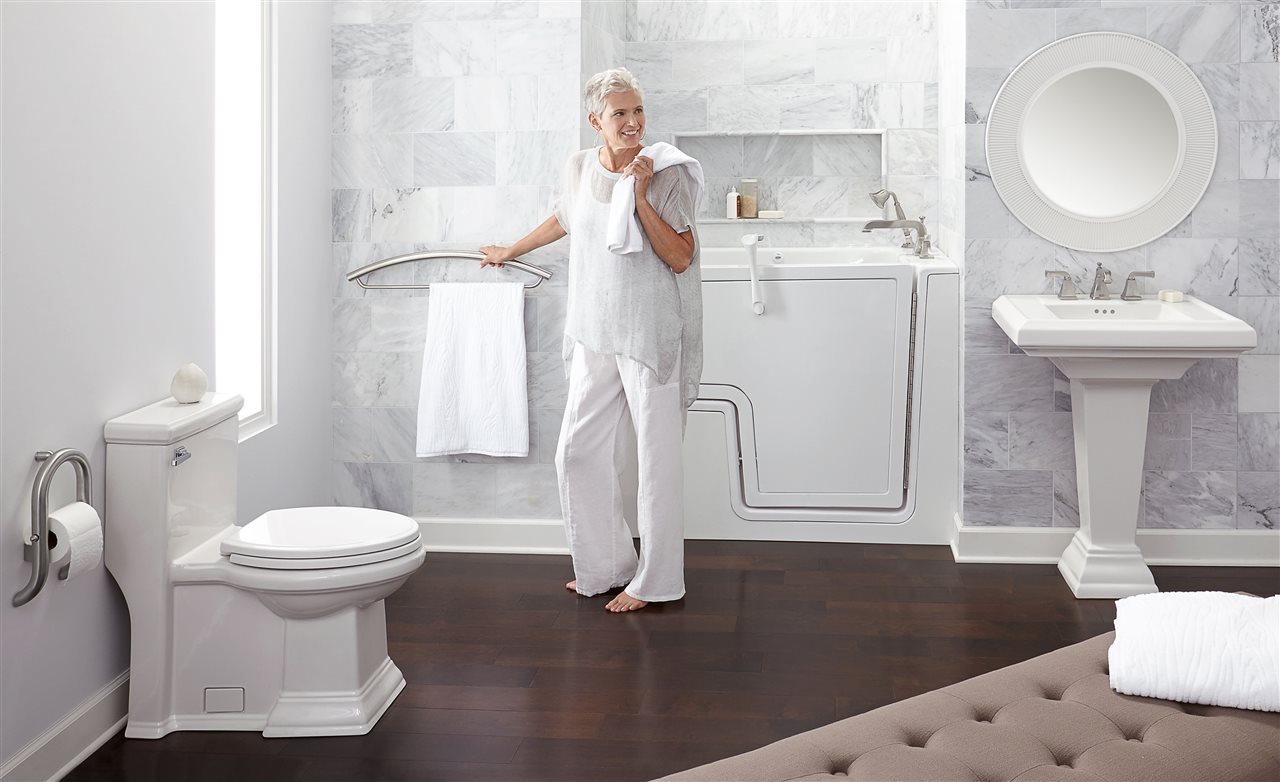 To minimize the risk of falls, install grab bars in showers, above bathtubs and around the toilet to help provide stability. Remove area rugs that may present a tripping threat in the main part of the bathroom. Consider replacing slick surfaces like smooth ceramic tile with slip-resistant flooring that provides a gripping surface, such as textured vinyl or tile.
8. Switch to remote control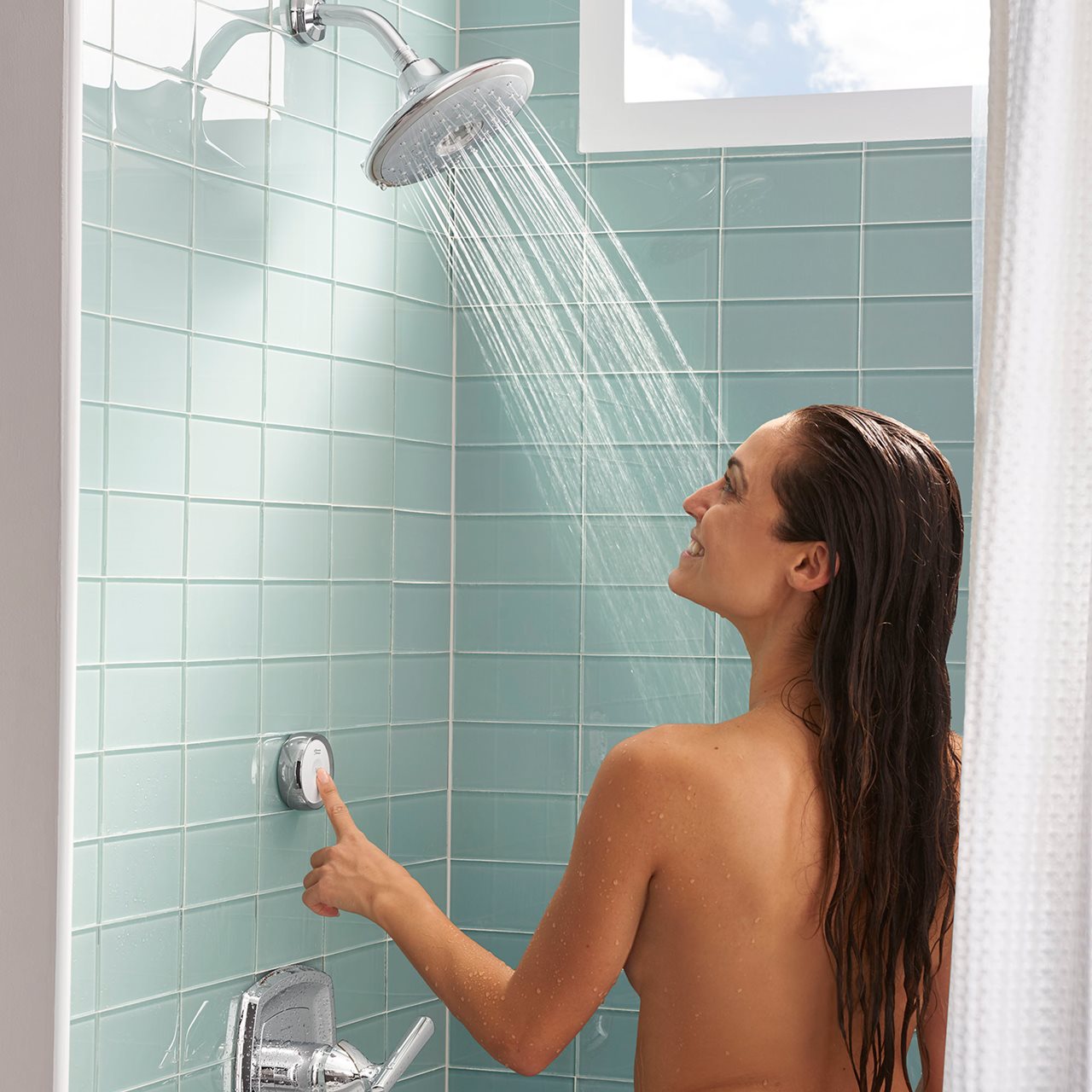 For universal design in bathrooms, an ideal addition is a remote-control showerhead. No more reaching for the showerhead, which can be difficult due to mobility or height issues. With the Spectra eTouch showerhead from American Standard, users can conveniently change spray patterns by simply touching the wall-mounted remote control. It offers the ultimate customization with an easy touch of a button.
9. Upgrade to a walk-in bathtub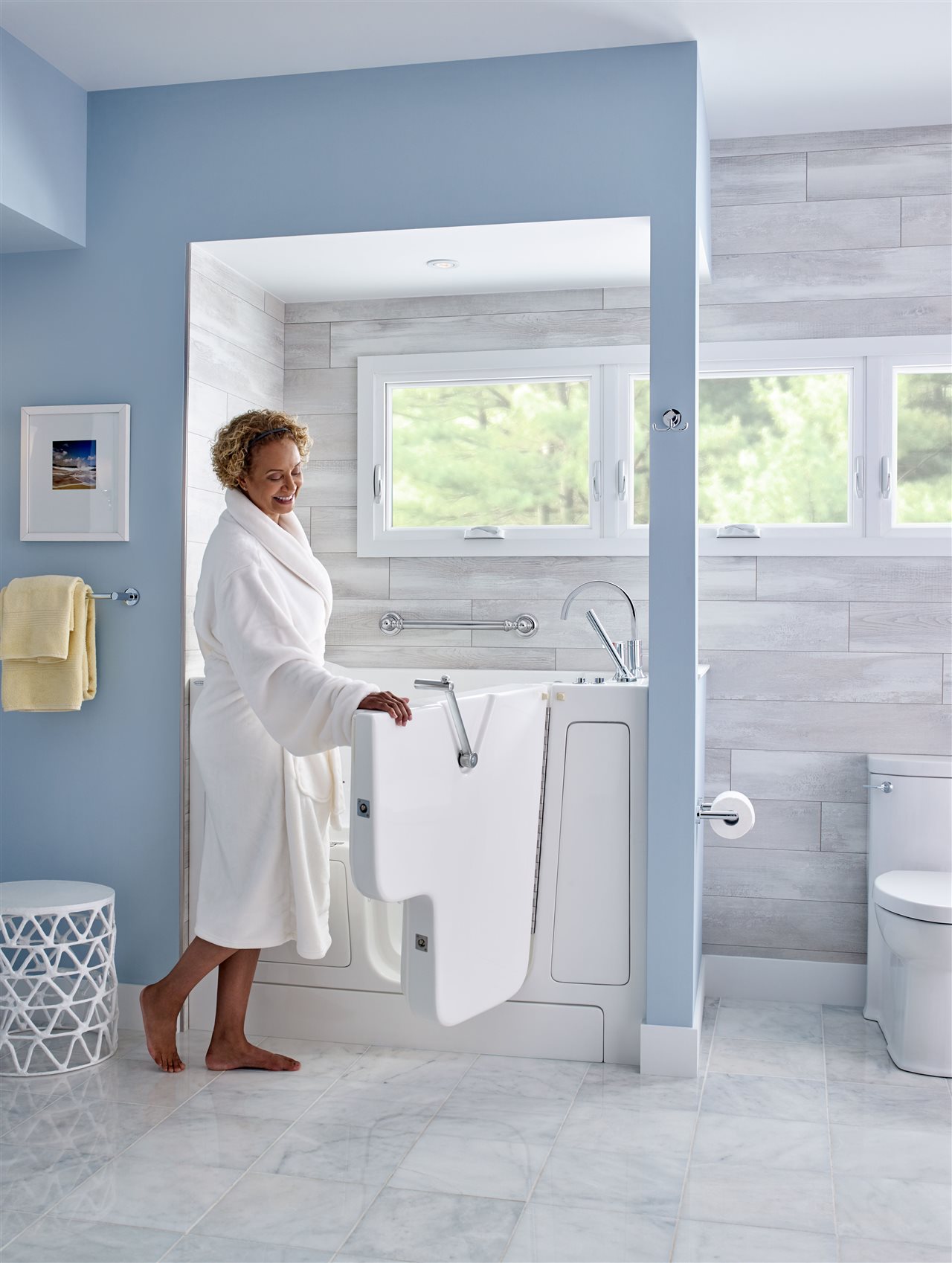 The Consumer Product Safety Commission estimates that on average more than 350 Americans suffer bathtub- or shower-related injuries every day. Whether it simply be from aging or immobility from an injury or disability, getting in and out of a regular bathtub can be difficult. A great safety option is an easy-to-access walk-in bathtub. They come in several convenient sizes and can be installed in the space of a regular bathtub – even under a window.
10. Consider a walk-in seated shower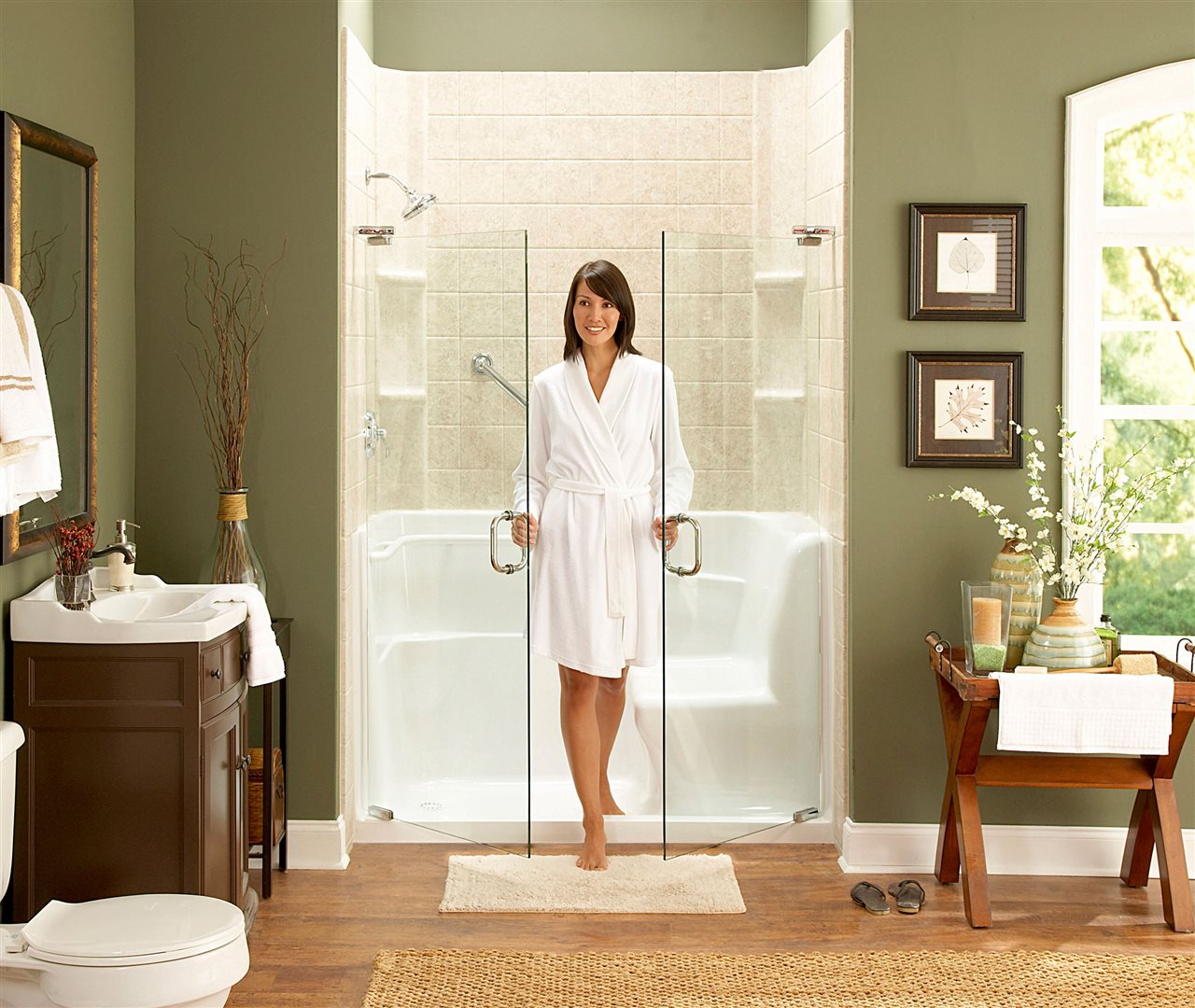 Installing a shower base with a durable, molded seat offers a variety of benefits over temporarily removable benches. These permanent seats are a comfortable chair height and allow the user to feel more secure than a movable bench. Consider seated shower models offering a low 3-inch threshold that allows for easy access in and out, with built-in wrap-around grab bars as an additional safety feature. A seating area with a recessed front makes standing or sitting while showering easier.
Upgrading your home to truly live in place is practical and rewarding, and will be for many years to come.