(BPT) – If you're looking to freshen up your living space, it's easy to get swept away in on-trend designs. But while trends come and go, savvy homebuilders and designers agree that there's one thing that never goes out of style: natural wood details, such as those crafted from a versatile species like cypress. Here are a handful of helpful tips to flip your home from drab to fab.
Accentuate walls
Photo courtesy Stephen Ellis, Everett Marc Dennison
For decades, accent walls have been a popular way to jazz up a room. But, today's homeowners are ditching bold paints in favor of a wooden backdrop that can create a cozy setting in any room. "A shiplap wall can completely transform a mundane room," says Stephen Ellis of MGB Fine Custom Homes in Sarasota, Florida. "I like working with shiplap cypress with a nickel gap. It's available in multiple grades — offering the perfect combination of visual interest and texture without being overbearing — and it stands up to dings and dents better than drywall."
Make a statement with ceilings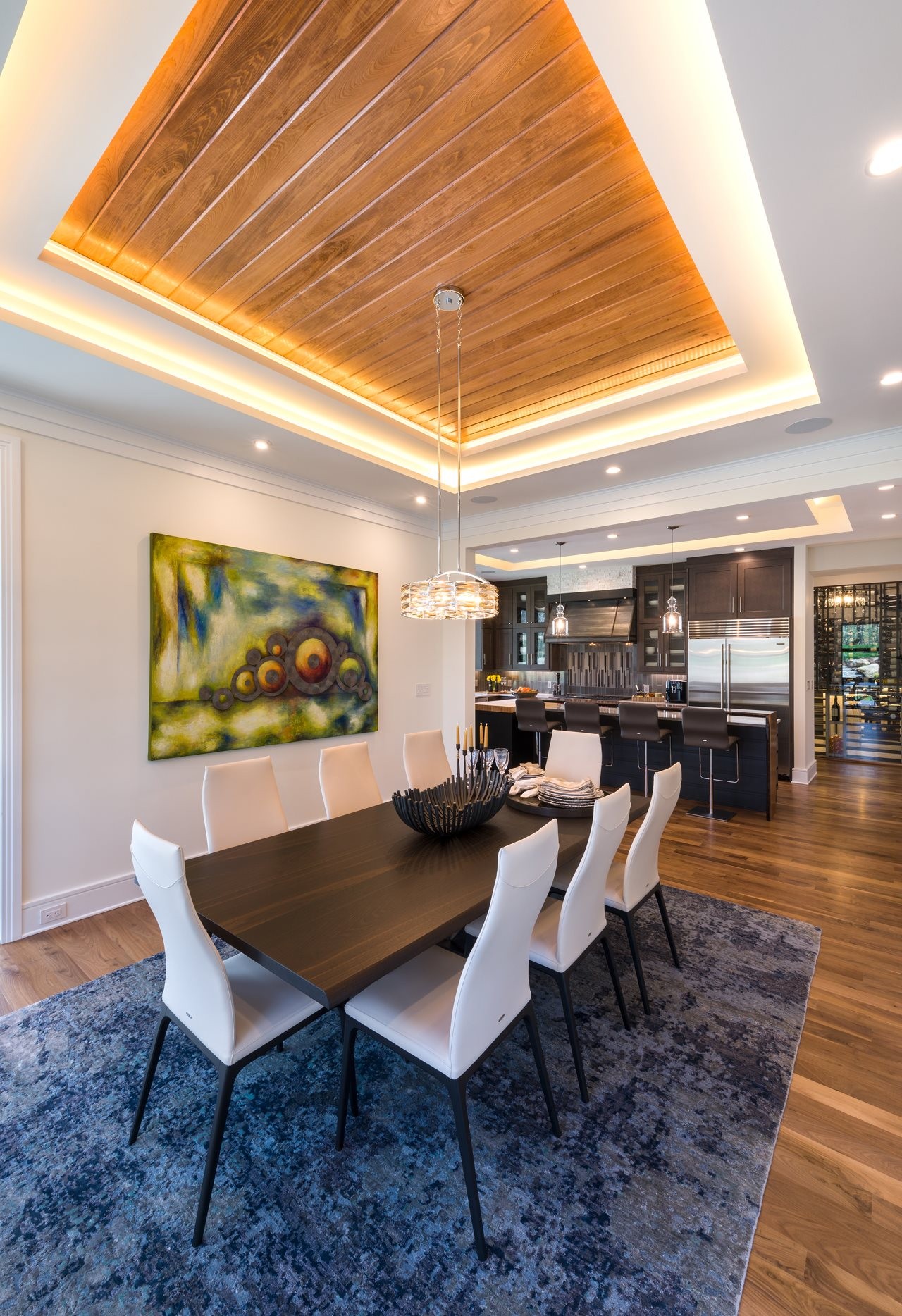 Photo courtesy Vicki Payne, For Your Home
Accent walls are one thing, but have you heard of statement ceilings? Top designers are crafting elegant ceilings with wood. "Cypress is lightweight and easy to work with, making it ideal for ceiling treatments ranging from planks and beams to intricate coffers," says Charlotte, North Carolina-based designer Vicki Payne. "I recently completed a chic dining room that features a tray ceiling enhanced with cypress. The wood, with its rich grain and natural color, is the showpiece of the space."
Top off the kitchen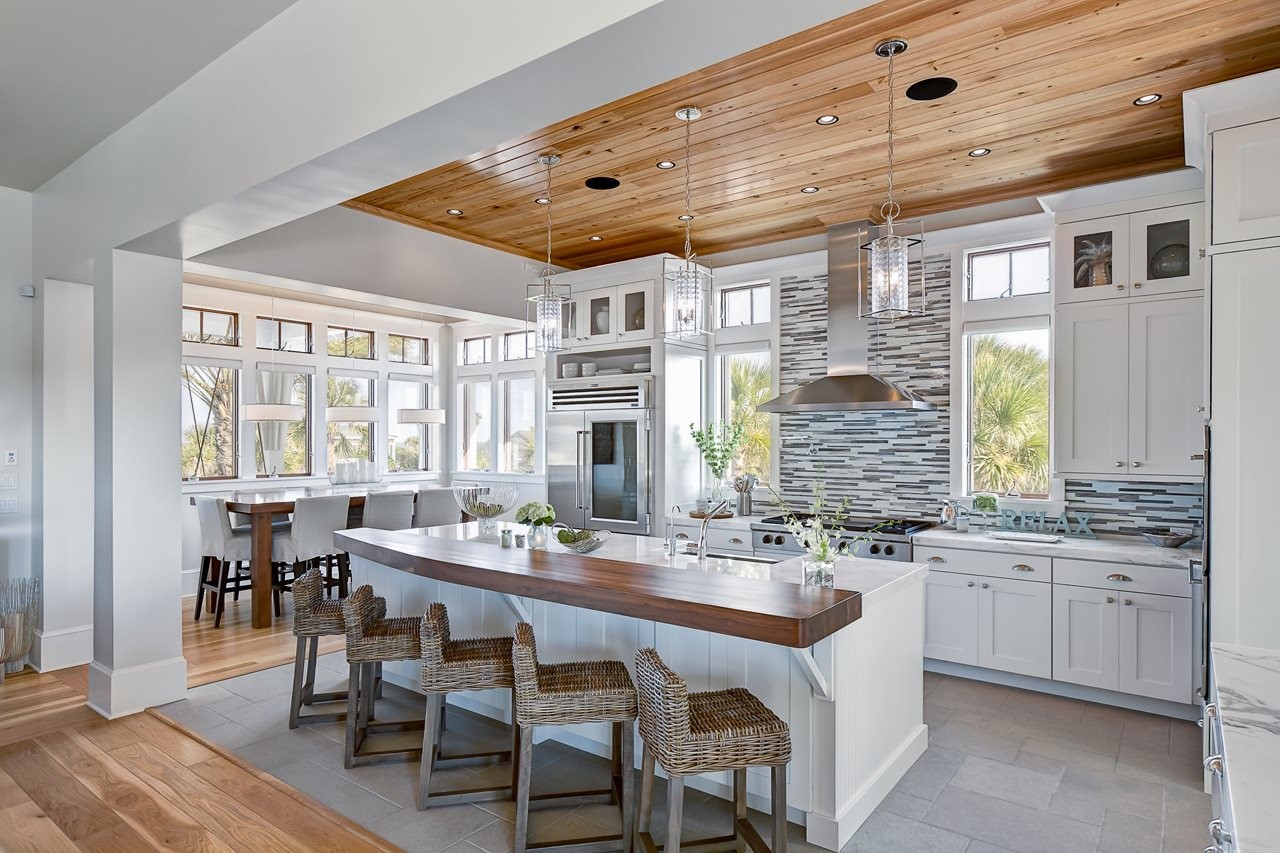 Photo courtesy Bultman Architecture, Adam Cohen
When it comes to designing the heart of your home, architect Michelle Bultman from Stuart, Florida, relies on a few principles. "Simple lines, uncluttered counters and modern materials," she says. "Overall, I believe simplicity is the ultimate form of elegance, but ceilings often offer untapped potential in kitchens. I prefer working with neutral tones — whites and grays — on most surfaces, but introducing a wood element, such as a tongue-and-groove cypress ceiling, can add complementary warmth and character to an otherwise cool, modern palette."
Rethink doors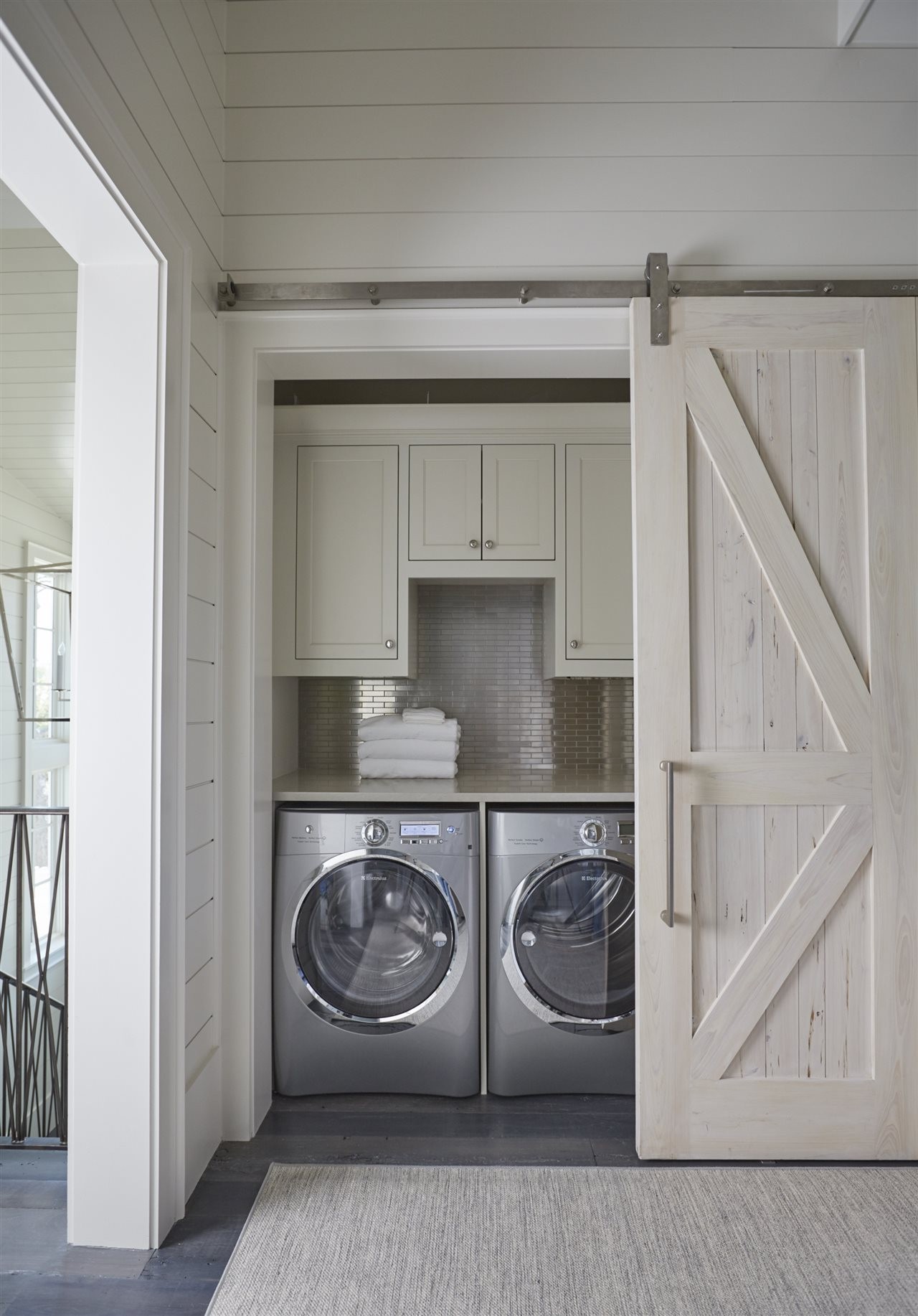 Photo courtesy Geoff Chick, Colleen Duffley
If simple swinging doors are too basic, consider installing an eye-catching barn door instead. "I've been including sliding barn doors in many projects," says architect Geoff Chick from Santa Rosa Beach, Florida. "They work great for closets, laundry rooms, wet bars, room partitions and other semi-private spaces. Most often, I custom fabricate barn doors out of cypress because of the wood's natural beauty and ability to accept a variety of finishes."
Enjoy the outdoors
Photo courtesy Stephen Ellis, Everett Marc Dennison
Outdoor living space is one of the most sought-after features in a new or renovated home. And when it comes to specifying materials to create stunning spaces, Stephen Ellis chooses cypress. "With porches and patios, ceilings are often an afterthought," he says. "I like to add a finished look with cypress for multiple reasons. First, not only is cypress naturally resistant to insect infestation, but it's also an incredibly stable wood that performs well in areas with constantly changing humidity levels. One of my recent projects is all cypress — porch ceilings, beams and board-and-batten siding. Cypress' natural characteristics and good looks enhance the relaxing vibe almost as much as the ocean views."
"Wood is a timeless building material," says Mark Tuck of the Southern Cypress Manufacturers Association, "and when you're talking about a versatile species like cypress, it provides aesthetic warmth, lasting value and dependable performance in — or out of — the house. Small upgrades can make a big impact, —and they're more affordable than a full-on remodel."
Is it time to upgrade your living space? Think cypress! Visit www.CypressInfo.org to get inspired.