(BPT) – Few would argue that the kitchen is one of the most important and most utilized rooms in the home. In recent years this vital space has evolved from a place to prepare food and clean dishes, to a gathering spot for entertaining, doing homework, paying bills and catching up on the evening news. And, with the change of purpose comes a change in layout, flow, amenities and decor features for this heart of the home.
Danze, a manufacturer of high-quality kitchen faucets and accessories, creates a range of products that make this room stylish, functional and enjoyable. Here are a few examples of how homeowners are revitalizing their kitchens to accommodate the many demands they bring to the room:
1. Brighten your kitchen: go white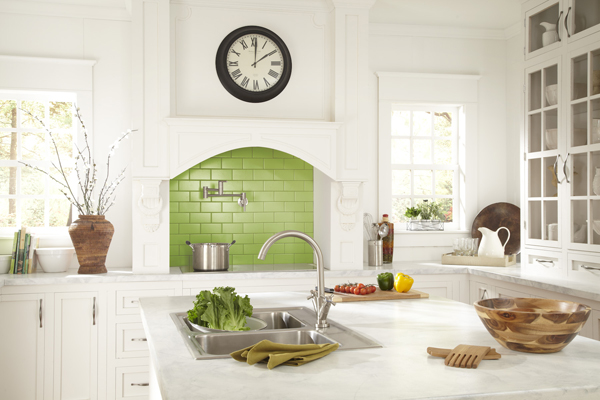 Smart uses of color add flavor to the brightness of a white kitchen.
White counters. White cabinets. White walls. Oh, and a little splash of color at your discretion. Many homeowners love the crisp, bright look and happiness that white brings to this typically busy room.
2. Maximize and create much needed work space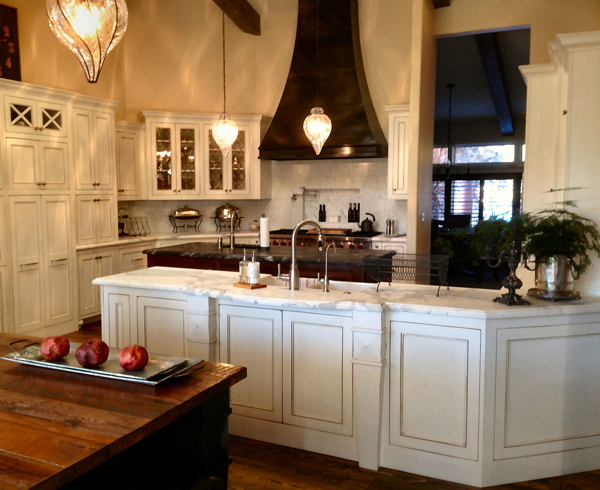 Room designed by Board by Board Design.
If your home depicts the old adage "too many cooks in the kitchen," then take matters into your own hands. Create added workspace. This kitchen offers two island settings (each with a faucet/sink combination) as well as other working surfaces. For a unique look with personality, note the contrast in color between the islands.
3. Hard-working faucets for hard-working kitchens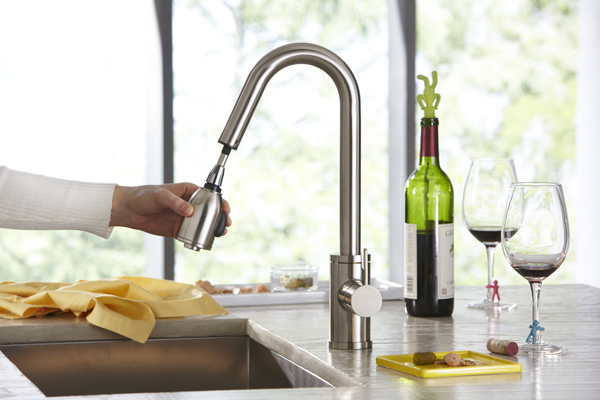 The Amalfi Pull-Down Faucet from Danze
One of the elements under the most pressure in today's kitchen is the faucet. Pull-down and pull-out faucets add an important level of functionality and convenience to any sink environment – whether it's your main sink, an island sink or a convenience/bar area.
4. The more the merrier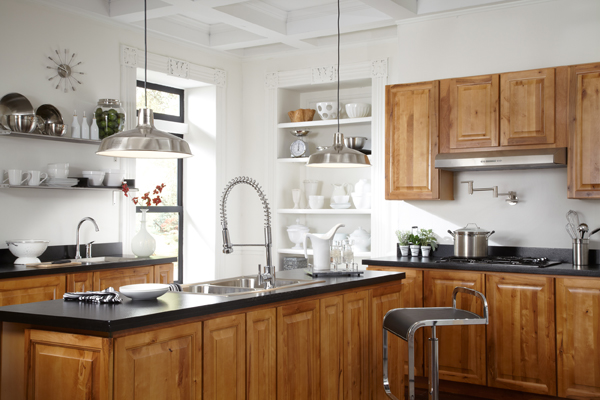 Pre-rinse faucets and pot fillers are two examples of adding extra convenience and style to a kitchen.
Creating dedicated task areas within the room adds functionality and efficiency and sometimes keeps you from stepping on each other. Sink and faucet pairings in this room feature a main sink with commercial-grade pre-rinse faucet, great for those in-home chefs, a supporting sink in the back and a pot filler over the stove perfect for filling pasta pots and other cooktop tasks.
5. A layout for today's busy family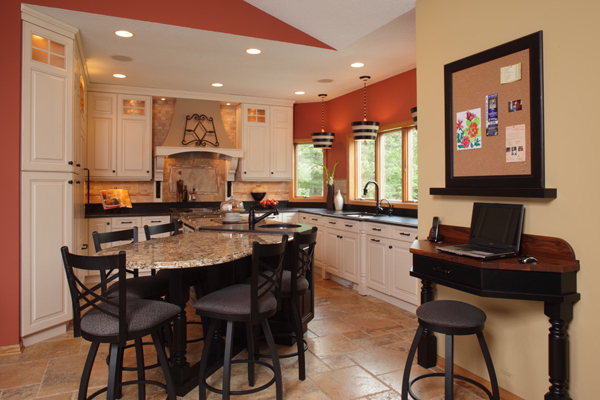 Kitchen created by Sawhill Custom Kitchens and Design
Parents are known for their multi-tasking abilities. Cooking dinner, overseeing homework and preparing to rush out to soccer practice are part of each evening's schedule. So why not let the layout of your kitchen make multi-tasking a bit easier? This kitchen was built around using space in a smart way, providing areas for a "typical" family's daily routine: an extended island for work space, a desktop area for homework or bill paying, and island sink so mom/dad can prepare meals or clean up while overseeing the entire operation.
6. Pot fillers add style and convenience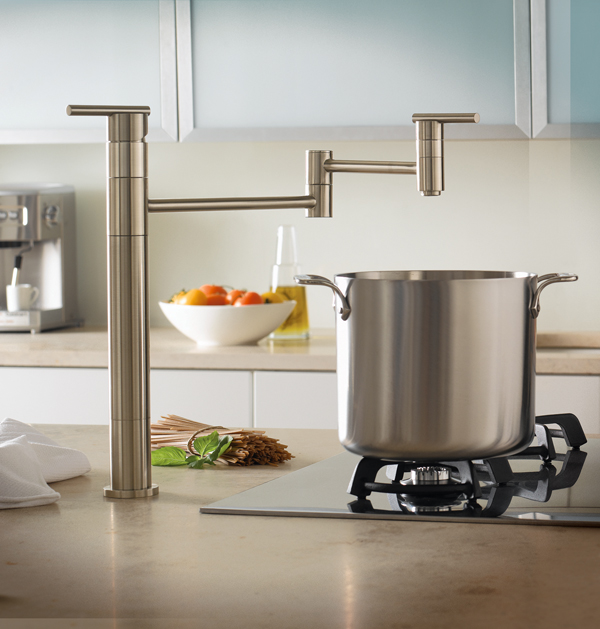 This contemporary pot filler brings convenience and style to an island setting.
If convenience is a priority in your kitchen, a pot filler might be just the thing for you. Typically situated on the wall behind a stovetop, pot fillers are great for adding a splash of water to a sauce pan, filling large pots or beginning the pre-rinse of a greasy frying pan. Danze is one of the few manufacturers that also makes a pot filler as a deck mount option – great for center islands.
7. Keeping your fingerprint on the design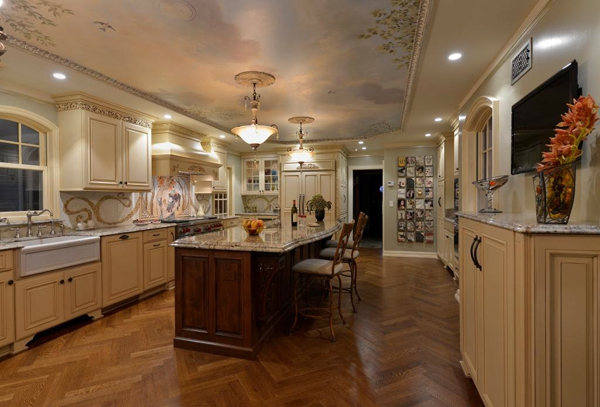 Kitchen created by Solara Designs
Decor and style within today's home is a very personal selection. And it should be. Your home is your reprieve and a true reflection of the life you live. Whether you favor a traditional feel or a more modern environment, adding an individual touch to your kitchen is key. It might be attention-getting flooring, a mural on the ceiling, a farmhouse sink or one of the many unique attributes featured in this kitchen.
8. A technically advanced kitchen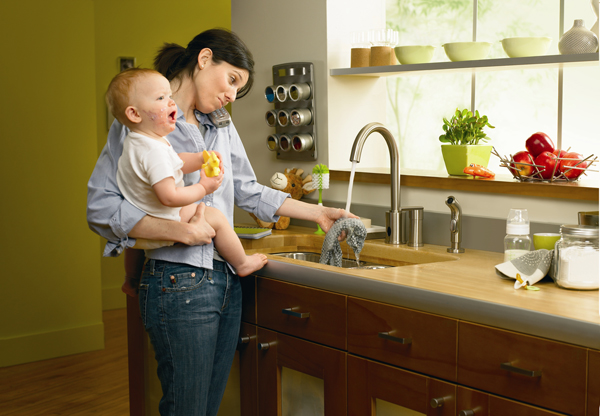 Dual controls on the Danze Parma Hands-Free Faucet allow you to choose between lever and motion-activated settings.
More and more homeowners are integrating technology into their kitchens. For some, it's a tricked out refrigerator with an integrated TV screen, for others it's a tablet or SmartPhone system that manages recipes and grocery lists. Technology also has a role within the faucets. This Parma Hands-Free Faucet utilizes a motion sensor to make even the most difficult tasks at the sink a bit easier.