(BPT) – Let's face it, the kitchen — and dining room — is the heart of your home. It's where you gather with family to nourish your bodies and hearts, enjoying a meal together every day. Whether you have two separate rooms or a kitchen/dining room combo, this part of your home gets a lot of use — and deserves a lot more love.
Why not update these rooms, making bold plans to refresh the look and feel of these important spaces? Even simple DIY updates can completely transform your rooms, making them brighter, more stylish and more welcoming.
Here are five ways to revamp your best-loved rooms.
1. Start with the foundation
Floors set the tone for any room, so choose a color palette that suits your style and brightens the room. Because the flooring in rooms where you cook and eat takes a lot of abuse, it needs to be functional and easy to clean.
The latest trends favor hardwood floors or laminate flooring resembling wood. Many flooring choices of today are lighter, natural-looking and easy to maintain. If you have an open plan kitchen/dining room, use the same flooring for the entire two-room space, but consider an area rug under the dining table to reduce noise and create a homey feel.
2. Look up for inspiration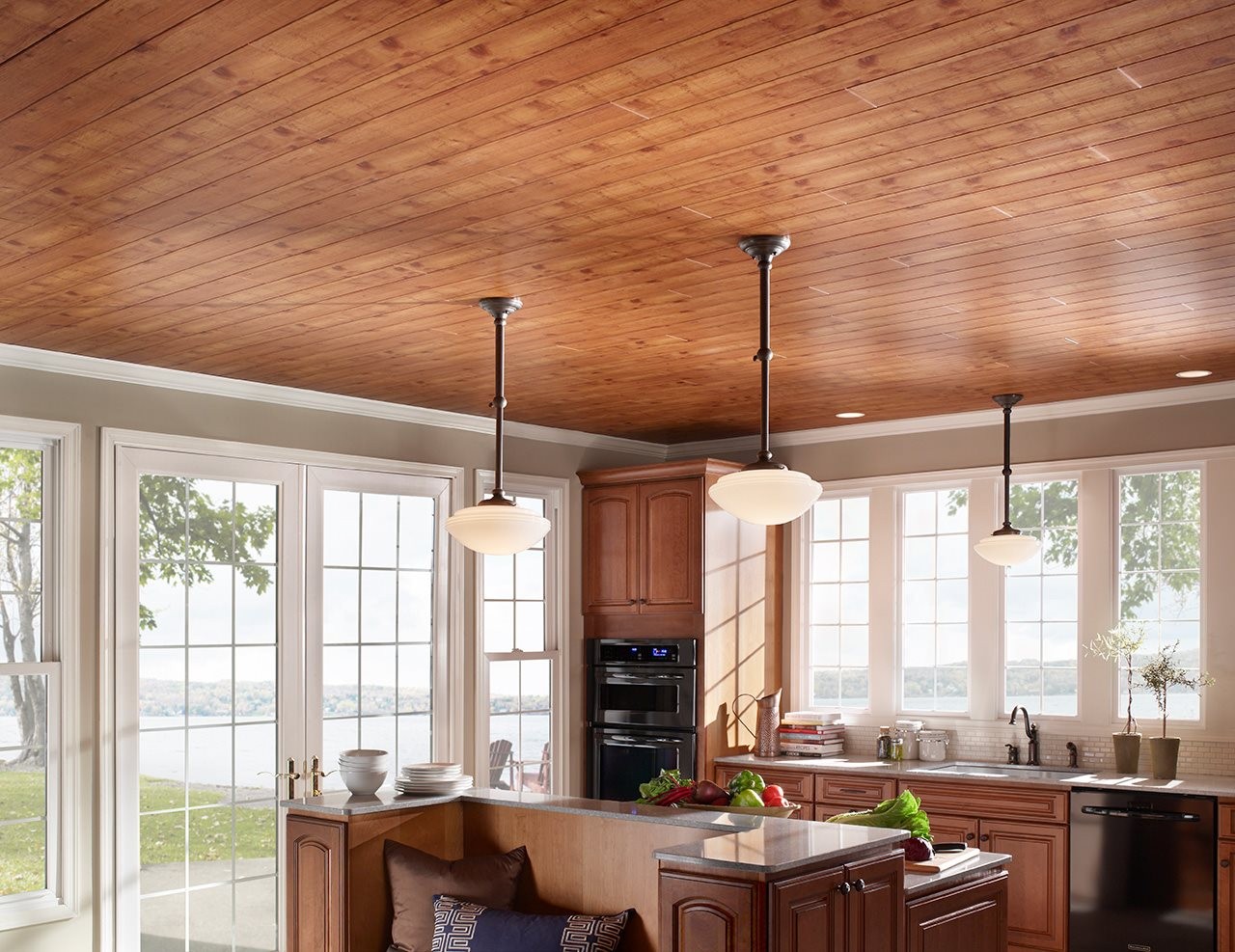 Your kitchen ceiling has probably seen its share of smoke and grease over the years, and may no longer look its best.
If you have a popcorn ceiling (or stained and damaged drywall or plaster) making your room look outdated, it's time to trade the frumpy, bumpy texture for something stylish and inviting. Removing popcorn ceilings is messy and time-consuming, but usually unnecessary, because you can easily cover it with Armstrong Ceilings surface mount products. Most options install over an existing ceiling using the Armstrong Easy Up track and clip system or adhesive. In one weekend, you can hide an ugly ceiling with a decorative one that will completely change the room's appearance. Most ceiling styles are affordable, and you can choose from many styles and hues, including the naturally beautiful, realistic wood-look WoodHaven options.
3. Change up your walls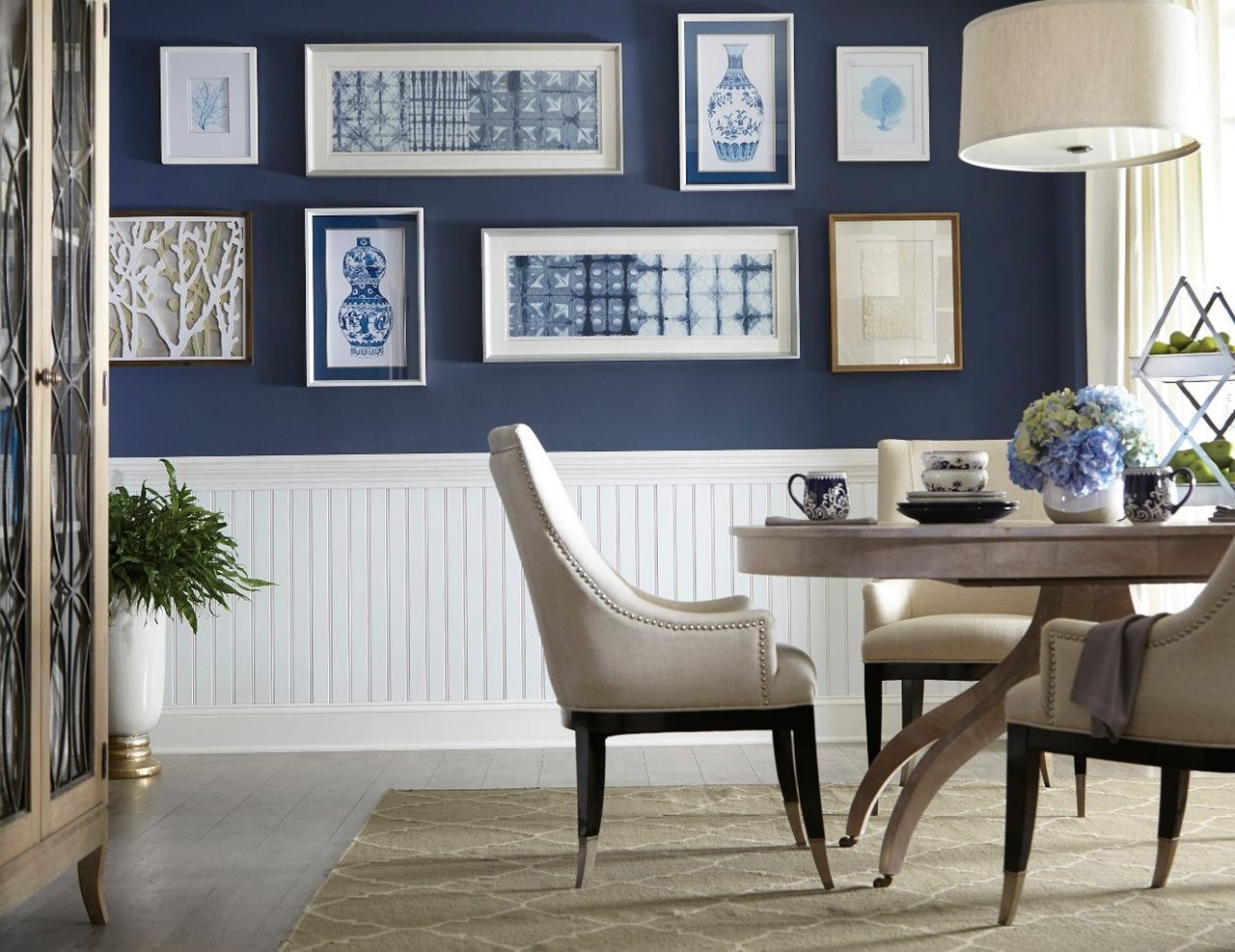 As real estate agents will tell you, nothing alters the look of a room faster than applying a new coat of paint.
Traditional paint colors for kitchens, such as timeless white, have been taken over by deeper, more vivid shades of green or blue, or interesting shades of rose, orange or even reds. The old rules are out the window, so let your preferences, along with your imagination, be inspired by the lighting and furnishings you already have. Consider adding visual interest or old world charm to dining room walls by creating a wainscoting with Armstrong's WoodHaven planks.
4. Find a focal point
For your dining room, consider painting an accent wall a complementary color, highlighting the placement of a favorite hutch or buffet cabinet.
Create a beautiful backsplash as a focal point for your kitchen using Armstrong's uniquely patterned Metallaire panels. If you have a kitchen island, or plan to add one, you can also use architecturally interesting Metallaire panels to make an accent cloud directly over the island. The real metal ceiling panels and accessories come in copper, brass, chrome, white and lacquered steel finishes.
5. Rethink your window treatments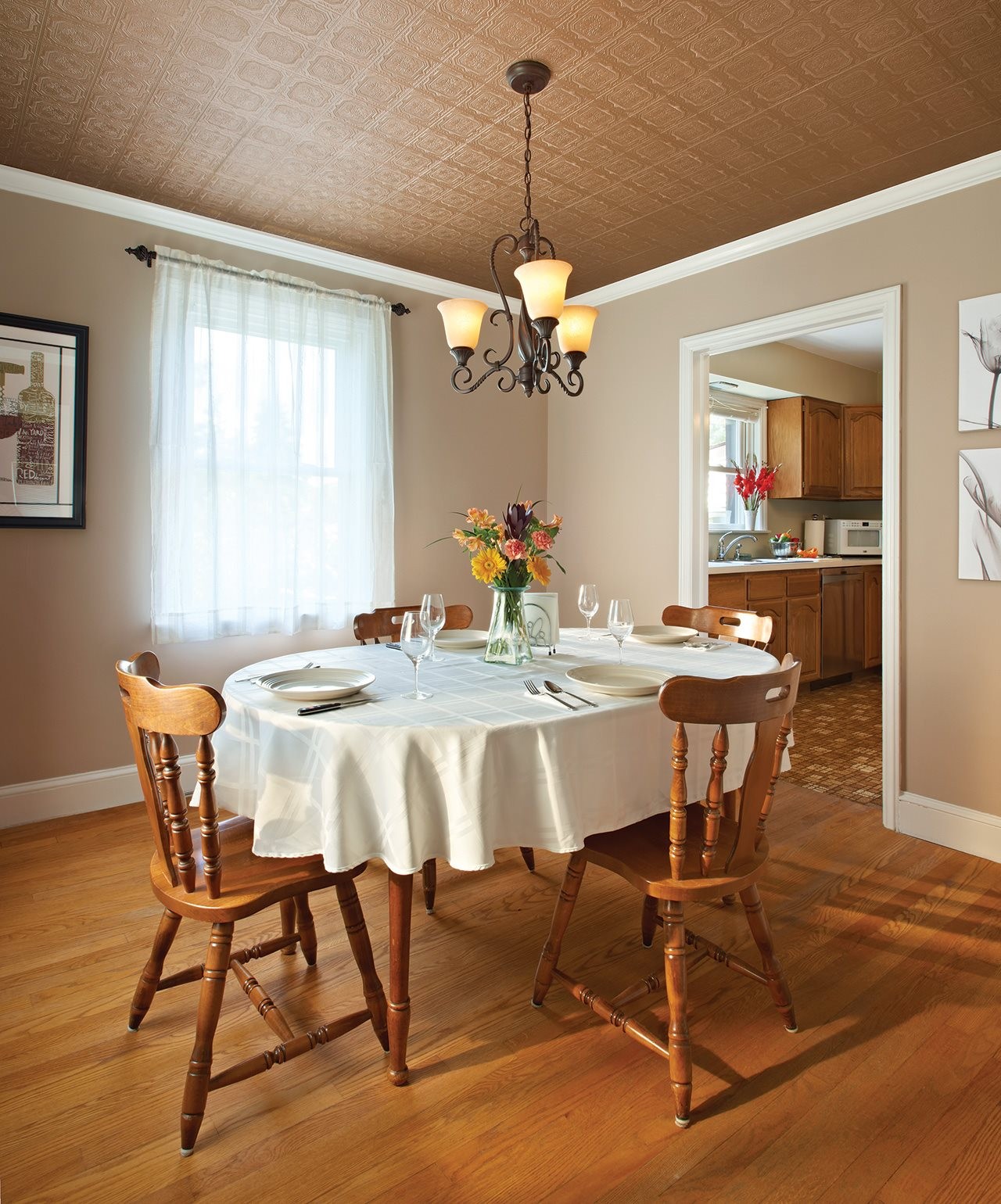 This year's trends see mixed materials and approaches, even in one room, depending on the look you want.
One creative innovation is using window decals in a variety of colors for an appearance similar to stained glass, or frosted films that let in light while creating privacy. Mix that approach with neutral, white or woven shades to dress up windows and further control sunlight and privacy. For a more rustic or country look, trends favor patterned shades or valances in colorful abstract, floral or gingham designs. Or if you're looking for a more minimalist approach, try sheer off-white curtains or solid-color shutters to contrast with your wall colors.
Whatever your time commitment or budget, any of these approaches will result in a refreshing new look for your two favorite rooms. Just imagine if you can try two or three of them — your family may not recognize your revamped kitchen and dining room.