(BPT) – Wondering if you should have a bathtub in your bathroom? Despite trend reports that say some homeowners are removing bathtubs, House Beautiful recently reported that there are good reasons to have a bathtub in your home. They make sense for families since children rarely take a shower. For everyone else, few things are better for self-care than a nice, long, deep soak.
Keep in mind there are so many size and function considerations in choosing a bathtub that it makes sense to start with space considerations. Do you want to replace your current tub and keep the same "footprint" or are you seeking a larger or freestanding tub?
Here are some bathtub options to consider:
1. Alcove tubs
The most common types of bathtubs are alcove tubs, which have three sides attached to the wall. Also known as recess tubs, they are often the best option for smaller or moderately sized bathrooms. You can find alcove tubs such as the Studio bathtub from American Standard with a depth of more than 22 inches, allowing a deeper soaking experience than typical alcove tubs that are only 15 or so inches deep.
2. Freestanding tubs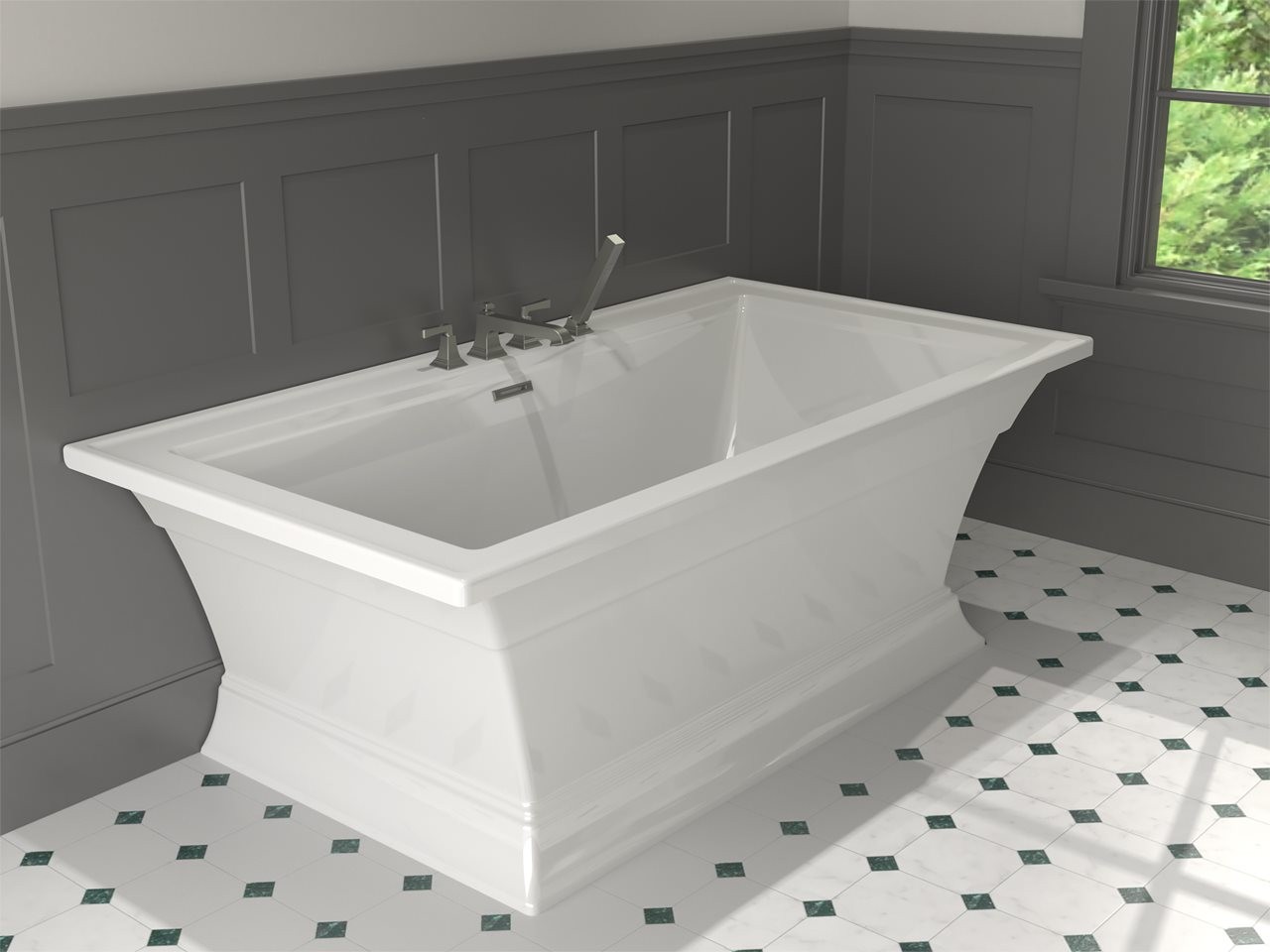 For larger bathrooms, freestanding tubs can be a sculptural and striking centerpiece. Bathrooms limited in space still have options to have a freestanding tub. The Town Square S freestanding soaking tub from American Standard is an eye-catching option with a flat back, so its stately design delivers an eye-catching look installed flush against a wall.
3. Drop-in and undermount tubs
Both of these bathtub styles involve a platform surrounding the tub, so they are ideal for whirlpool tubs because the pump and piping are concealed. Drop-in tubs are "dropped" into a fabricated platform. With a self-rimming finished edge that sits flush at the height of the platform, the tub and its weight are actually supported by the subfloor underneath. Undermount options also drop into a platform, but the lip of the tub is sealed under the deck of the surrounding platform. This creates a smooth, aesthetically pleasing surface.
4. Hydromassage whirlpool tubs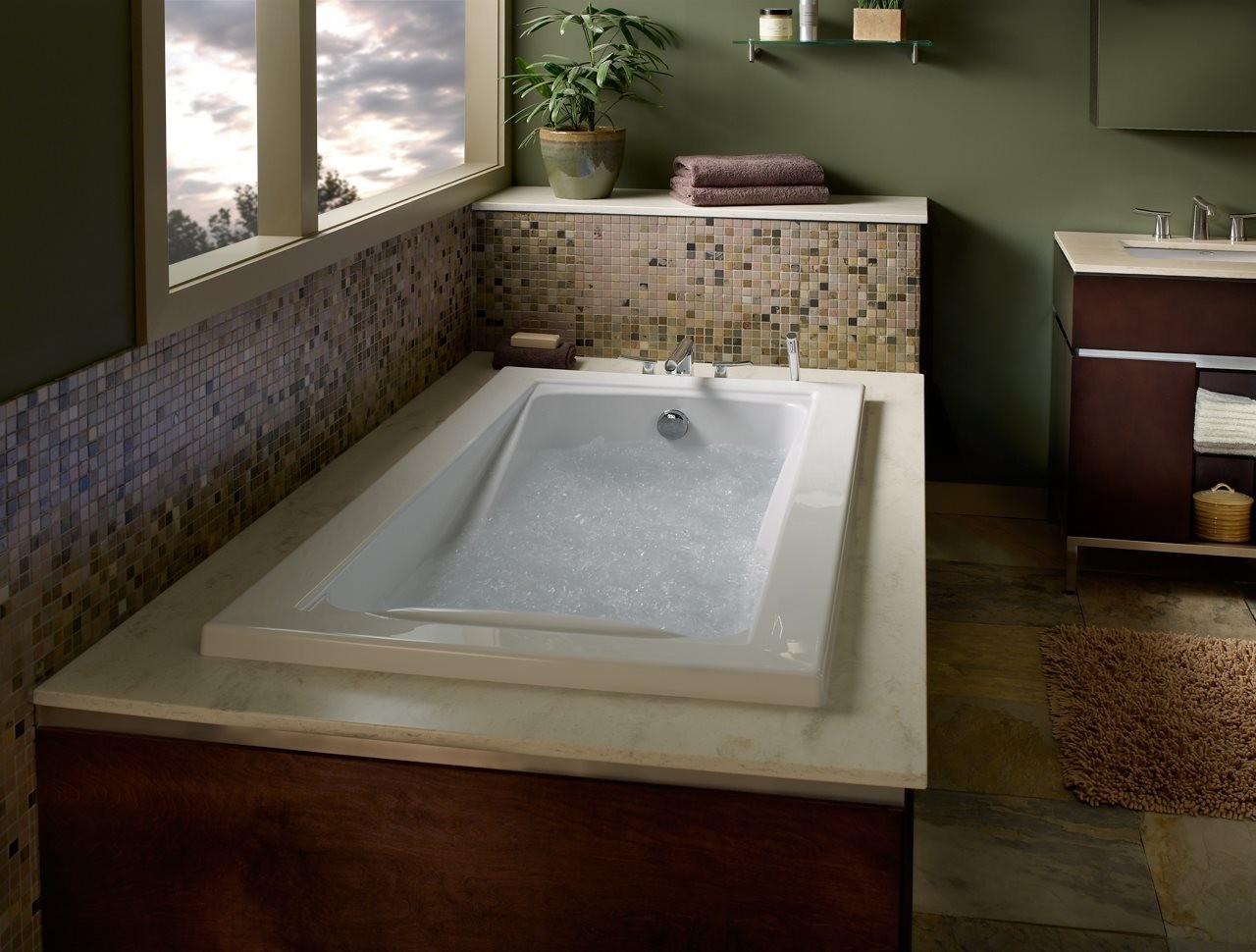 Speaking of whirlpools, hydromassage can do amazing things for your body, which is why whirlpool tubs continue to appeal to many people. Whirlpools use a pump to recirculate bathwater through strategically placed jets in the tub walls. Some jets have a loud sound, so look for whirlpools that create a quiet, tranquil atmosphere such as the Green Tea EcoSilent Whirlpool from American Standard. This modern acrylic tub uses advanced technology that enables a luxurious whirlpool experience with 70 percent less noise and 50 percent less energy usage.
5. Therapeutic air massage tubs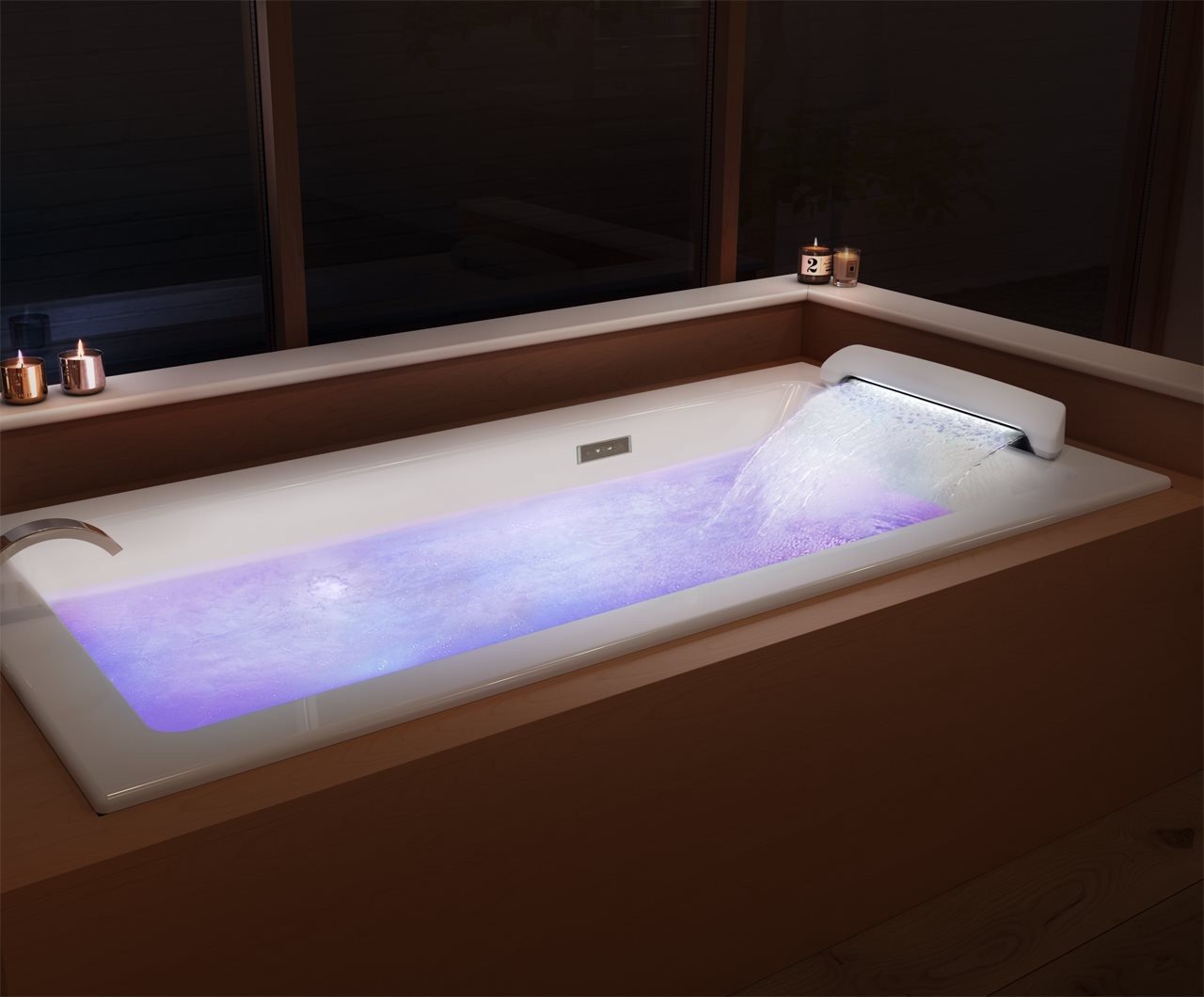 Air massage is another option, often called an air bath. Air, rather than water, is pumped into the tub. It may come from large jets, creating a powerful massage, or from many small holes in the bottom and sides to surround you with thousands of tiny bubbles. Splurge on the DXV Aqua Moment Drop-In Airbath with Waterfall and every day you can enjoy a spa-like bathing experience inspired by Japanese hot springs. The bathtub delivers a cascade of warm water over your shoulders, easing muscle tension, helping to improve blood flow, and relieving a stiff neck.
There are a lot of considerations in choosing a bathtub, but it's definitely good to consider having at least one in your home. Select the type that fits perfectly into your lifestyle and you will experience enjoyment for years to come.