Kevin O'Gara from Thou Swell gives his mom one of the most thoughtful gift for the holidays – a bedroom makeover. Incorporating his design sense and her style, Kevin O'Gara designed a space that was functional and chic at the same time.
A Gift for Mom: Serene Bedroom Makeover
While I've been lucky enough to get a chance to redecorate every room in my mom's house over the past four years on my blog Thou Swell, there's one room I've never touched – my mom's bedroom. But at the end of the summer we closed on a new townhouse and I knew it was my chance to give my mom a fresh new room. When it came to giving the gift of decor, I knew she would be the perfect recipient! She's been behind the scenes on my projects for so many years helping me shop, style, and photograph my design projects, and her bedroom makeover was long overdue. I knew I would be able to find everything I needed to create a chic, sophisticated retreat for her in The Home Depot's home decor selection.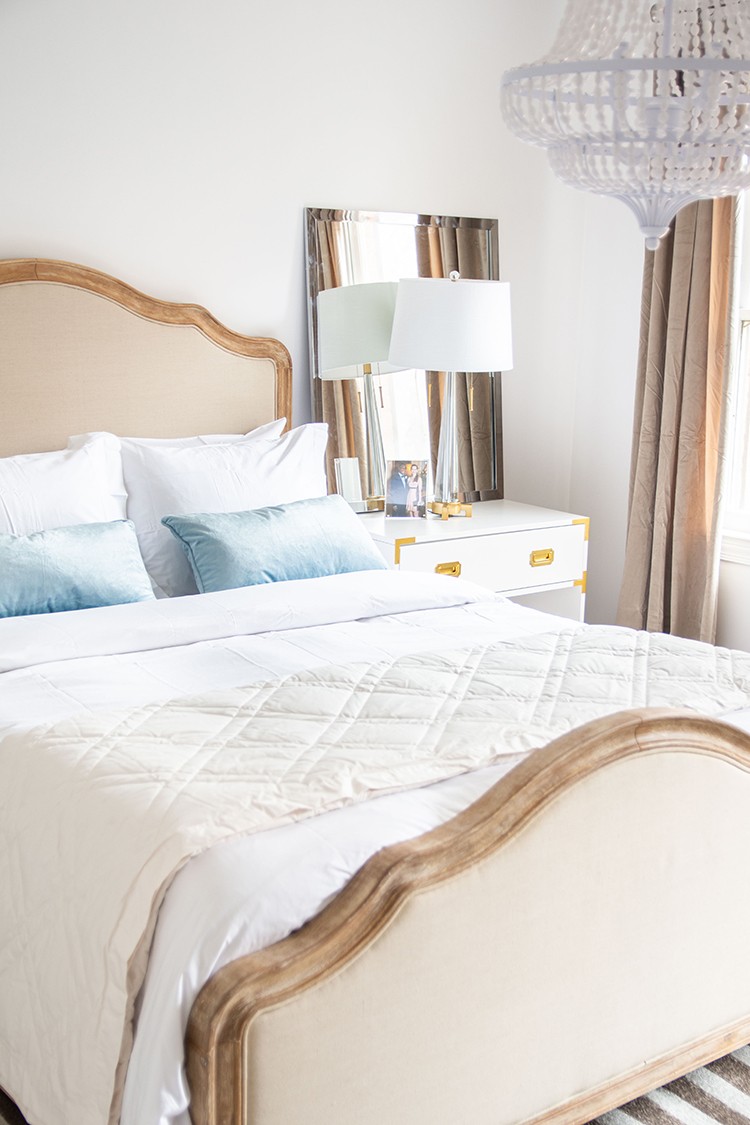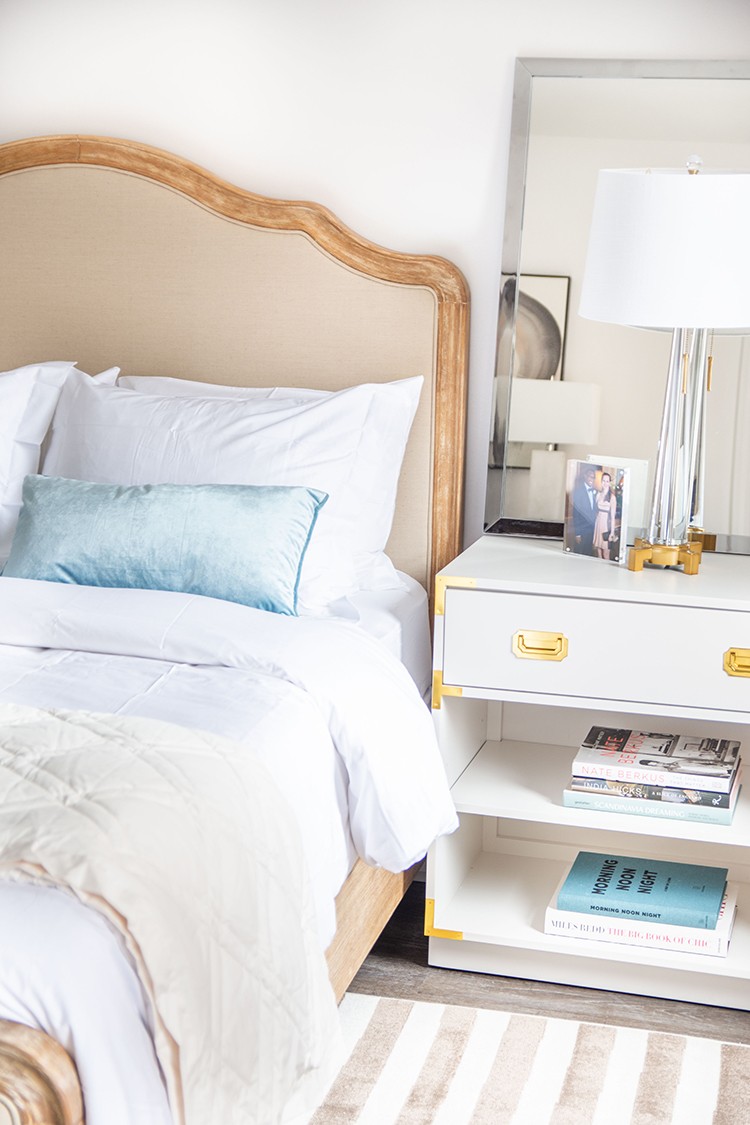 I started out with the bed – the centerpiece of the room, after all. The Wellington Stone Wash bed has a beautiful French look to it that I knew my mom would love. The pale linen upholstery was so easy to work into a serene design scheme, and the silhouette of the bed frame gave her bedroom the perfect feminine touch.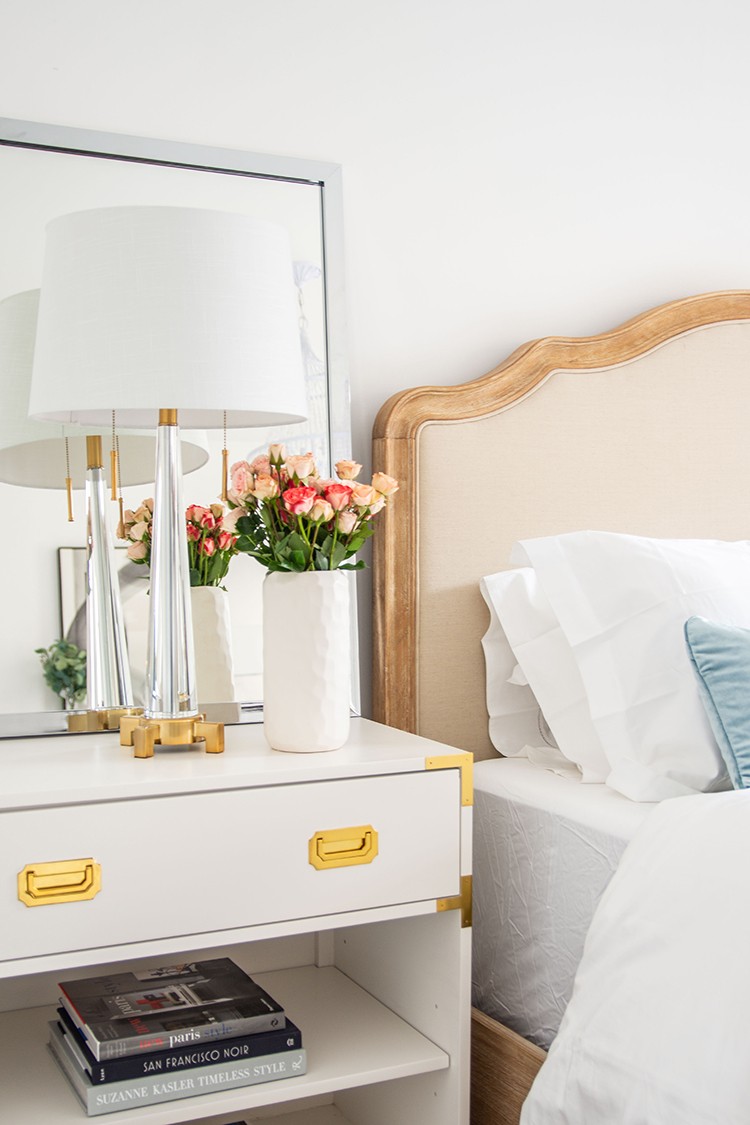 For a bit of contemporary contrast, I chose white campaign-style nightstands with fabulous brass details that bring the perfect touch of warm gold to the room. On top sits pretty lamps with a coordinating brass and clear tapered base and sleek mirrors framed with reflective chrome for a sophisticated mixed-metal look.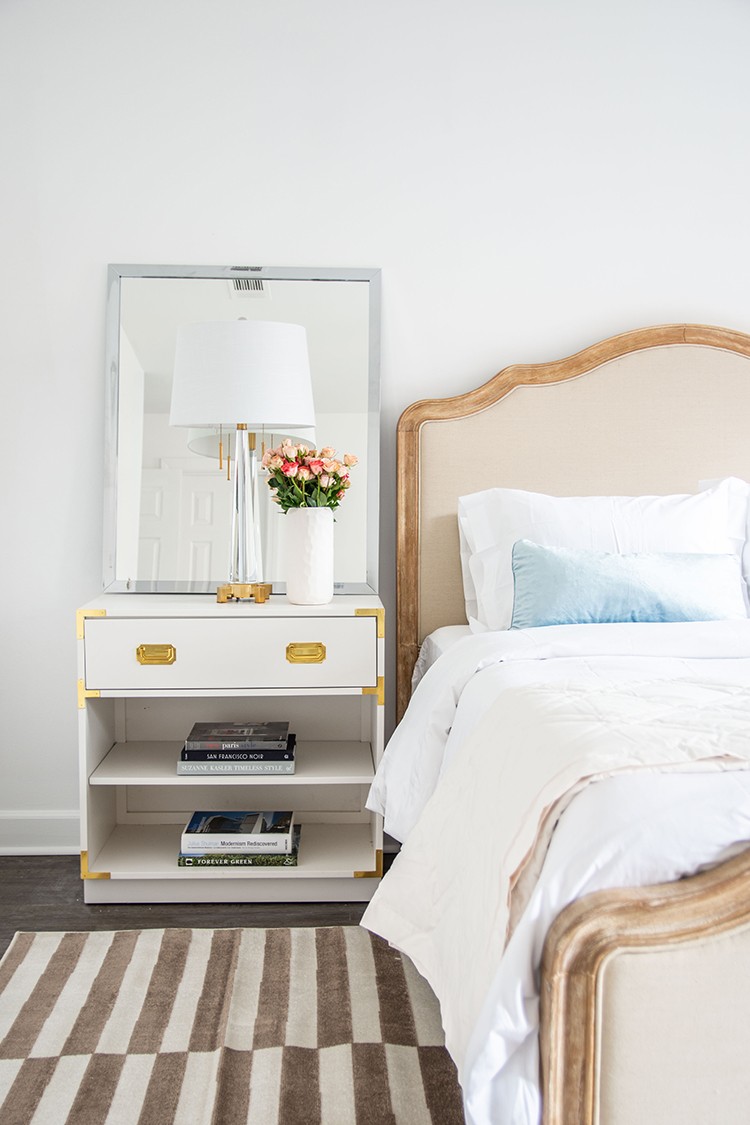 On the bed, I found silky organic sateen cotton sheets in crisp white for simple, luxurious bed linens. The Company Store has such a wide selection of sheets but I always love bright white on the bed. I paired pillow shams with pillowcases for a double layer of pillows and added an off-white quilt at the end of the bed for extra warmth. Velvet lumbar pillows top it all off with the prettiest color of pale blue!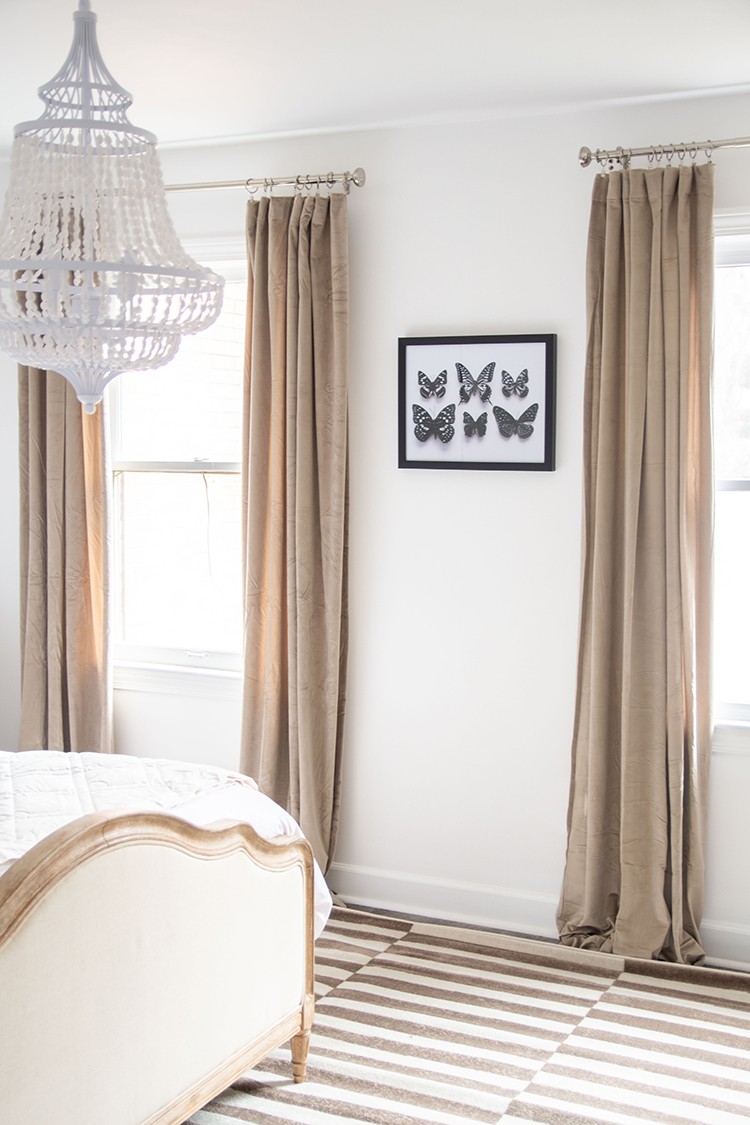 To soften the space, brown velvet curtains frame the pair of windows and a striped rug underfoot adds a graphic element to the room.
A mix of art in the room livens the walls, from the abstract canvas, to the butterfly photograph, to personal photos framed in modern lucite frames. I also added eucalyptus stems in a silver vase and little roses to welcome my mom in a ceramic vase on the nightstand.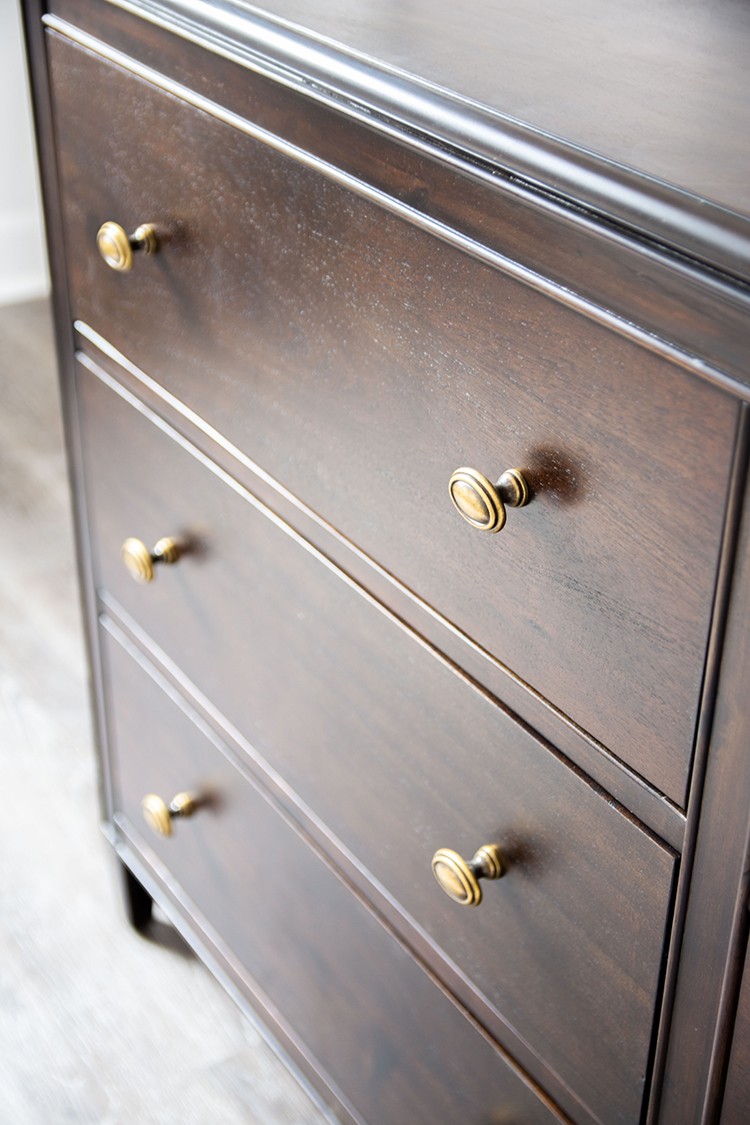 Across from the bed sits a traditional dresser with delicate brass hardware, bringing a nice weight to the array of furniture in the room. All of the pieces are different styles and finishes, but it all works together to create a harmonious design that coordinates beautifully. With such a large range of styles on The Home Depot website, it made it easy to put together a room that avoided looking too coordinated.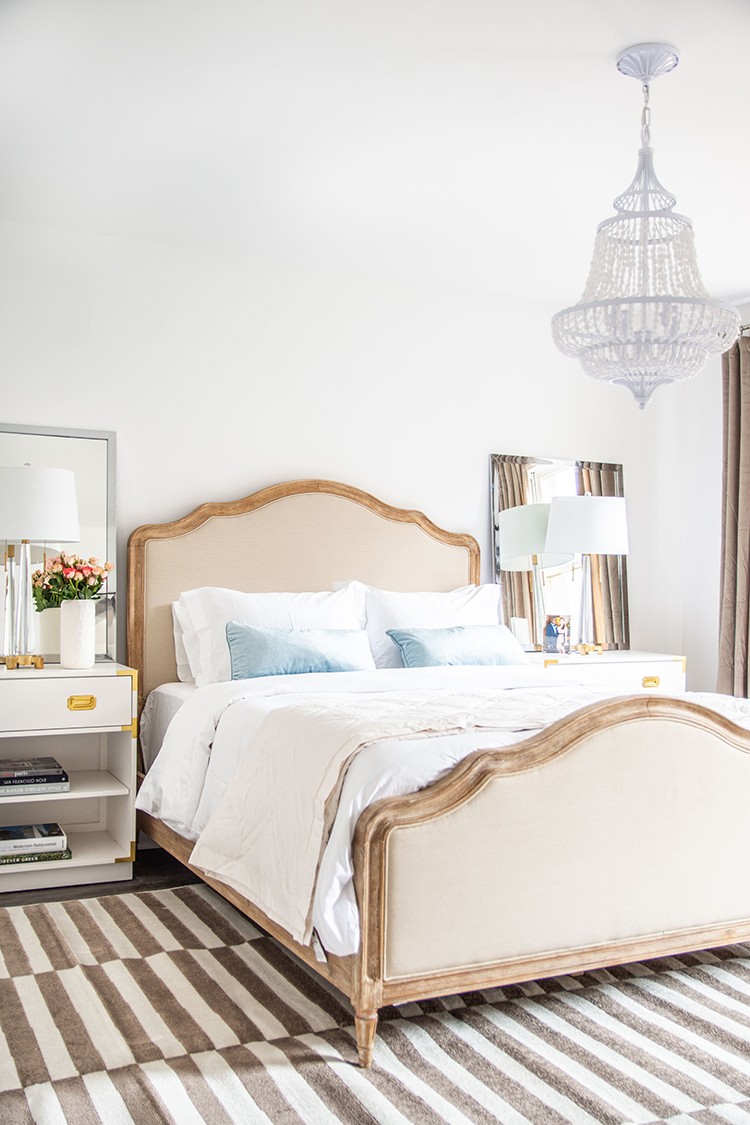 It was so much fun for me to create a soothing retreat for my mom to come home to every day. I know she's going to love each detail I picked out in the room, and seeing it all come together made it just as much a gift for me as it is for her!
The post A Gift for Mom: Serene Bedroom Makeover appeared first on The Home Depot Blog.