Hosting your entire family for the holidays can be very exciting. Rashida Banks of
Rashida Banks Blog
was able to take advantage of a few The Home Depot products, showing how to make your space feel cozy and festive for your family during the holidays.
We're hosting Christmas for the first time in years. I wanted to create an environment that shows the richness of our family bond, but also a space that feels cozy and festive. I like to say that my family and I are casual fancy people. I love this time of year because it gives my family and I a reason to fellowship and take a moment from our busy lives. I'm excited for the new memories we'll create this Christmas.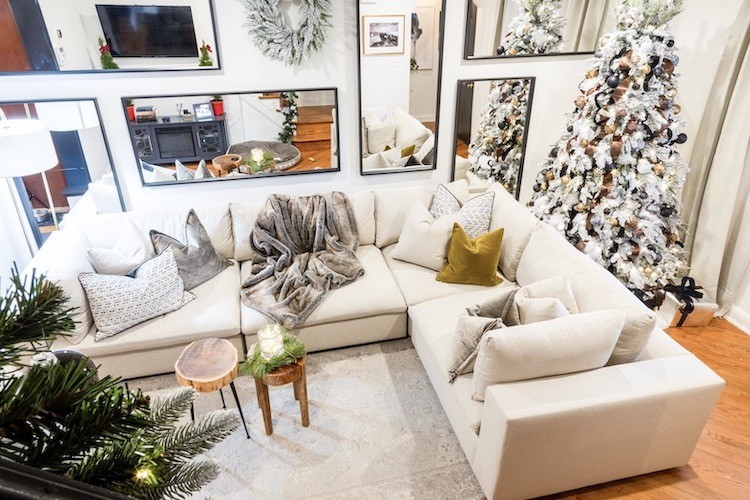 For this year's holiday decor, I decided to go a bit untraditional and do more of a ritzy, modern design. I went with a flocked tree, and absolutely love the fullness and height. We have typical 8-ft. ceilings and I wanted the space to feel grand, so I went with a flocked 7.5-ft. tree. (Here's a tip: Add larger trees that almost touch your ceiling to get that "Grand Tree Effect").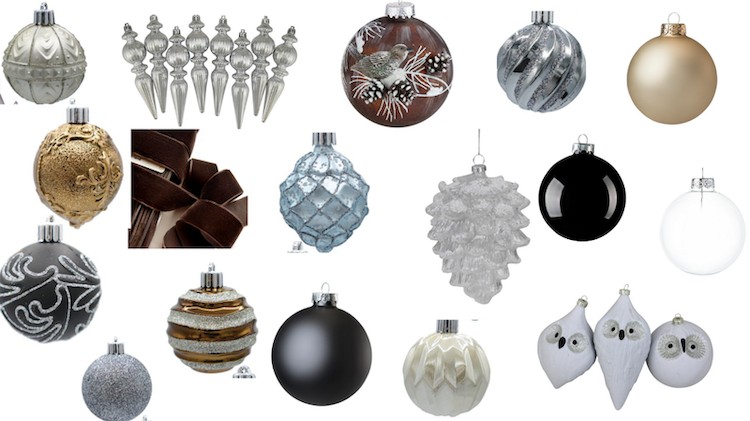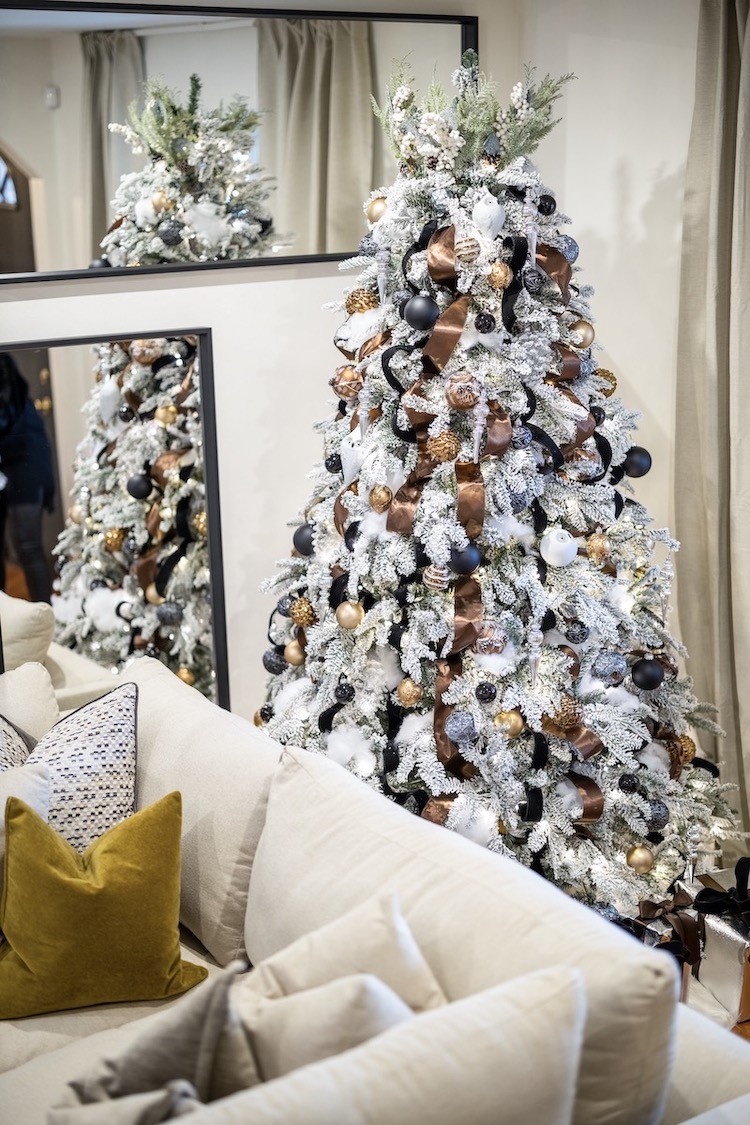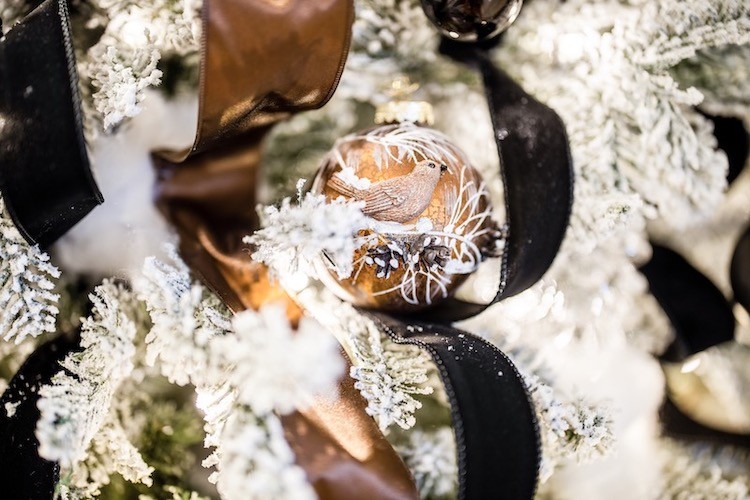 I chose brown, black, bronze, silver, white, deep gold, and clear ornaments that varied in size. I played a lot with texture as well. I found matte black ornaments, and shiny black ornaments; velvet ribbon and shiny ribbon; glitter ornaments and glass ornaments. Playing with different textures, shapes and sizes, makes the decor of a tree look more dynamic and visually appealing, giving off that ritzy look that I was going for. All of my ornaments can be found on homedepot.com or at your local store.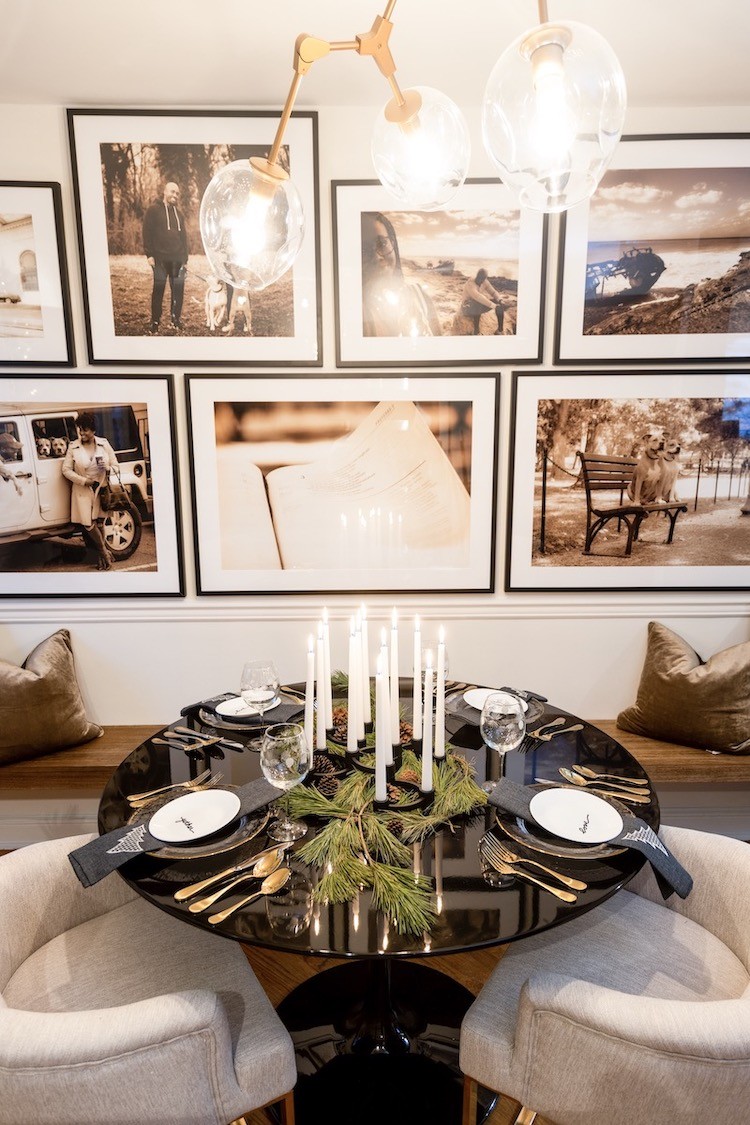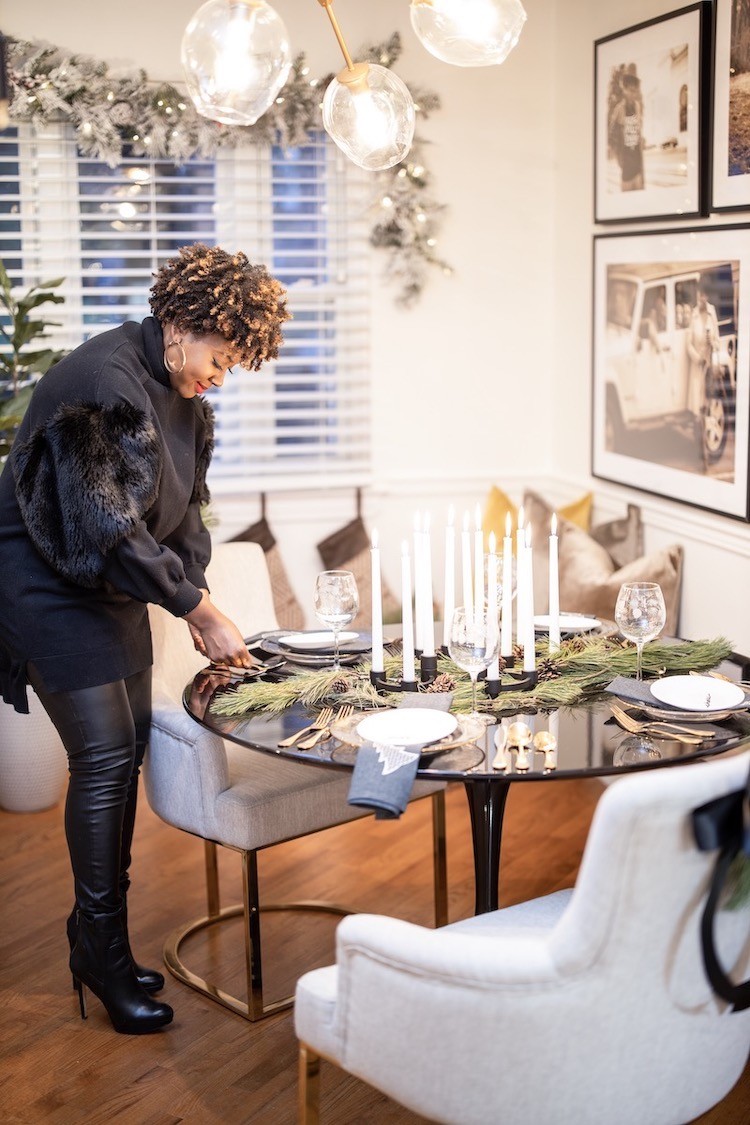 I didn't stop my ritzy decor idea at the tree. I carried that same theme into the dining area. There's something about setting the table with elegant flatware and glassware! It's such a personal touch that gets my family excited about dining together, and makes them feel special. I ordered my entire table setting from momedepot.com to save time from running around to different stores. Starting with the center, I knew I wanted taper candles to add height to the table, so I found a matte black candle holder set and candle sticks.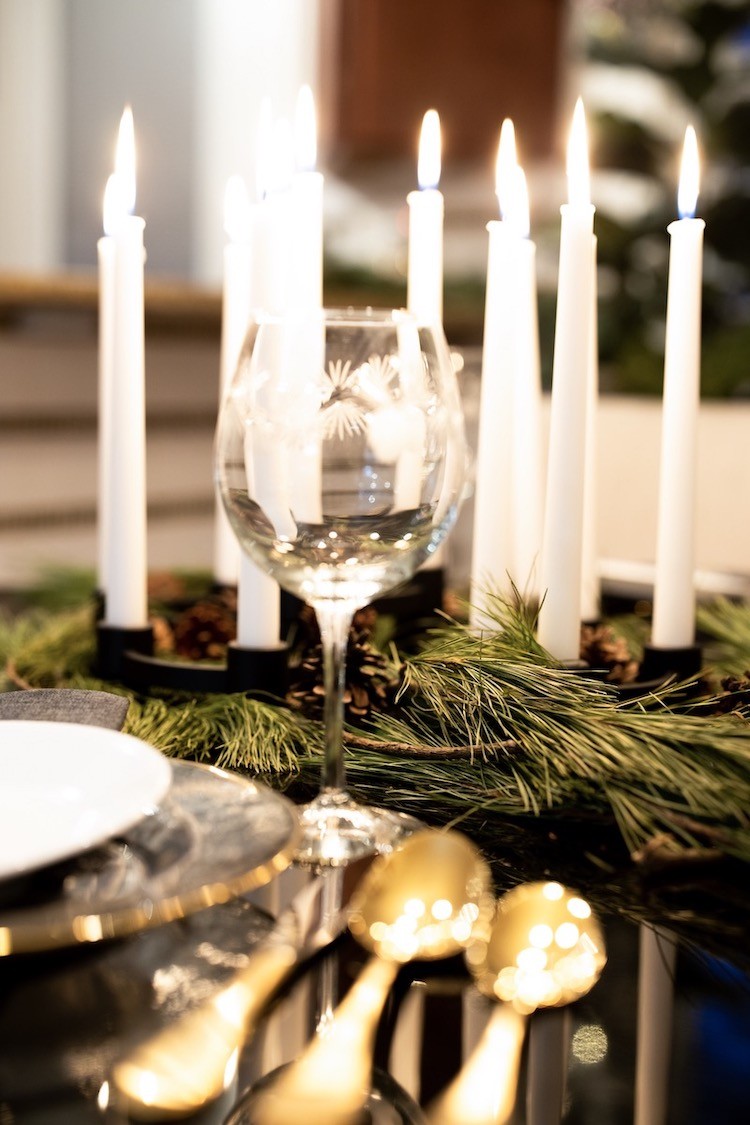 Then, I added in some real pine tree branches that I actually bought in store from The Home Depot Christmas tree lot (they sell them in small bundles). I chose real stems because I wanted the aroma of pine to be throughout the house when my family arrives.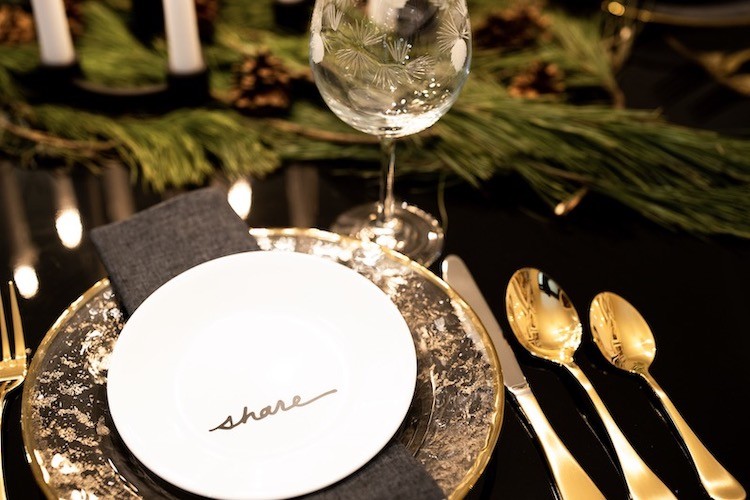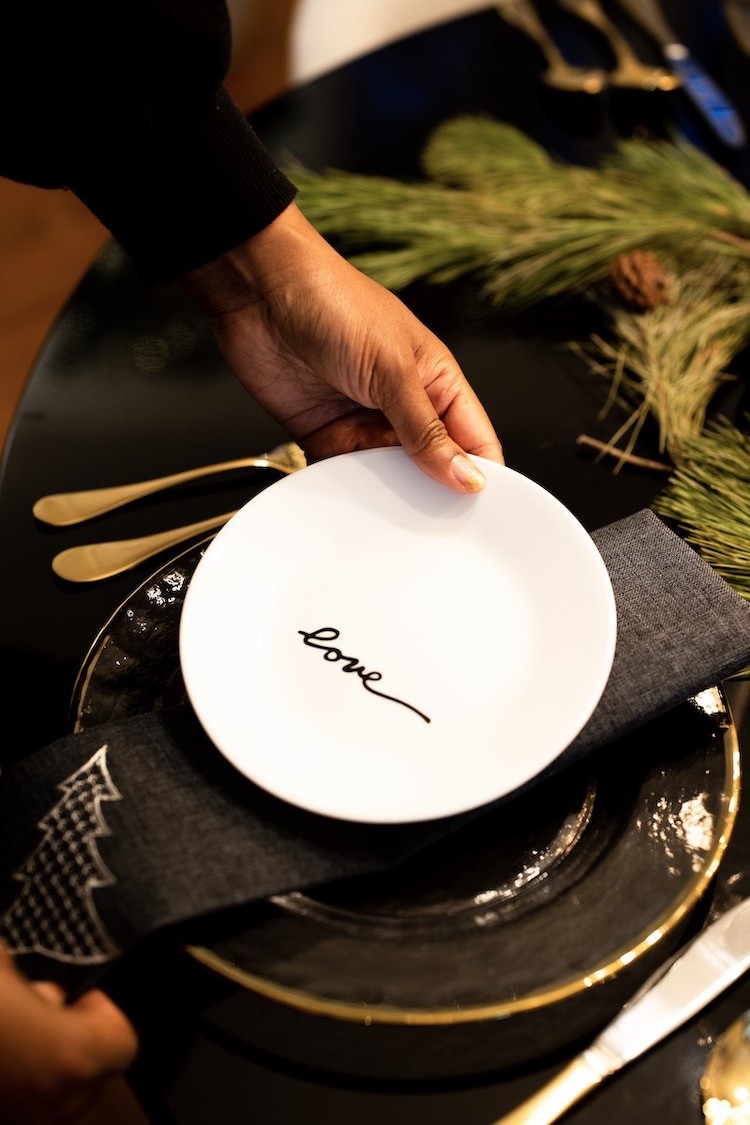 I love a layered plate setting. Online I found these beautiful small plates that say "love, share, enjoy, and gather" that can be used for salad or dessert, and I paired them with gold rim clear plates. I also added in a Christmas tree embroidery napkin between the salad plate and the dinner plate. The gold flatware takes this table setting to the next level. It has matte and polish brass finish that looks great against the shiny black table. I topped off each setting with these wine glasses that have pine cones engraved in them to give a festive touch.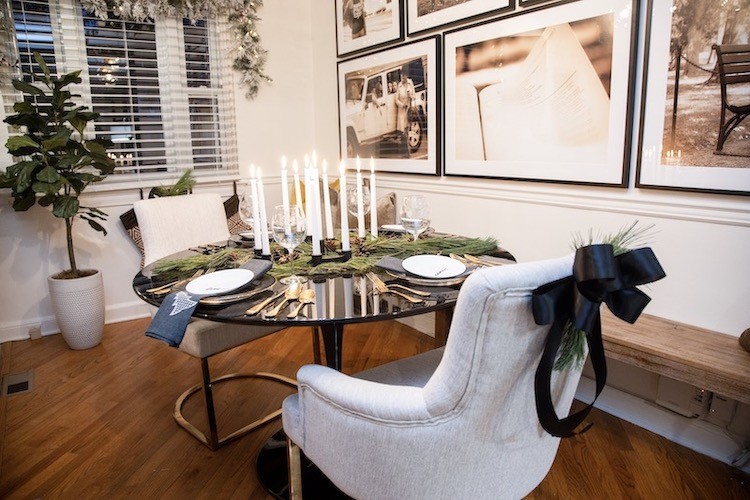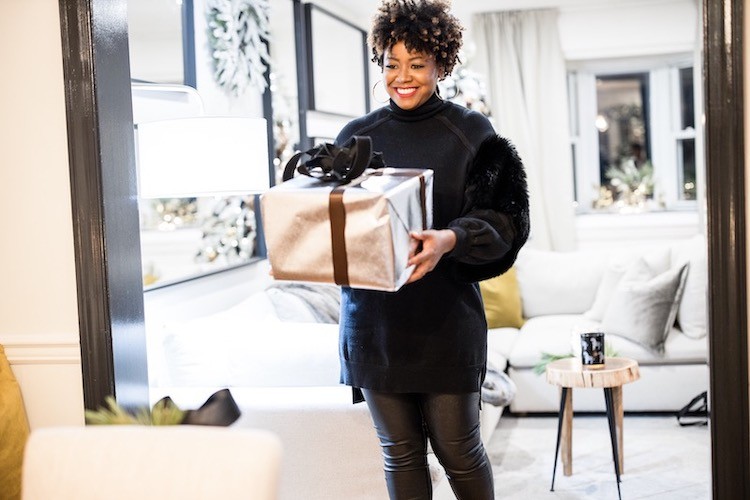 I'm very excited for my family to see the holiday decor on Christmas day! I'm looking forward to playing card games with my sisters and cousins, and all the love and goofiness that happens when we all get together. So this Christmas, consider not only thinking about what colors you'll choose for decor, but also think about the joy it will bring to everyone that comes to your home. If you're hosting, set the table and make your guests feel special. Christmas is a time for fellowship with those closest to you. The decor is one way to help make that time most memorable. Check out homedepot.com and conveniently order everything you need for refreshing your home for the holidays!
The post A Ritzy Family Christmas Gathering appeared first on The Home Depot Blog.