Halloween does not always have to be scary. Kati Farrer of
Houseful of Handmade
was able to take advantage of a few Home Depot products, showing how to decorate her patio for Halloween.
Have fun with your Halloween decor this year and decorate with bright colors in a Day of the Dead theme! Instead of spooky, our skeletons are celebrating. Complete the look with these easy DIYs and decor from The Home Depot.
Sugar Skull Skeletons
The easiest way to turn your Halloween into Day of the Dead decor is to make your skeletons into Sugar Skulls. And this is the easiest project ever!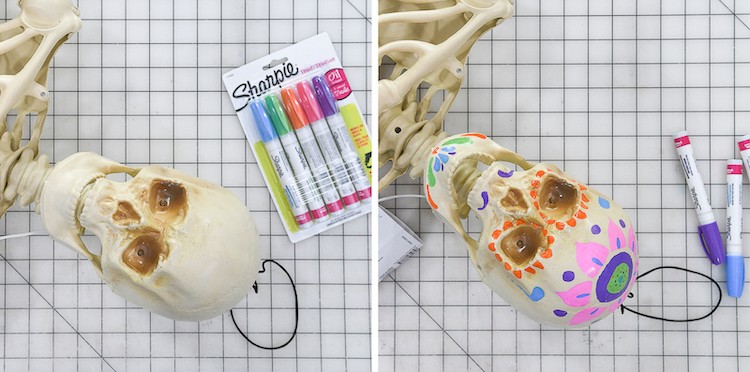 Grab a set of bright colored Sharpie Paint Pens and add some flowers, swirls, and dots to your skeleton. The skeleton instantly went from spooky to ready to party.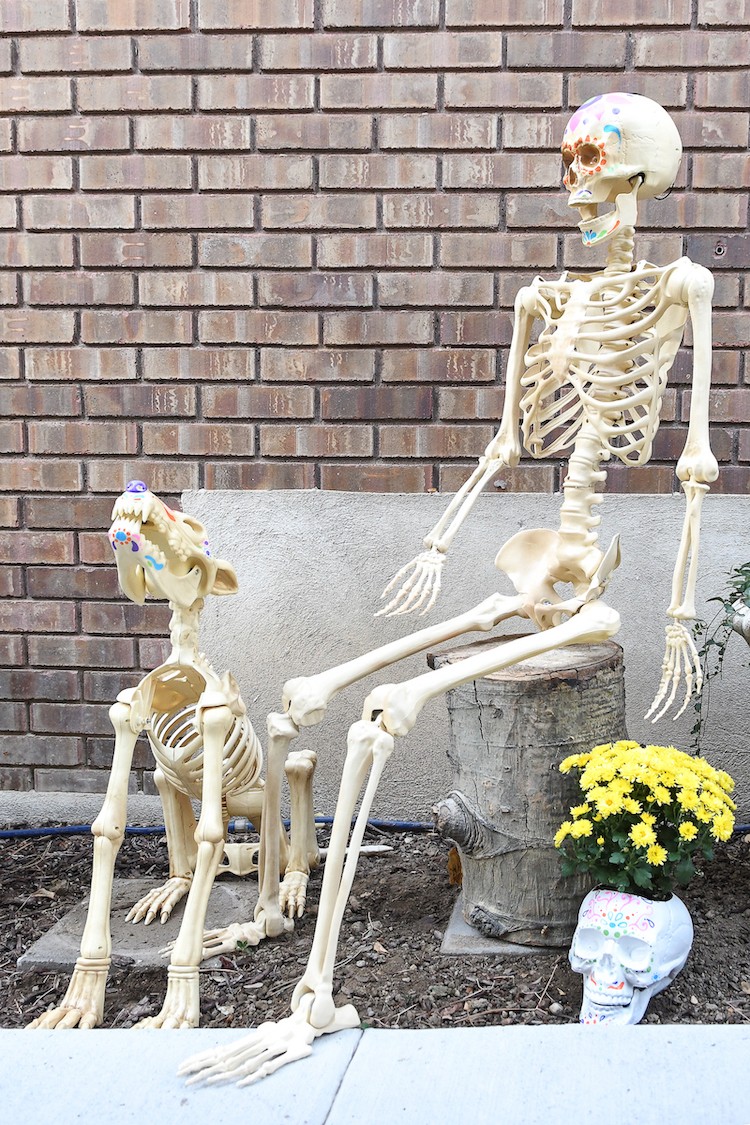 We also gave our wolf skeleton the Sugar Skull treatment. The kids now call him Chico and he is more of a dog to them. Perfect for our skeleton's best friend in the afterlife.
Layered Halloween Doormat
To give the entry a bit of decor, we added a new doormat. I love the layered doormat trend and knew I could make one with our Day of the Dead theme with supplies from The Home Depot.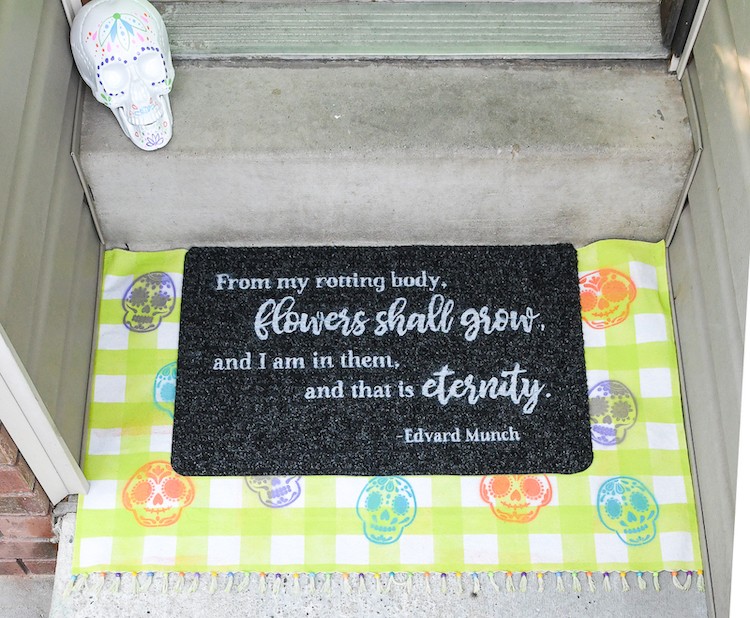 Using a drop cloth, I made a large mat and gave it a bright colored buffalo check pattern with painters tape and spray paint. Then to add some Sugar Skulls, I made a stencil and used it to spray paint the colored skulls onto the mat. I gave it some fringe on the bottom by fraying the drop cloth and adding some beads.
For the top mat, I bought an inexpensive ribbed mat. Then I cut out a vinyl stencil with a Day of the Dead themed quote and transferred it to the mat. A couple coats of white spray paint and it was the perfect layered doormat.
Sugar Skull Wreath
I am a firm believer that every door needs a wreath. This one was made from a piece of ¼" MDF. I cut out the shape of a sugar skull and some decorative pieces. Then the MDF was painted with spray paints in a variety of bright colors.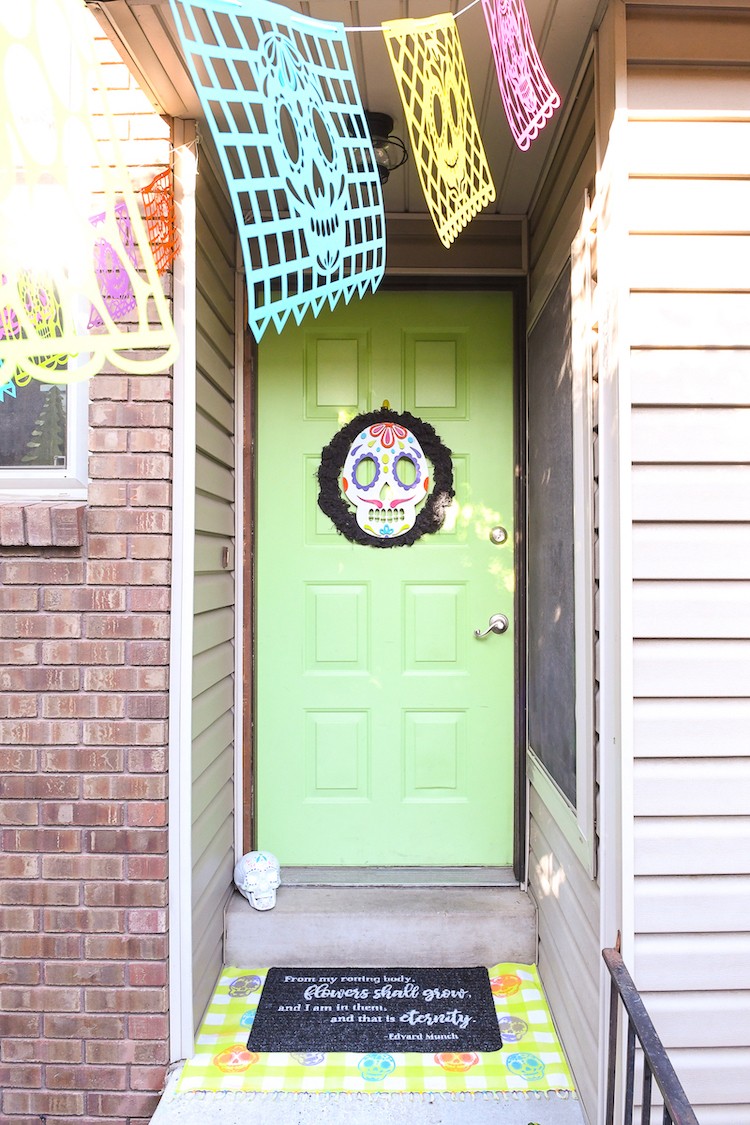 The painted pieces were attached to the skull with Gorilla Super Glue and then tied to a wreath form that was decorated with some black cloth. For more information, check out my sugar skull wreath tutorial on Houseful of Handmade.
Sugar Skull Planters
Because I cannot get enough sugar skulls, I grabbed two of these 3 pack of skulls. These were transformed with a coat of spray paint. You can have fun with the massive selection of paint colors at The Home Depot.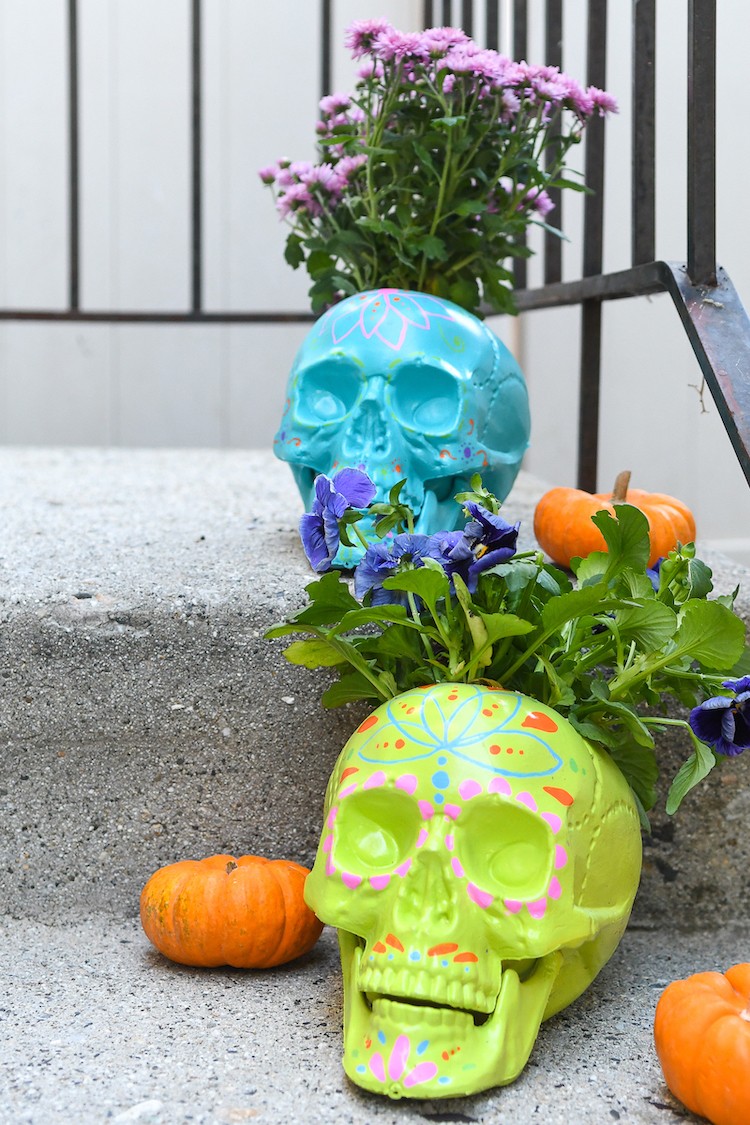 After the paint dried, I decorated them with the Sharpie Paint Markers just like I did with the skeletons.
You could leave the skulls as is, but I wanted to add some flowers to add an extra element to our porch. I cut a hole in the top of the skulls and added a couple drain holes in the bottom. Then they were ready for planting some fun fall flowers. I share more details on Houseful of Handmade as to how to make the sugar skull planters.
We also found this light up sugar skull at The Home Depot in their Halloween section. He pairs nicely with the sugar skulls planters and will give the kids a surprise at night when he lights up.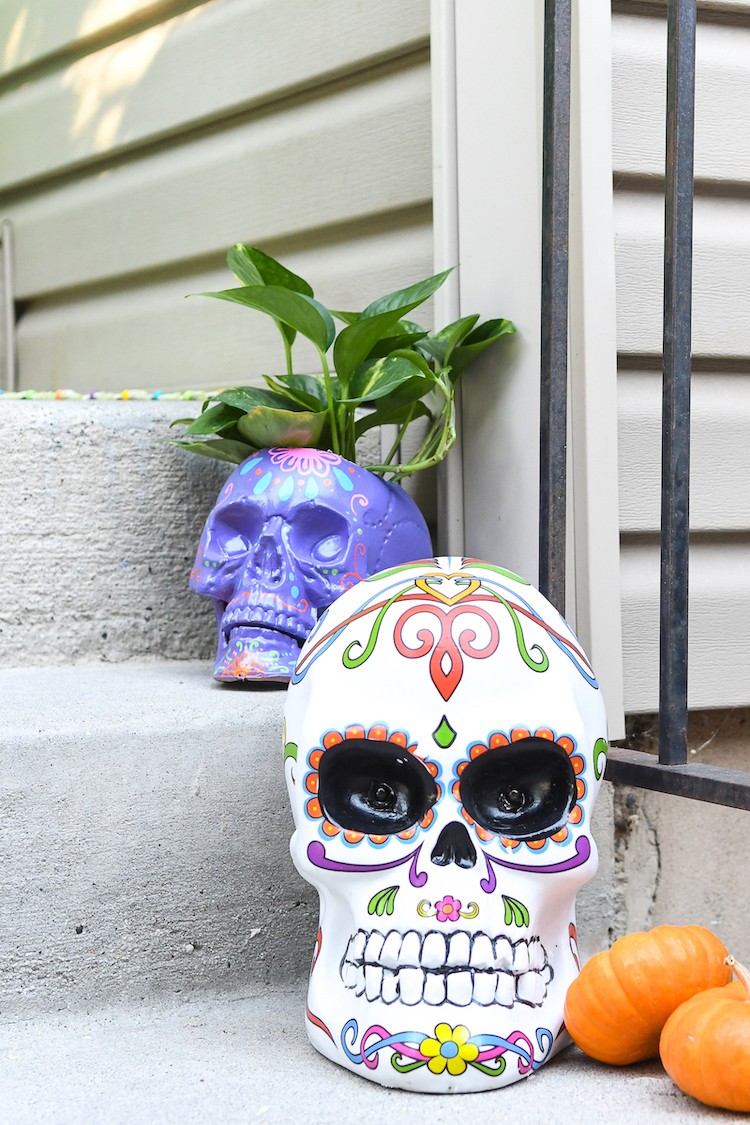 Finishing it All Off
Of course we had to add a few pumpkins to our porch. It is Halloween isn't it?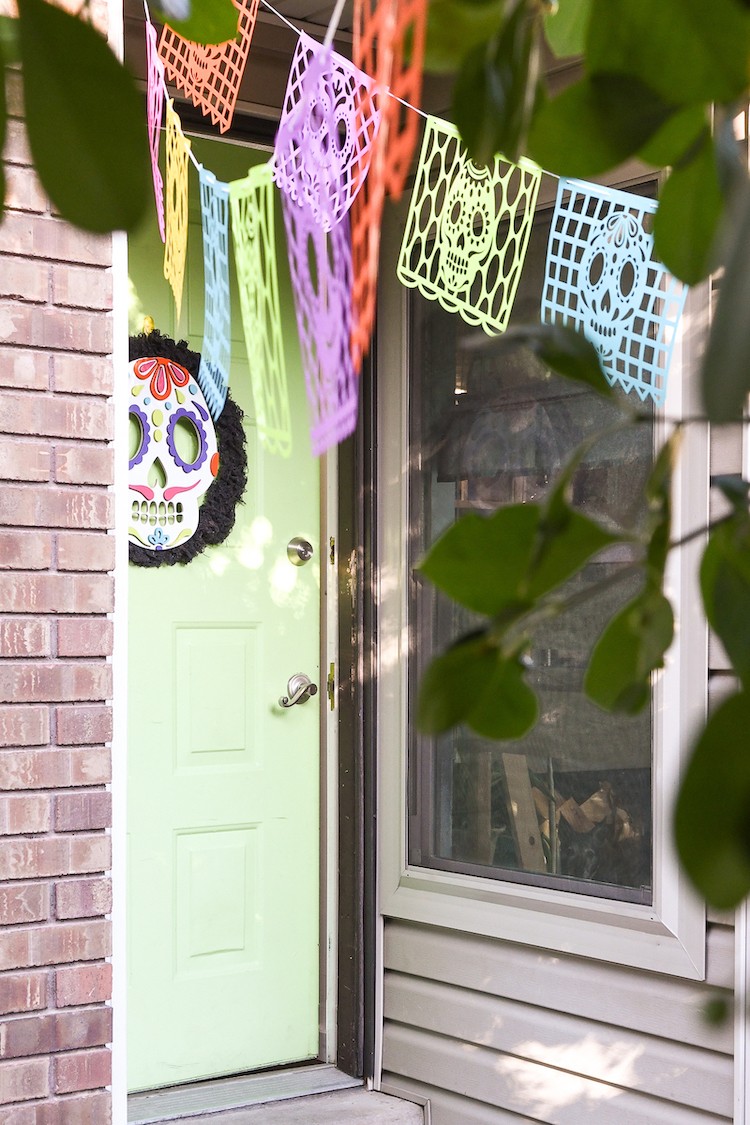 And then to make the entire porch look like a party, I cut some Day of the Dead banners out and hung them across the porch. You can get the pattern for the Day of the Dead banners at Houseful of Handmade.
And now we are ready to celebrate!
The post Day of the Dead Halloween Porch appeared first on The Home Depot Blog.