Adding bricked walls to the house, whether it's on the exterior or interior, can completely change the look of a house. Mysha Bolen from
Remington Avenue
loves the look of exposed brick walls. After designing an entirely brick home, Mysha wanted to add brick accents to the kitchen using brick backsplash. Read to see how you too, can do the same in your home!
DIY Brick Backsplash with German Schmear
I've always loved brick, which is exactly why I designed an entirely brick home! Even the interior is dotted with brick accents and now my kitchen is no exception.
My kitchen was already equipped with a black marble backsplash, but that didn't stop me from adding another old-world layer of masonry to my French country themed home. Want to achieve this "German schmear" look in your own home? Or do you just need to know the basics on how to install a brick backsplash? You've come to the right place.
Installing Brick Backsplash – Tools & Supply list
Thin Brick Or Brick Veneer
Locktite Power Grab
Caulk Gun
Sponge
3/8″ Dowel Rod
Tile Trowel
Sanded Grout (I Used Bright White)
Plastic Sheeting
Drop Cloth
Blue Painters Tape
Rubber Gloves
Drill + Grout Mixing Paddle (Or) Trowel For Hand Mixing
Screwdriver
Outlet Extenders
Hand Tile Cutter Or Tabletop Tile Saw
Plastic Buckets (1 For Grout, 1 For Water)
DIY Brick Backsplash – How To Install The Bricks
Like most projects, prep work is key! First, mask off your counter tops and any backsplash areas that will remain intact. I used blue painters' tape and plastic sheeting. Remove any electrical plates from the area you will be installing the brick veneers. I also covered my floors with a drop cloth for extra protection.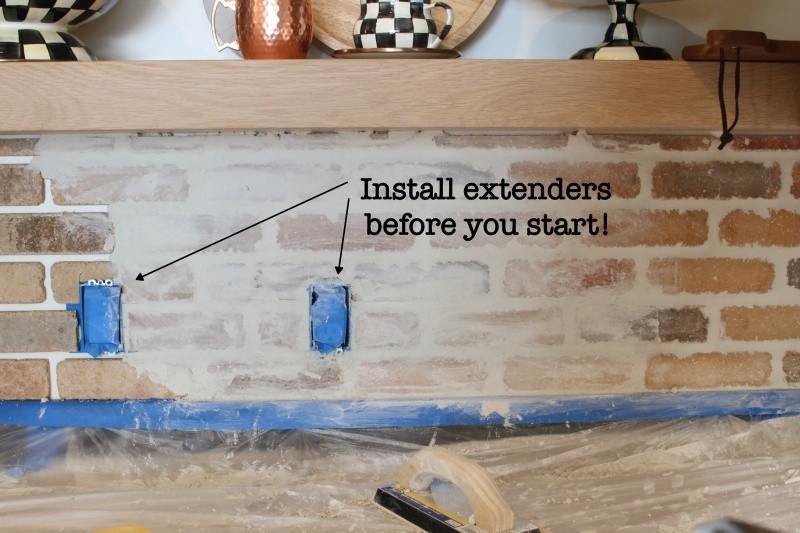 Because the veneers are about 1/4 – 1/2 inch thick, I had to add extenders to the outlets. You can buy them here. Just follow the instructions on the back of packaging. Anytime I do anything with electrical wires I get a bit nervous, but this was pretty simple. Make sure to switch the breaker off for all the outlets!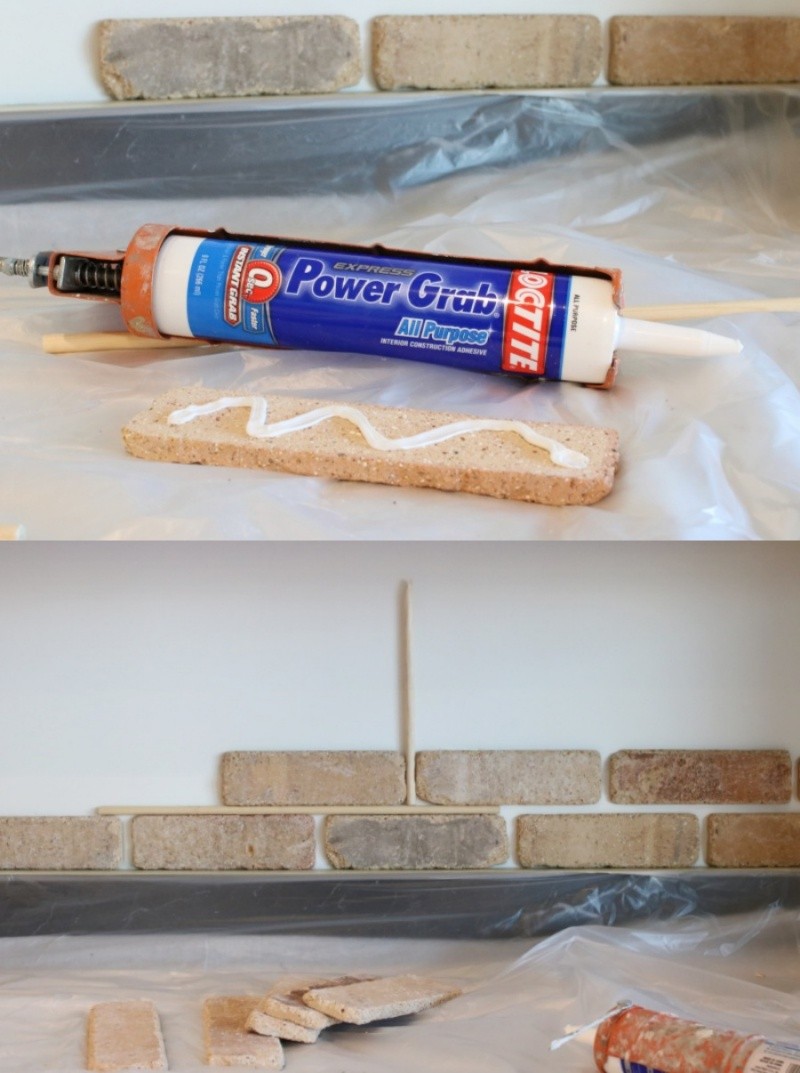 Glue the Brick
Using my Locktite Power Grab adhesive, I simply glued the back of the brick veneers to the wall starting at the counter and working my way to the top of the wall row by row. I used a 3/8″ dowel rod to keep my spacing consistent. It was much easier than actual tile spacers. I left no space between the marble backsplash and the first row of veneers. The veneers are not perfect, so your spacing doesn't have to be exact either – that's the beauty of a somewhat-rustic brick backsplash! Also, make sure to stagger the bricks lining them up so the center of the brick is just above the gap in a true brick lay pattern.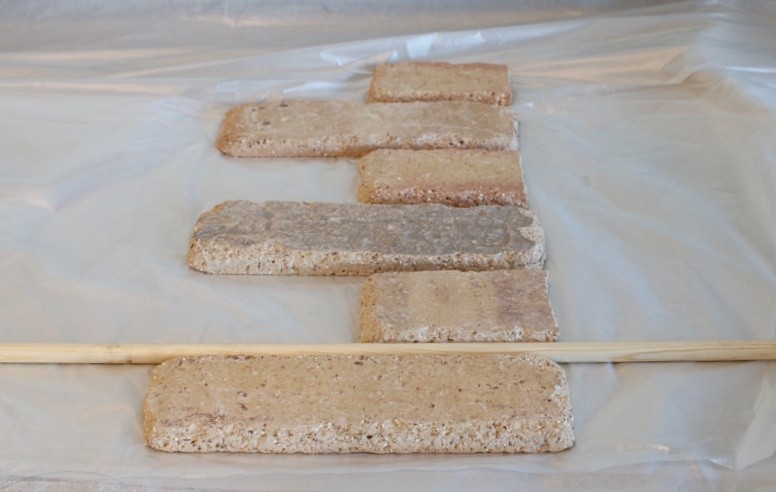 I used this Tile Cutter to score the brick to the size I wanted and pressed down to break the brick in that exact spot. It took me a couple practice rounds, but then I got the hang of it. Unless you have a curved stone backsplash (like mine, which is unlikely) most of the cuts will be right in half. Basically, each corner will start with a full brick or a half brick to maintain the pattern. Pretty simple huh?!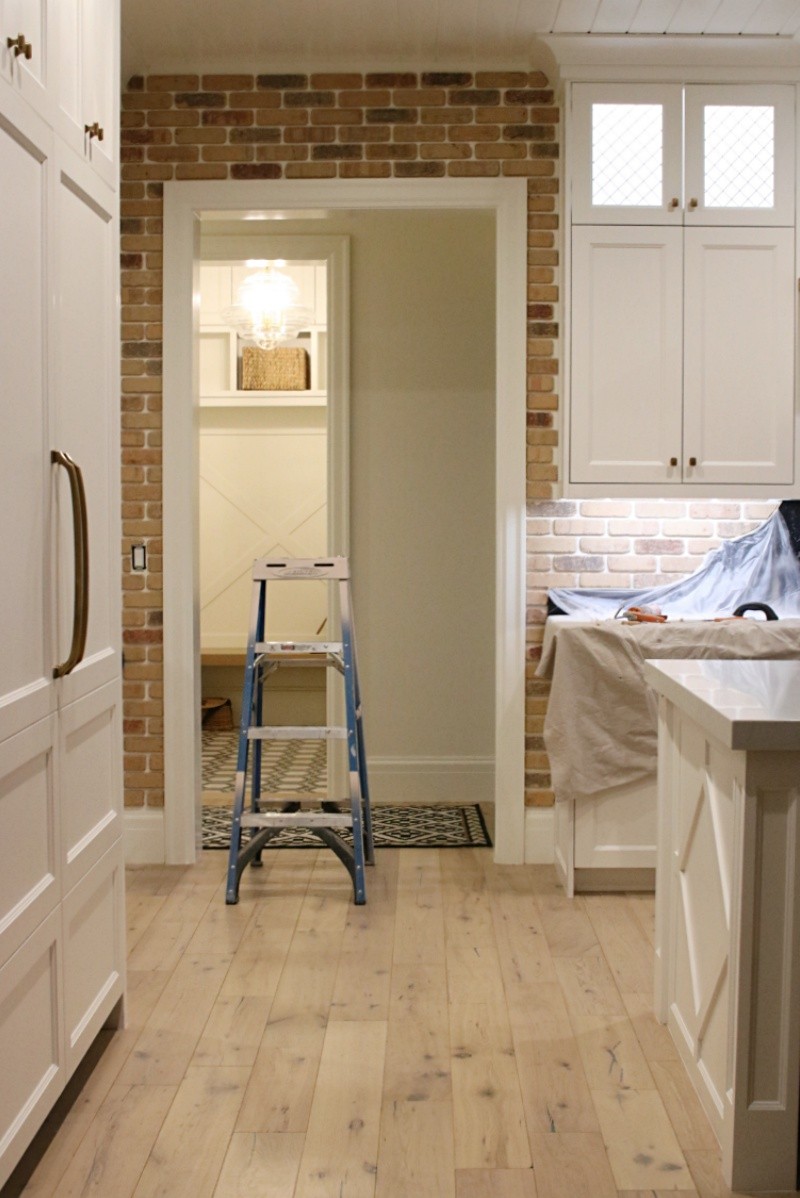 I wrapped my brick backsplash along the main kitchen wall, up and over the entry way opening and into my butler's pantry. Just be aware that if you plan to wrap any outside corners, you will need to order special corner brick veneers. Let the new brick backsplash dry overnight, but the Locktite only takes about 15 min. to fully cure.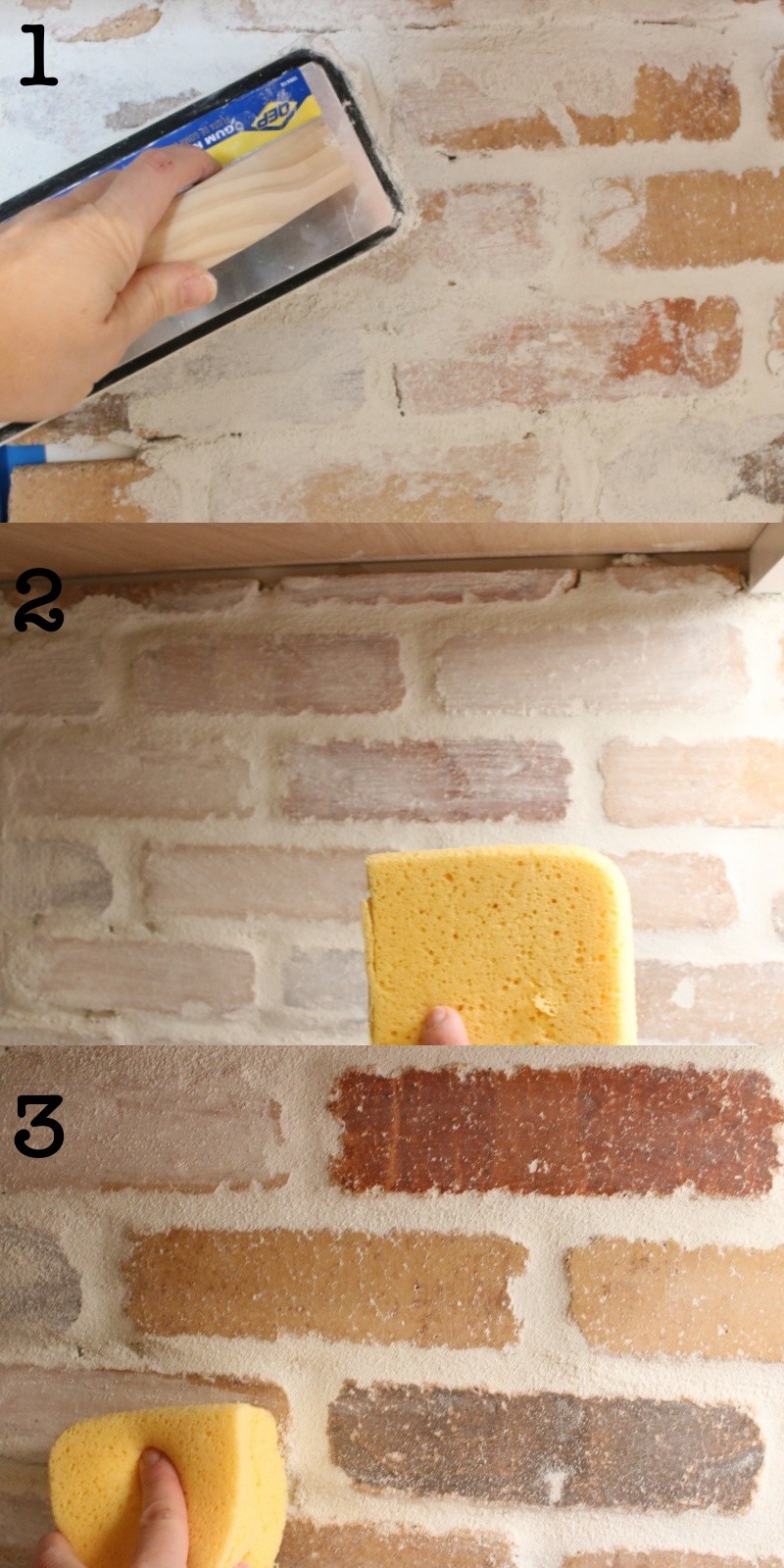 Brick Backsplash – Grouting & German Schmear Technique
What is German Schmear and does my backsplash truly represent that style? German schmear is a technique of whitewashing brick by smearing lightly colored mortar over the surface and mortar joints. Does my backsplash truly represent this style?… Kind of! As I got going on the grouting and smearing, I felt that the more "schmeary" look was competing with my already existing marble backsplash. I chose to wash away more of the grout than I anticipated, but I will show you the differences below.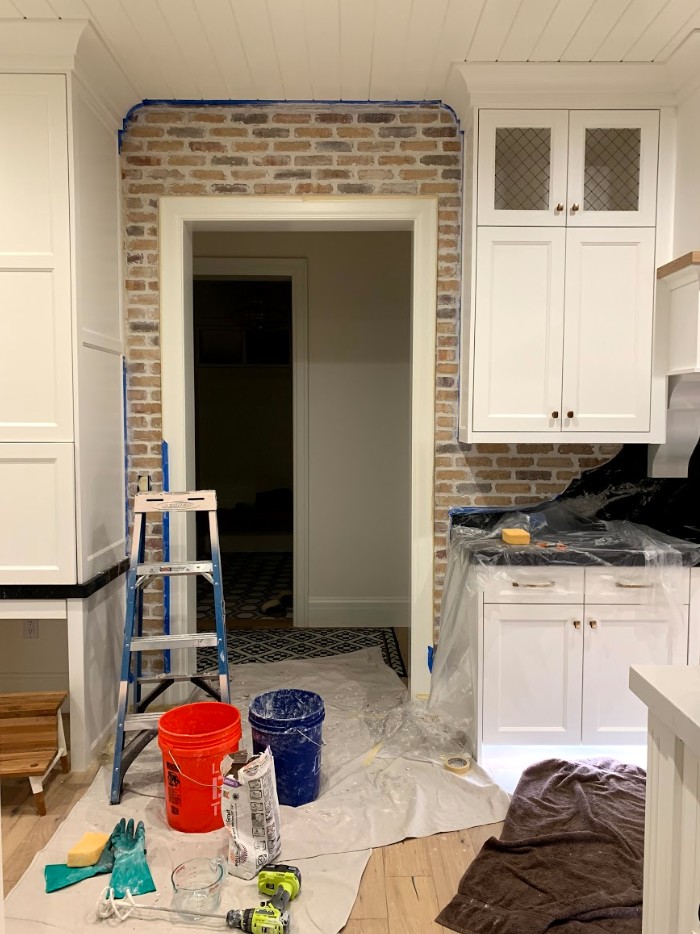 First combine the sanded grout with water and mix. The proportions are listed on the back of the bag. I used my Ryobi drill and mixing paddle to mix the grout. You can do it by hand, but it will take a bit longer.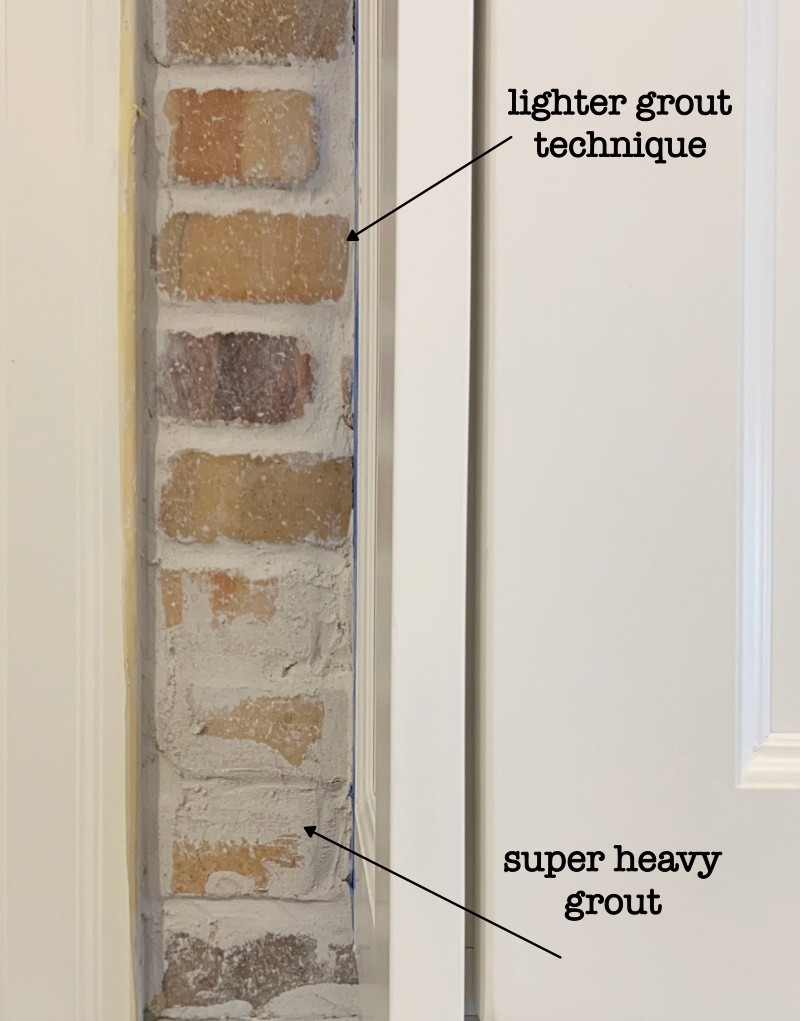 Using a trowel, smear on the grout filling all the joints and going over all the brick faces. There really is no such thing as over grouting when you're after a German schmear look. You can literally cover 95 percent of the brick faces or wipe away as you see fit. I used a wet sponge to wipe away the unwanted grout. Be prepared to get messy! Here are some of the different looks below.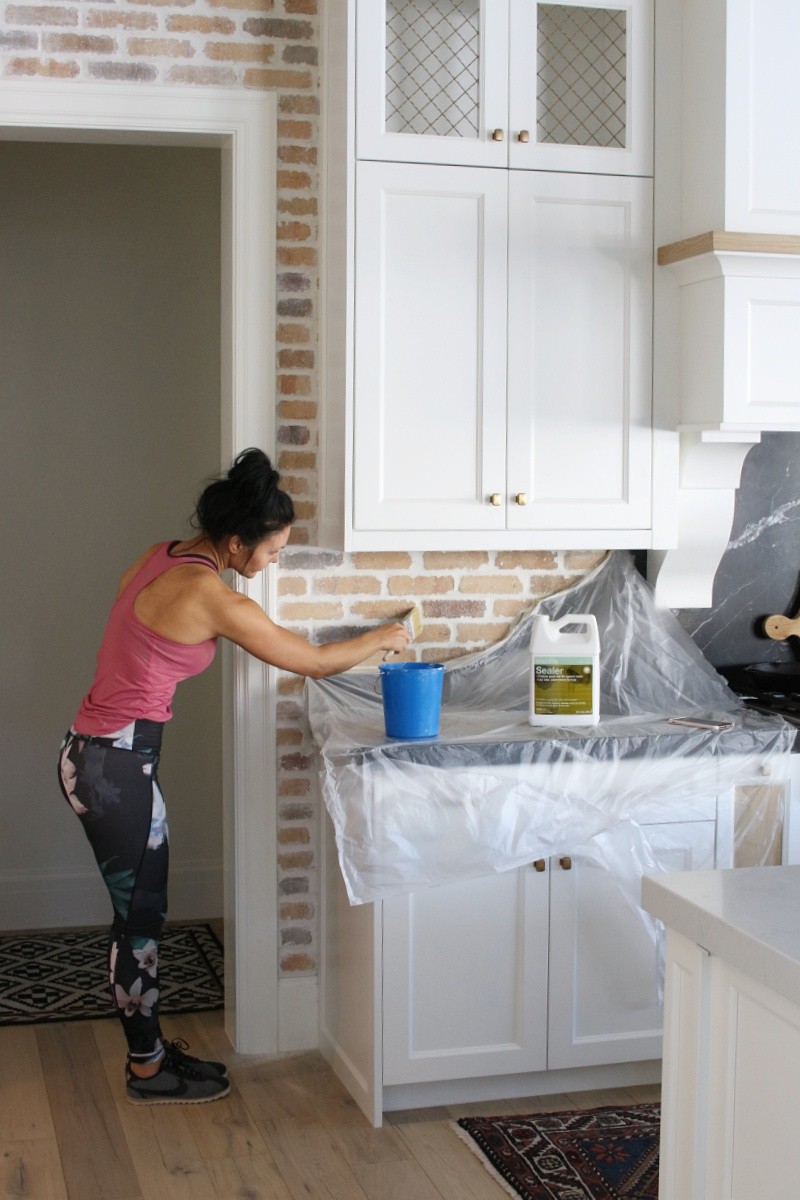 I let my mortar/grout dry for a few days before applying the sealer. I used this grout and tile sealer specially designed for brick. Basically, the sealer protects the brick and grout from stains. Imagine that homemade spaghetti sauce splashing on the bricks and not being able to wipe it away! Don't skip this step! I simply used a paint brush to brush on the sealer. It looks and feels like water and dries in 5 minutes. Apply a couple coats over the entire brick backsplash.
The grouting is really the most labor-intensive part!  Other than that, the process is really simple. I absolutely love how the brick warms up the whole kitchen and pulls the same tones from the wood flooring. For more DIY projects like this, be sure to follow me at remingtonavenue.com or @remingtonavenue on Instagram.
Author Blurb:
Mysha is a design lover, fanatical DIYer, renovator, & bargain hunter. Her education and love for design originated in fashion but has transformed from dressing bodies into dressing houses. She found that all the same principles apply, think outside the box and break all the rules!
She recently designed her new custom home we are calling "The Modern French Country," where she put her heart and soul into the design from the ground up. One project at a time, she is transforming her house into a well curated and cozy home.
The post DIY Brick Backsplash with German Schmear appeared first on The Home Depot Blog.