It's easy to scare up some fun with Halloween decorations from The Home Depot. Sadie Lish of
Clover Lane Blog
was able to take advantage of a few products to create a spooky Halloween porch with her kids.
Halloween decor is out in full swing at The Home Depot and MY KIDS ARE HERE FOR IT. Every time we go there in the fall (which is at least three days a week), we have to walk through the Halloween section. Clearly, I needed to take some items home with me to create a spooky space they could admire at home. First things first:
Research and Development
This might be the easiest step to creating the perfect look. For our research and development, we headed down to our local Home Depot. We walked through the Halloween section pushing every button imaginable and made quite a bit of noise. One guy walking by loved it so much that he shouted "BOO" to my nephews. A good time for all! The Home Depot's Halloween section is organized by theme which makes it easy to shop and envision your space. Here's my list of items to include in the perfect spooky outdoor space:
Pumpkins
Go crazy in the pumpkin section and you are well on your way to having the best porch in your neighborhood. Don't believe me? Pumpkins were the first thing we added to my porch and my neighbors practically slammed on their brakes to see what we were up to.
Mums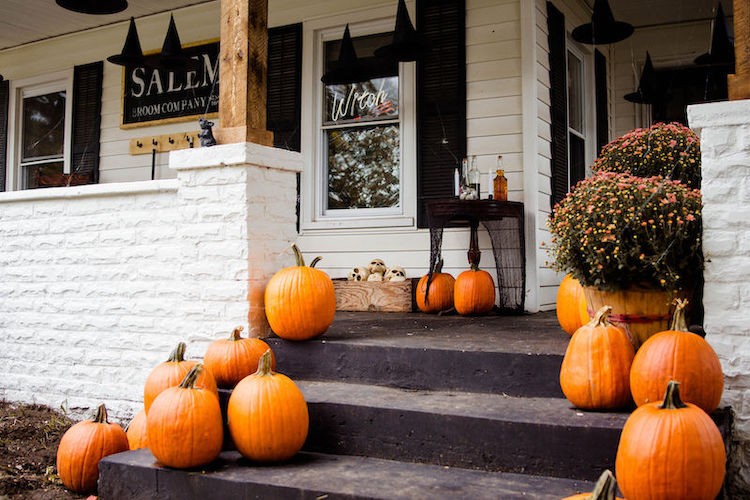 I know what you're thinking, mums aren't even remotely spooky. They do however make a fabulous space filler on your porch. I highly recommend adding some mums to your list. Putting them in a vintage container will get you extra points too!
Tombstones
These Tombstones exceeded all expectations for me! Perfect for the front lawn or flowerbed in front of a porch. Bonus is the cute names on these tombstones like Manny Bones and Bea A. Fraid.
Fog Machine
Every spooky space looks better with a fog machine. It's a proven fact. We chose this fog machine and put it in black cauldron. It paired perfectly with the witch silhouette we made. Which brings me to my next porch addition.
Witch Silhouette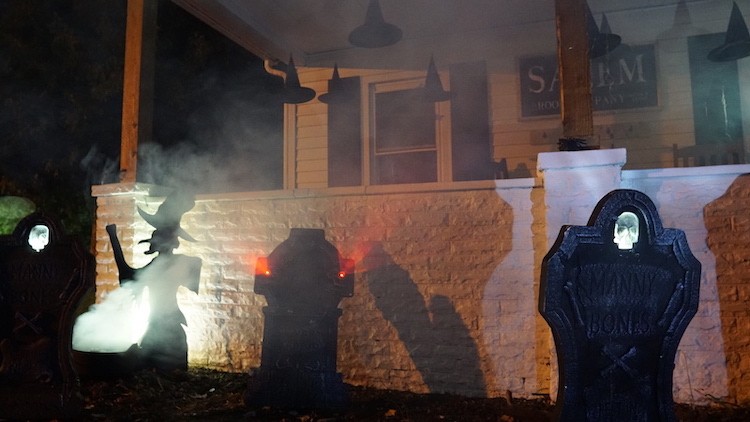 Head to the lumber section and get a 2×4 sheet of ¼" MDF. Trace a witch silhouette on it and cut it out with your jig saw. Paint it black and place it strategically in your lawn or leaning up near your tombstones. Add a small outdoor light behind it and place the fog machine near it. One person driving by rolled down their window and yelled "love it"! I'd say that's a job well done.
Faux Spider Webs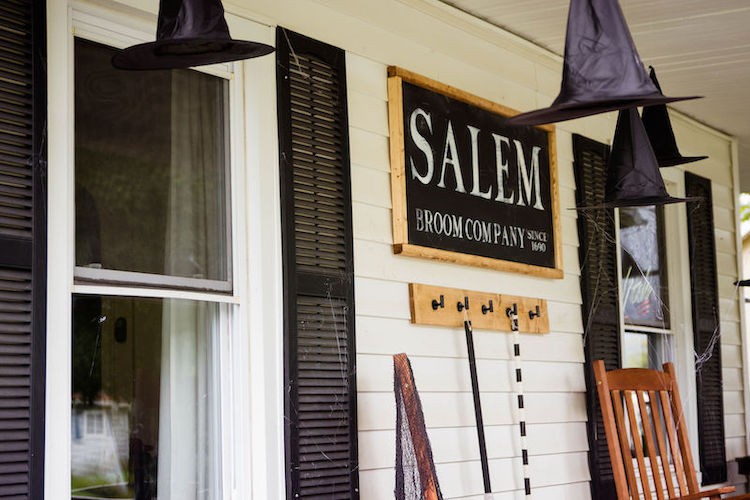 Guys, you have got to grab one of these Webcaster Guns. It makes a faux spider web that is so real looking it gives me the chills when I walk through it. Not to mention that it is fun to use. Simply plug it into a power source, hook it up to your air compressor, add a glue stick, and get to work casting spider webs all over everything you own.
Salem Broom Company Sign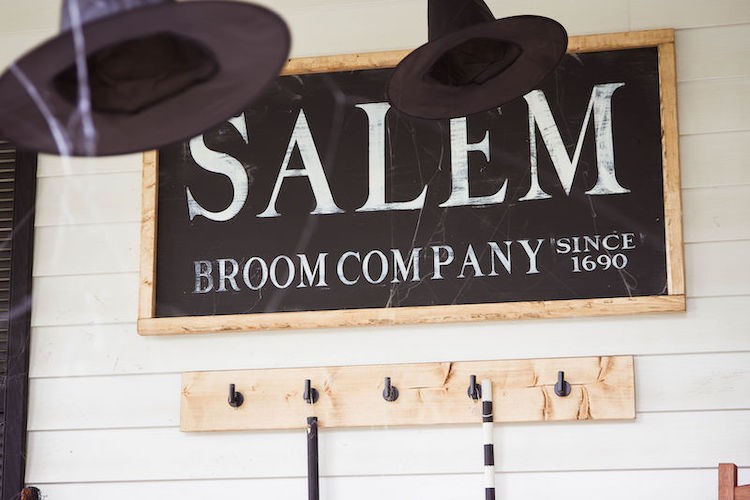 While you are picking up your sheet of MDF for the witch silhouette, grab a 2' x 4' sheet of ¾' wood for the cutest project. We painted our sign black and used our vinyl cutting machine to make a custom stencil. If you don't own a vinyl machine you can always freehand a cute saying on it! Frame it out with stained 2×2 pine boards and mount it on your porch.
Broom Hook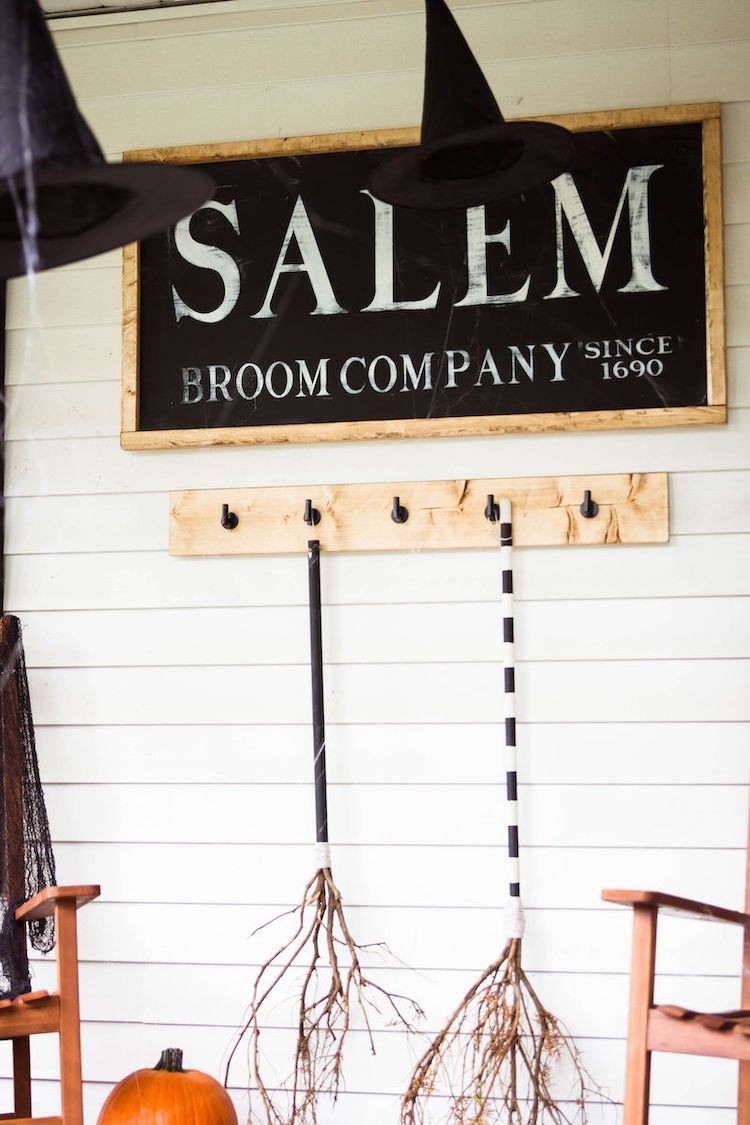 Cut down a 1×6 pine board to desired size (ours is 4' long) and stain it with your favorite stain. My favorite is Golden Oak by Varathane. Attach hooks and hang on your porch under your broom company sign.
Witches Brooms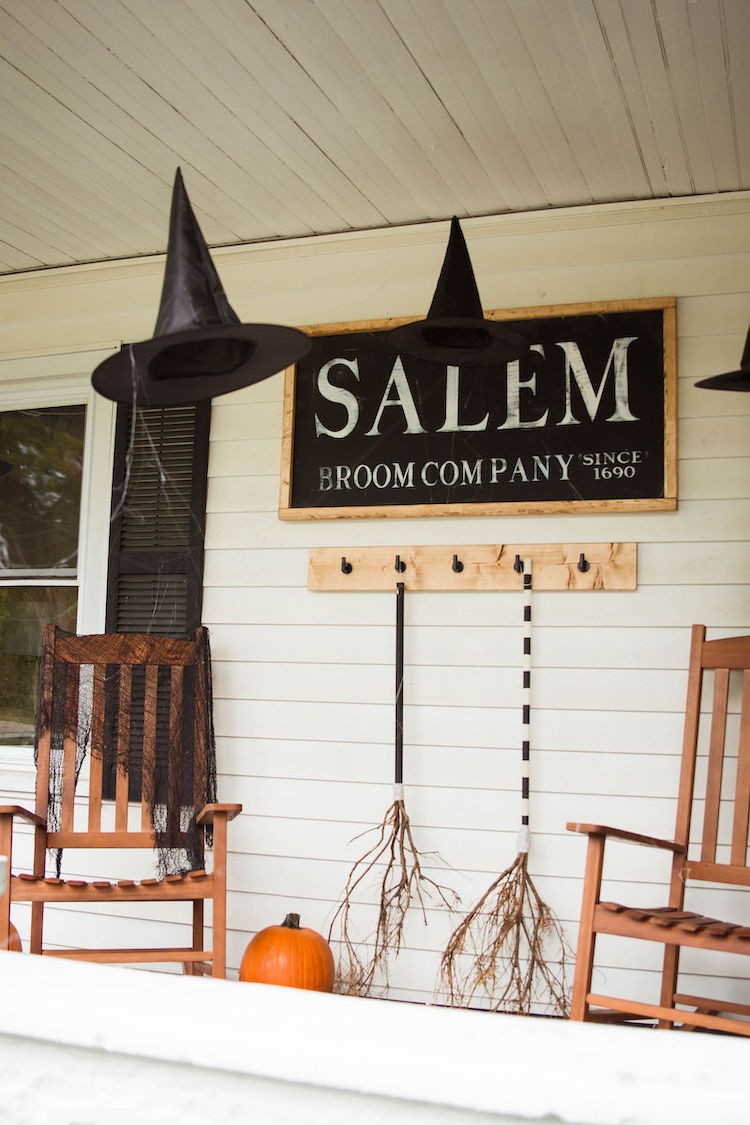 Homemade brooms are so easy to make! Use a 1" thick dowel and paint or stain it. Gather some dried sticks from your yard and use a rope to tie the bundle of sticks on the end of the dowel. Drill a hole in the top of your dowel and thread it with a string. Hang it on your broom parking board and step back to admire your hard work!!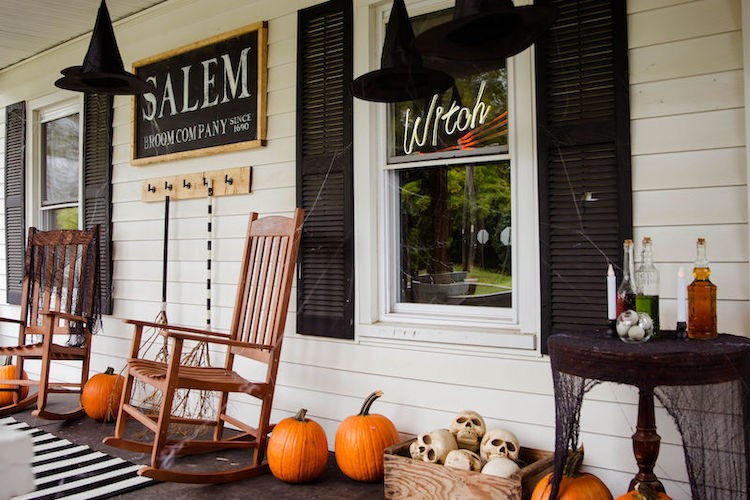 Words can't describe the love we have for this adorable sign! It is cute during the day and perfection lit up at night! It is one of our favorite additions to our spooky porch!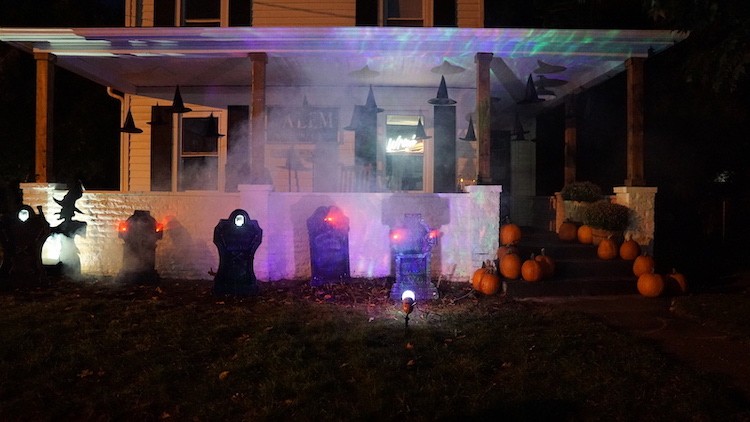 This last step might be the most important. There are a handful of light show projections to choose from. Ours is the Halloween Super Bright Ghost Flame LightShow Projection with Remote Control and it has 15 different light settings. It's the best! It even comes with a remote so you can stand their and change the colors as often as you like.
These are my key elements to creating the spookiest outdoor space on your block. Here's to making this the best Halloween yet!
The post How to Create a Spooky Halloween Porch appeared first on The Home Depot Blog.