Yuni Min from Love Your Abode gets her guest room ready to entertain, and host guests this holiday season. Read through the post to find out more!
Getting the Guest Room Ready for the Holidays
When I think about the holidays, my favorite memories always center around spending time with the people I love. Since we host and have quite a few people stay in our home throughout the year including our foster children, I love creating a cozy space that welcomes all of our guests. Thanks to The Home Depot and their beautifully stylish and comfortable home line, I was able to make our guest room ready. I'm sharing a few simple tips on how to create a guest room that is both equally stylish and inviting.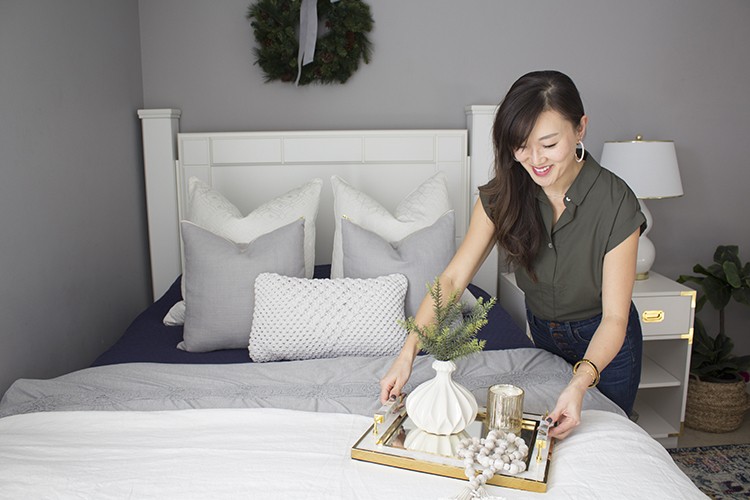 Tip 1: Make a Comfortable Bed
A few touches can truly help make your guests feel special and pampered and I think the most important one is helping them get good sleep. Don't you just want to jump into this bed?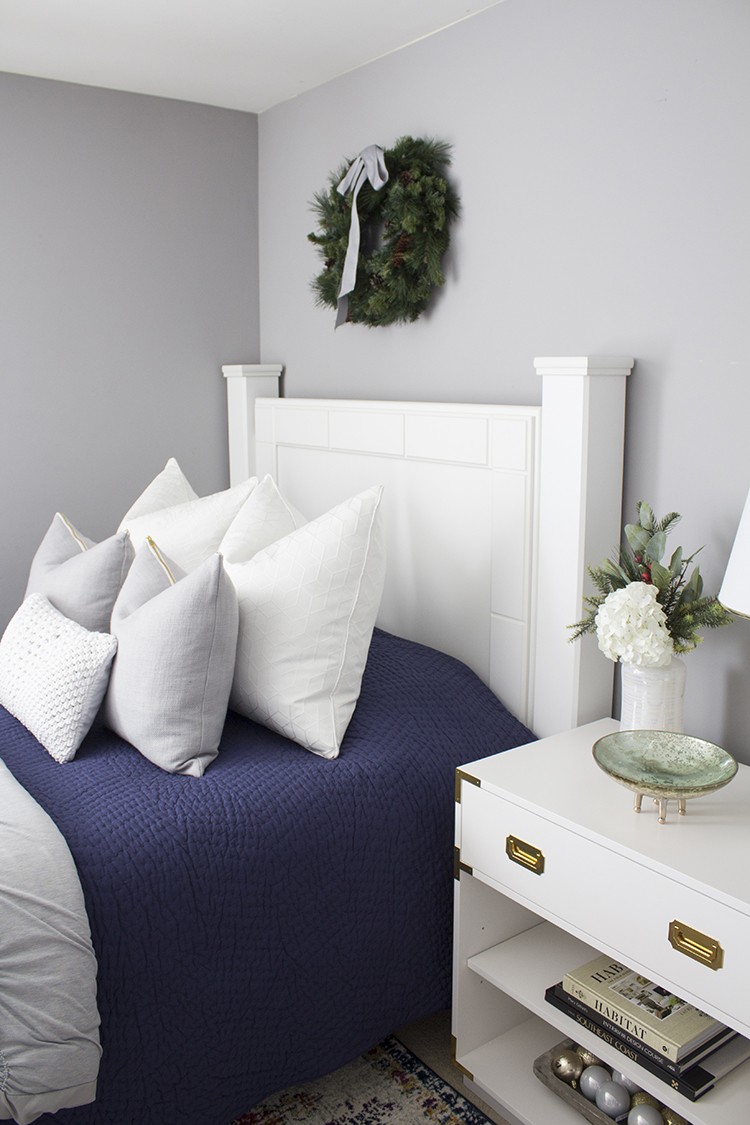 The navy quilt and shams are wonderful quality and you could easily use it for warmer weather as well for layering during the colder season. I love that it is available in bunch of different colors and has amazing reviews. The quilting on it is classic and a great staple on your bed throughout the year.
Tip 2: Provide the essentials and something extra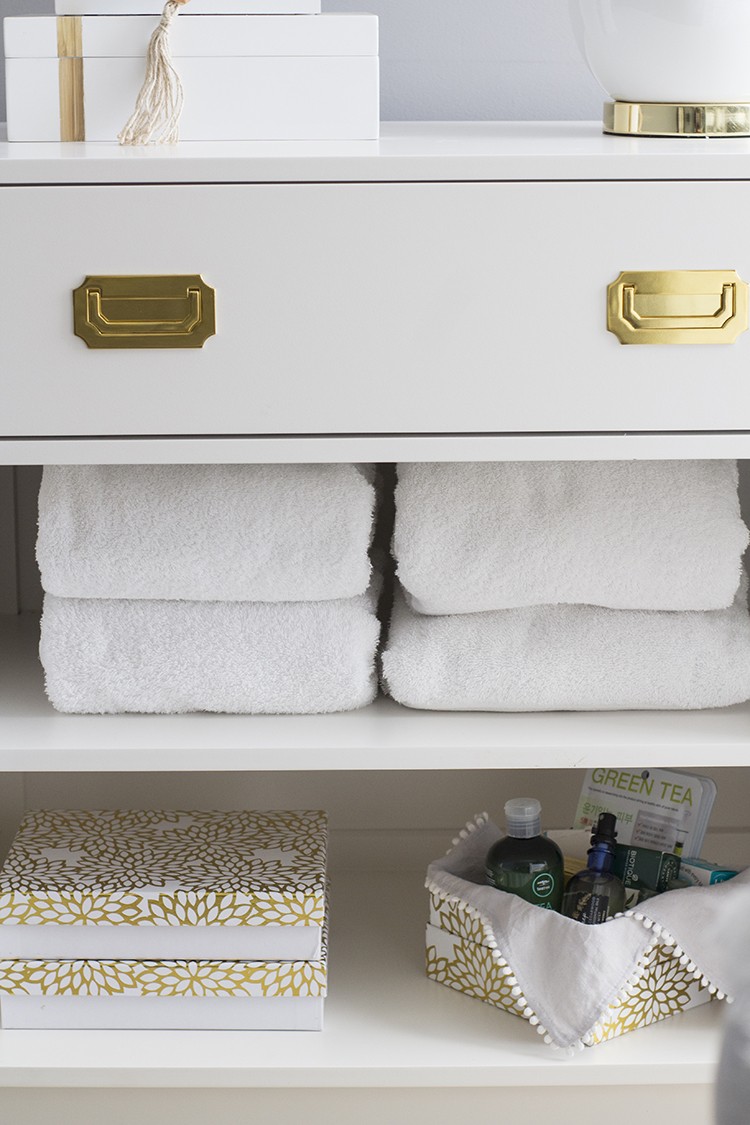 First of all, do you just drool over this nightstand? I practically did when I saw it online and then when it arrived, it was even better! Campaign styled furniture can be pretty pricey but these are not only gorgeous and well made, they are a great price. The gold hardware on them adds a nice modern touch and it arrived fully assembled. I was completely blown away by the choices that The Home Depot now offers to decorate and furnish your home.
It's always nice when you stay at someone's house and you don't have to constantly ask for another towel. I like that these nightstands have open shelves so guests can easily utilize whatever is there for them. A little basket of toiletries is also a nice gesture just in case your guests forgot their toothpaste, conditioner, etc. I added face masks, lavender essential oil and other items that will hopefully allows guests to fully relax and feel like they are on vacation.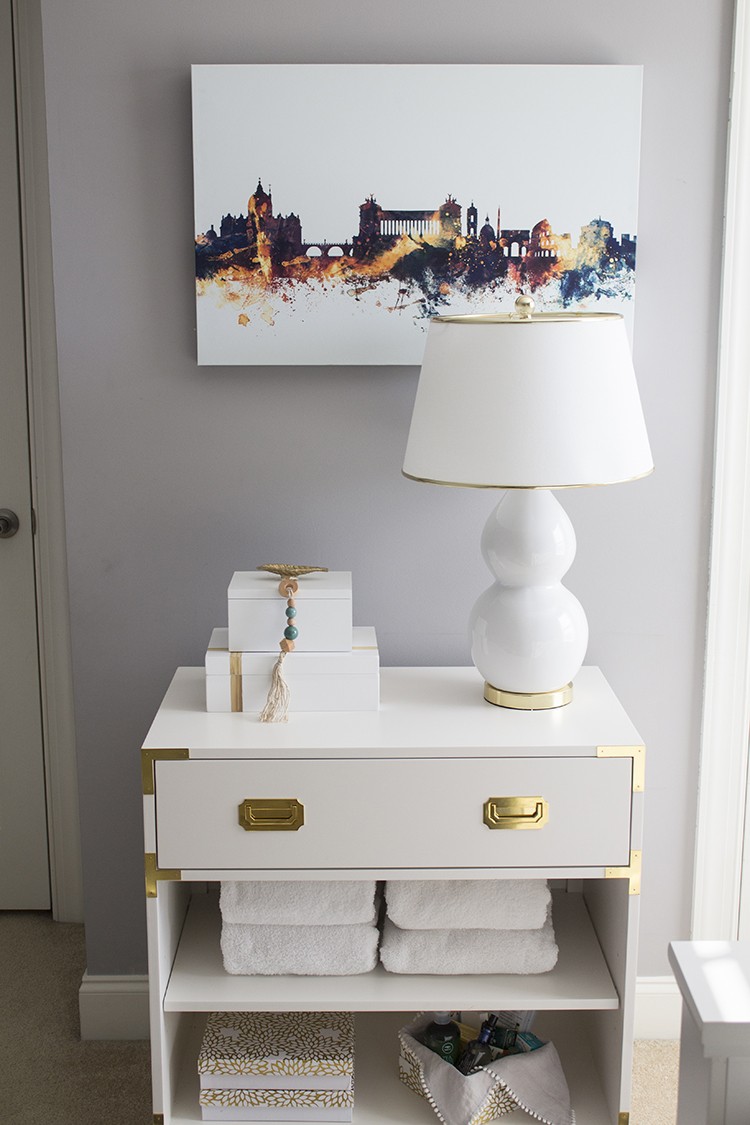 I loved this canvas of the Rome city skyline that I discovered online at The Home Depot. It reminded me of my recent trip to Italy a couple of months ago. The colors go perfectly in here and they had so many different city skylines available. My home isn't Italy but I still want guests to feel like they are away from home and can relax and unwind as if they were.
The sleek Safavieh white and gold rimmed lamp provides additional lighting for guests. It complements the nightstand perfectly.
Tip 3: Add a bowl or tray for catchall items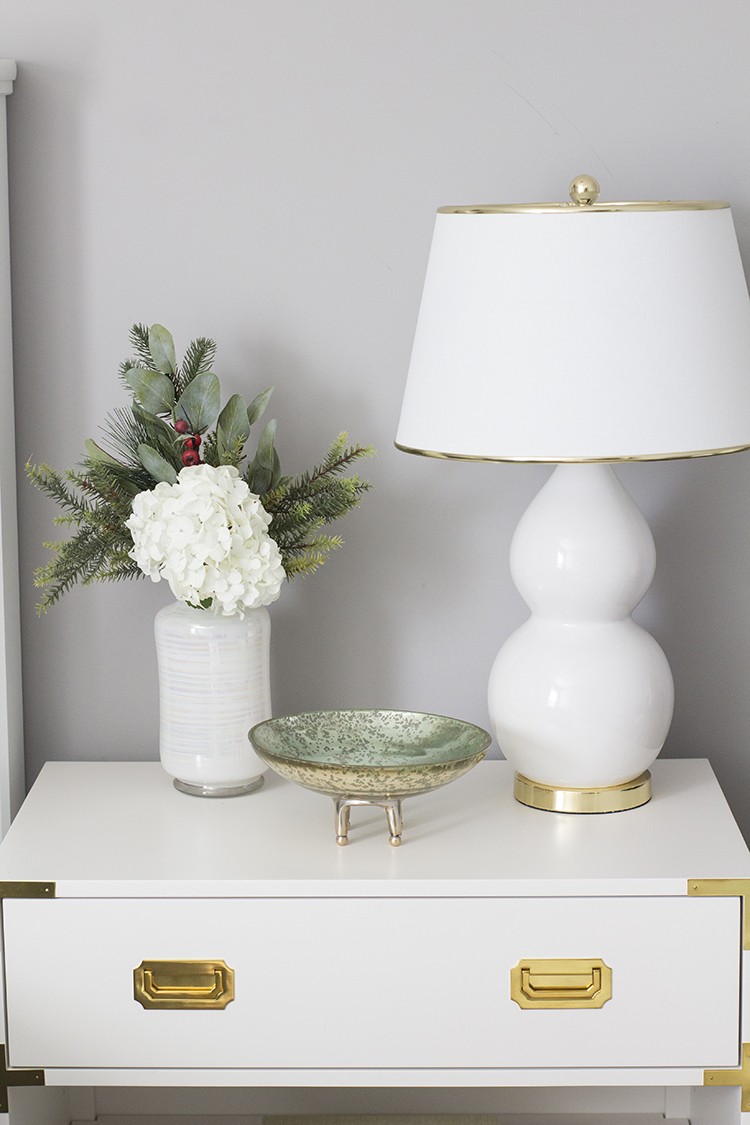 I adore this gilded sea glass bowl and think it is a perfect place for guests to throw their keys and jewelry into it. I like that it's large enough to hold valuable items and keep them all in one place.
Tip 4: Add fresh flowers or faux greenery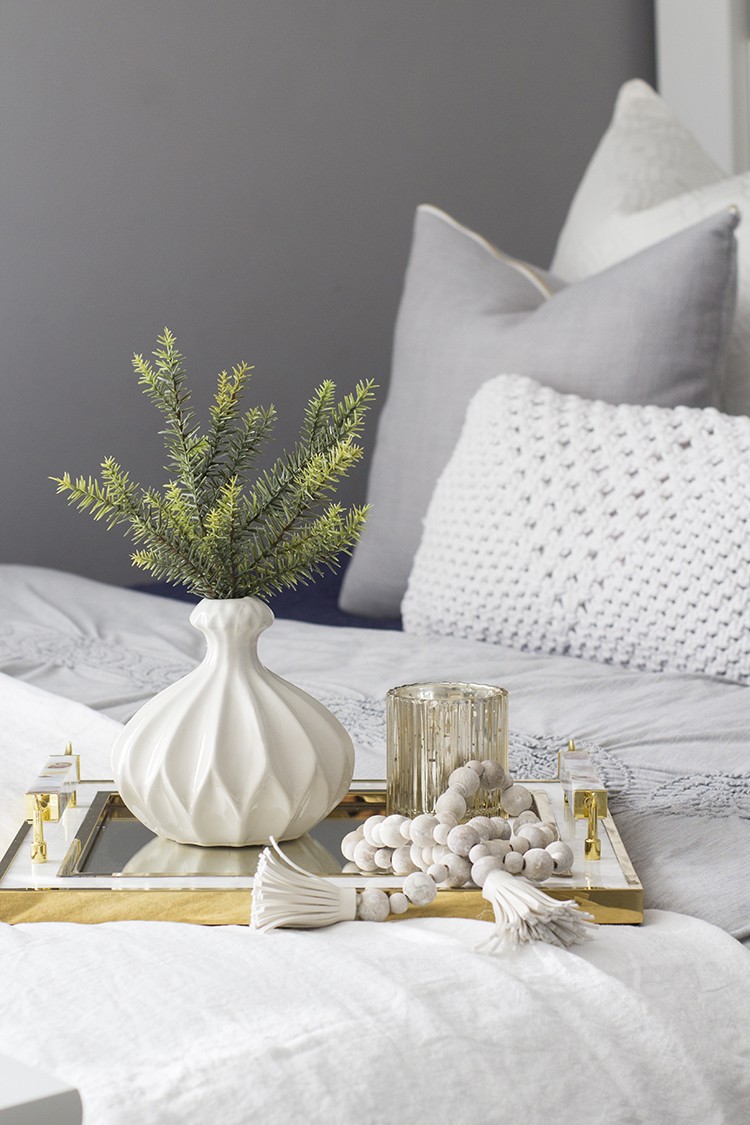 I discovered some fabulous decorative items like this vase that actually comes in a trio set along with the mirrored tray with gold handles. I just added a candle and a faux pick to the vase to add some holiday cheer.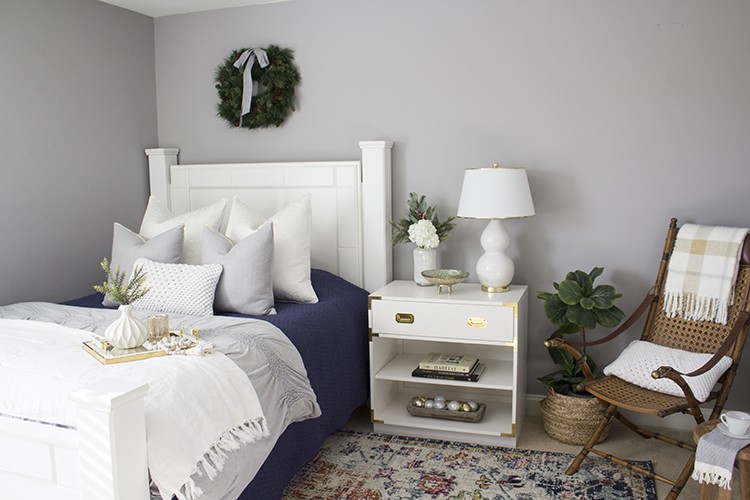 I also hung a simple faux wreath above the bed and put out flowers on the nightstand. Flowers and plants always add life to a space and help make a room feel even more lived in. A medium sized fig plant  adds color and ambience to the bedroom.
Tip 5: Share your laundry room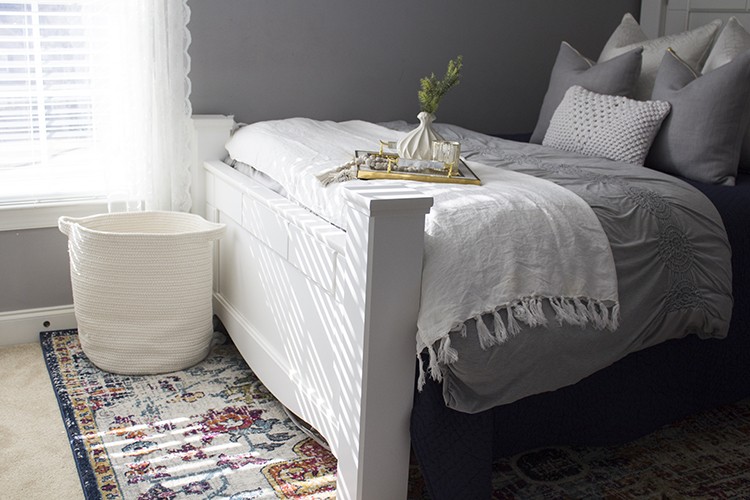 When guests come over, we always ask if they want to use our washer and dryer. I found this braided laundry basket and placed it at the corner of the bed. This allows guests to put all their dirty laundry in one area. A benefit to letting guests do laundry is so that it's one less thing they have to deal with when returning home. I think it's a small gesture of hospitality that makes guests feel more comfortable.
Tip 6: Think of small details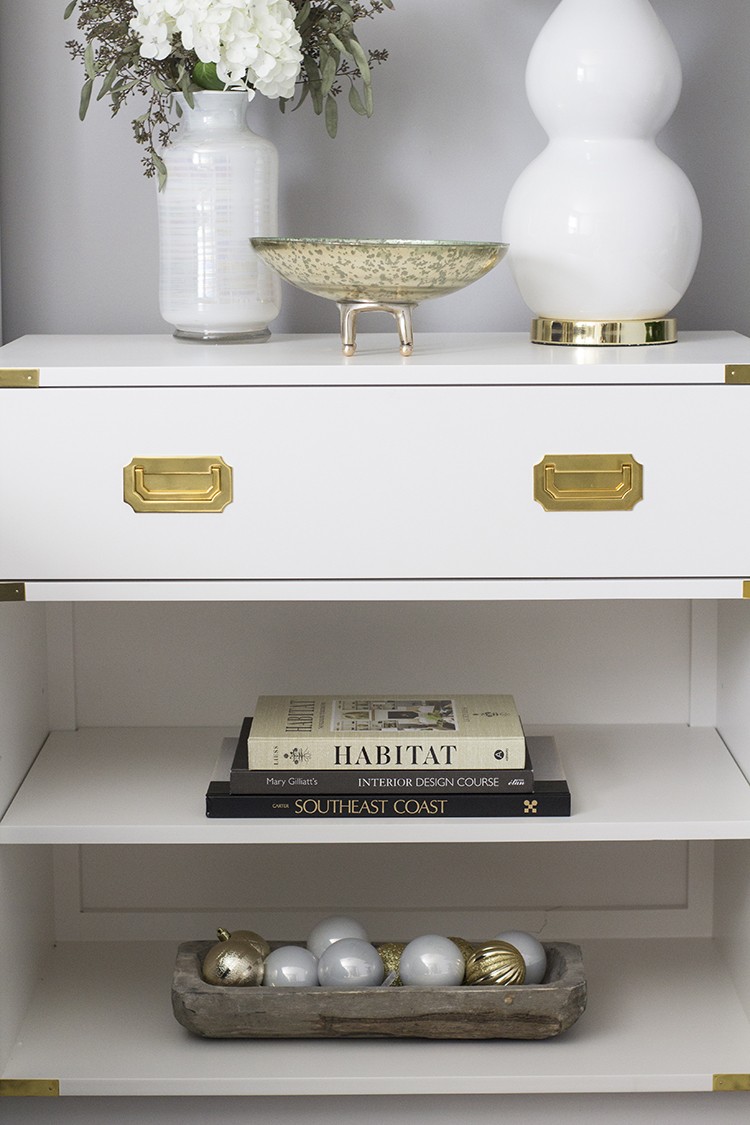 Add extra reading materials and if there's space for it, a place to sit.
An extra set of pillows and a throw blanket is also a nice touch to the room. This linen throw is beautiful at the foot of the bed but practical for guests to use as well.
A rug like this one grounds the space and pulls the room together. It adds that extra layer of coziness and makes the room feel warm and comfortable. The colors on it are absolutely beautiful.
Tip 7: Be available
My last tip has nothing to do with design but all about being available to your guests. You could have the most perfectly styled room that can still feel completely cold and uninviting. I believe it's all about our hearts and how we welcome people into our homes. The cozy bedroom is just the cherry on top if we generously open our hearts to those who enter inside our homes.
I am so excited to share this newly decorated room with my sister's family who will be our first guests during Christmas. The Home Depot recently partnered with me on gifting her family a Winter Wonderland in her home. Thank you to The Home Depot for creating an equally stylish and comfortable bedroom for all our future guests.
Be sure to follow along with me on Instagram where I share lots of decorating tips, recipes and DIY projects.
The post Prepping Your Holiday Guest Room appeared first on The Home Depot Blog.