You've all heard this one before…'you eat with your eyes before you taste with your palate.'  And, if you haven't, you certainly know the importance of ambience when you go out to eat.  But it's equally important at home.
The way you set your table, even what you wear, sets up your evening for success. When the Tarheels play, I use wear my UNC ball cap and my favorite sweatshirt.  Another friend of mine drinks everything out of his favorite team's mug.  I'll bet that you have a lucky shirt or jersey in your closet to cheer your team on.
It's no different serving game time snacks. So, I was thrilled to discover Cristel cookware. All the handles snap off which makes it easy to store and easy to use.  But I can also customize the handles for my favorite sports team, that's light blue and white for UNC, red and black for my nephew's football team and navy blue and orange for my best friend's Bears obsession.  You have the choice of 11 different color handles to mix and match.  The colorful handles turn cookware into serveware, and turns any table into a spirited tailgate without having to leave your house!
And, once you start collecting the handles, you can use them to match your table décor for any holiday including birthdays, Halloween, Thanksgiving, Christmas, Hanukkah, New Year's etc.
The colorful handles are the icing on the cake because Cristel functions better than any stainless-steel cookware that I have ever used. And, as a chef and a cookbook author and food writer, I have tried every kind of stainless-steel cookware on the market.  It is one of the few products that is 100% made in France and the quality is impeccable.  I am so happy that Cristel is now sold in the USA.  The Tulipe line that they made exclusively for The Home Depot is what I use every day at my house.
I have appointed myself captain of Team Cristel and I hope that you will join me.  Email me at [email protected] and let me know your favorite game day snack to make.  Mine is this "No Beans About it," Texas-Style Chili.
Hip Hip Hooray for Fun Colorful Cristel Cookware!
Elizabeth
Elizabeth Karmel's "No Beans About it," Texas-Style Chili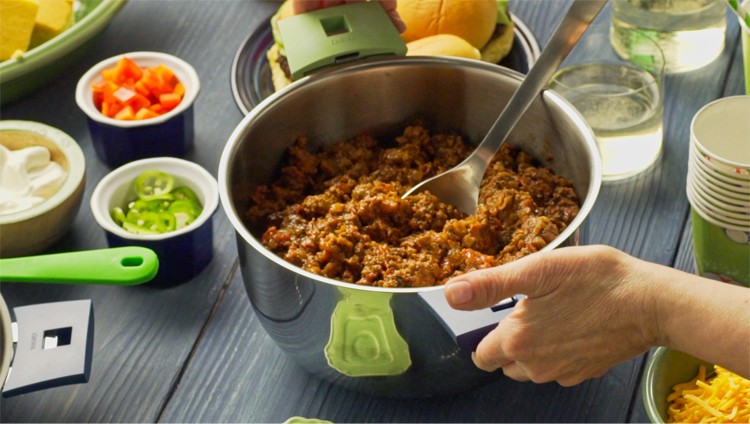 In Texas, there are no beans about chili!  It's called a bowl of red and the original recipes called for only beef [stew meat] and red chiles—thus the "bowl of red."  Although the purists would still disagree, it is acceptable for modern day bowls of red to include ground meat, tomatoes, seasonings and some extra flourishes, but still no beans!  I've added my favorite Kreuz market jalapeno-cheddar sausage to a mix of lean ground sirloin and "moister" ground chuck for balance, taste and texture.  The bottle of Lone Star gives it a deep heady nose, and it's my nod to the wildcats out-on-the-range who I know added a little of their own brew for good measure!
1          pound ground sirloin
1          pound ground chuck
2          large yellow onions, finely chopped
1          12-ounce bottle of Lone Star or other favorite beer
2          10 oz. cans Rotel tomatoes with Chiles
6          ounces tomato paste
2          tablespoons freshly ground cumin
1          tablespoon freshly ground oregano leaves
1          tablespoon dehydrated garlic
2          teaspoons kosher salt or more to taste
1          tablespoon Ancho chile powder
2          teaspoons New Mexican chile Powder
½         teaspoon cayenne pepper
1          cold Kreuz Market Jalapeno Cheddar link, chopped or other favorite smoked sausage(optional)
Cornbread and/or Tortilla chips as an accompaniment
In a large heavy-bottomed pot, brown meat and onions for about 15 minutes or until onions are translucent.  Add beer, Rotel tomatoes, and tomato paste.  Stir well.  Simmer for a few minutes, stir and add spices, making sure that everything is thoroughly mixed.  Cover pot and cook on a low heat for 2 hours.  Stir occasionally to break up the pieces of tomato and make sure all the spices are well incorporated.  Add chunks of the Kreuz market sausage, if using, and heat for 5-10 minutes more or until sausage is warmed through.
If chili is too thick, additional water or beer may be added, but add slowly and cautiously.
Serve with a slice of cornbread or tortilla chips and extra hot sauce for the heat freaks on the side.
Serves 4-6
The post Set Your Table with Team Spirit appeared first on The Home Depot Blog.