Sisters Niña Williams and Cecilia Moyers from Niña and Cecilia have two different styles when it comes to home decor. For the Holiday Style Challenge this year, they decided to take on two holiday porch and entryway styles. Read through the post to find out more about how they went about the decorations!
Two Holiday Porch & Entryway Styles
Cecilia and I are so excited to be participating in the Home Depot Holiday Style Challenge! If you didn't know, we are identical twin sisters, but just because we look alike doesn't mean we have the same home decor style. I (Niña) have a coastal farmhouse style, and Cecilia has a modern eclectic style. We will show you how we decorated our homes with two holiday porch and entryway styles!
Niña:

I took on my front porch for the Holiday Style Challenge, and this year, I wanted to add more red. I have a traditional style when it comes to holiday decor, and there's just something about reds and whites that I love so much!
When I'm decorating my front porch, I first decide on whether I'm going to decorate near the front door or more towards the steps and pillars. As you can see, I decided on the front steps.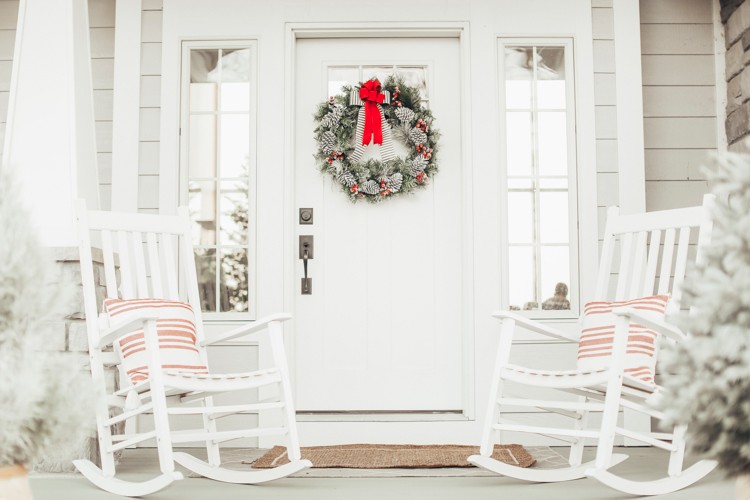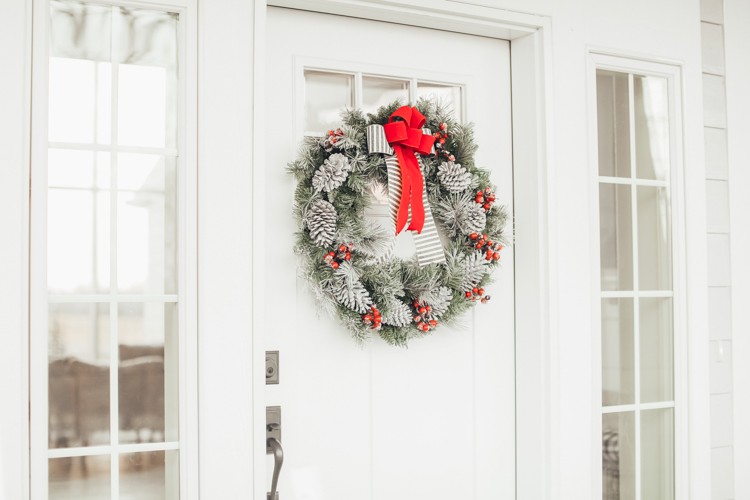 I always have a wreath on my front door, and I change up my wreath with the different seasons. I love this pinecones and berries wreath! The colors of the wreath just pop against my white front door. The striped and red ribbon is a great finishing touch.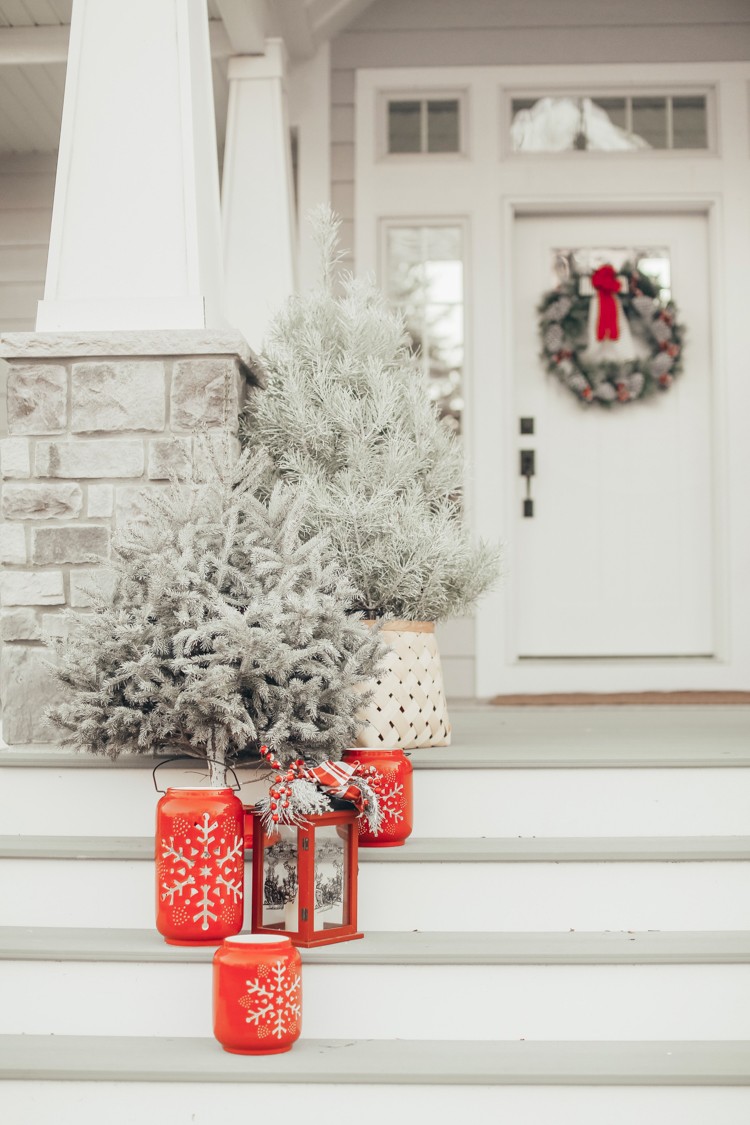 The Home Depot has fresh trees, garlands, wreaths and arrangements in the outdoor lawn and garden area of the store. I was obsessed with these mini trees! Each mini tree was around 3.5 ft. tall and comes with a tree stand. I ended up getting three trees and set two on the top step of my front porch in a basket.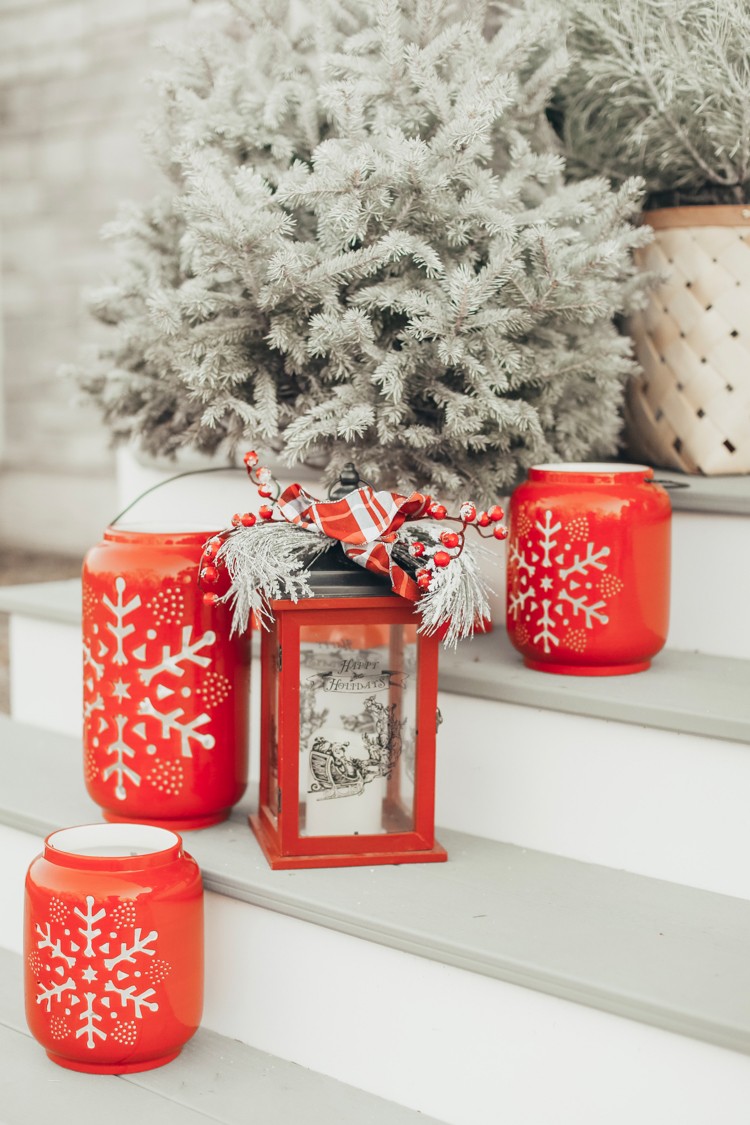 Using lanterns is a great way to to add depth to front steps. I used two different lantern styles for this space. The red wooden lanterns actually comes as a set of two, and I placed one on each side. Along with the wooden lanterns, I included these ceramic snowflake candle holders. The ceramic candle holders comes in two sizes, 8 in. and 12 in.
Once I had the trees, candle holders and lanterns in place, I placed this red metal truck to fill in the gap. I also added a few birch poles which I also got in the garden center. The birch poles came in a set of three.
What I envisioned for my front porch came to life with the help of The Home Depot! I love how it turned out!
Cecilia:
My family recently moved into our new home, and I was so excited to create a space that would be welcome for our guests during the holidays. If you compare my style to Niña's, mine is more modern. I love simple designs that make a statement.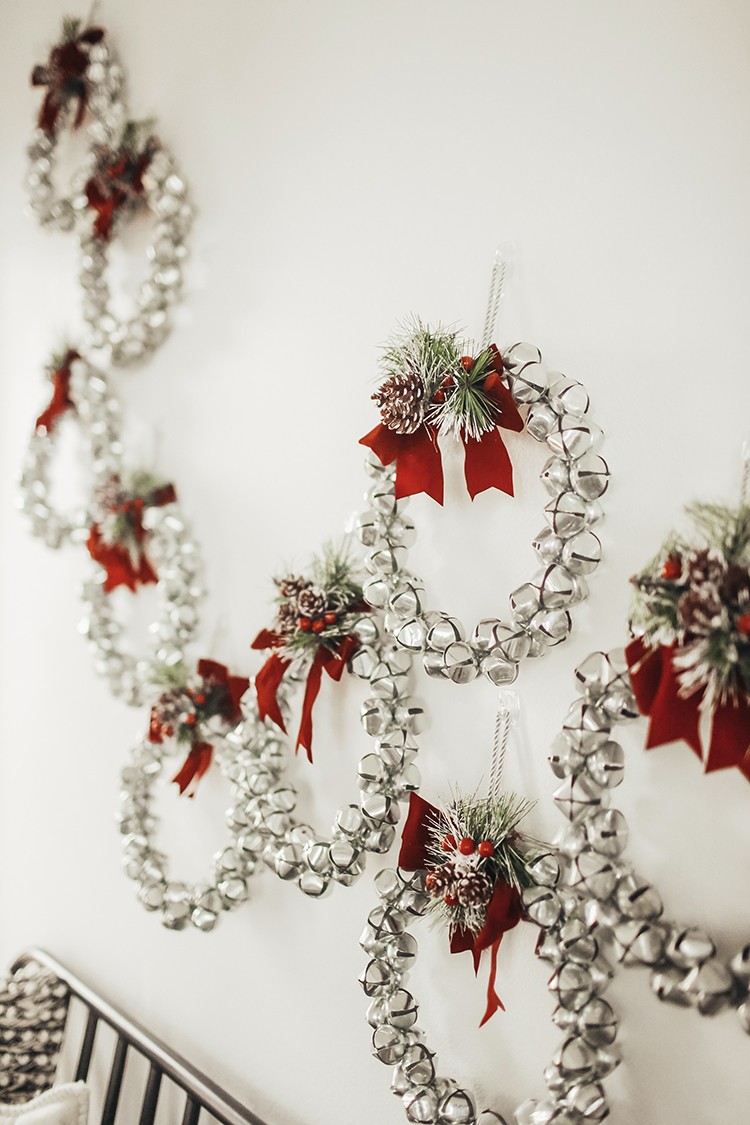 When I was shopping at The Home Depot, I was drawn to the jingle bell wreaths. This wreath would be perfect on a door, but the first thing that came to my mind was to hang a bunch of them on the wall. They are only 10 inches so I wanted to do a cluster on the wall to look more abstract instead of having them placed in a specific pattern.
I used Command Mini Clear Hooks to hang these so I wouldn't have nine new holes in the wall. My daughter actually helped apply the stickers on the hooks for me. That's what I love about these hooks. It's easy application, it works great and is a great temporary hanging solution for holiday decor!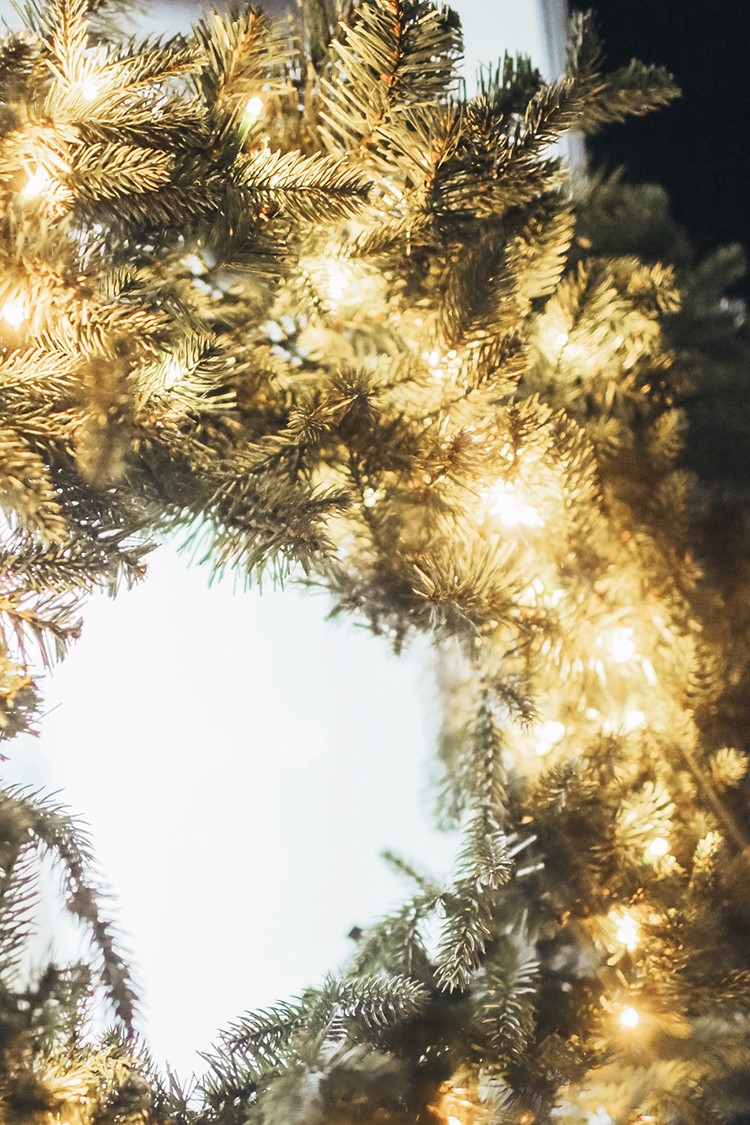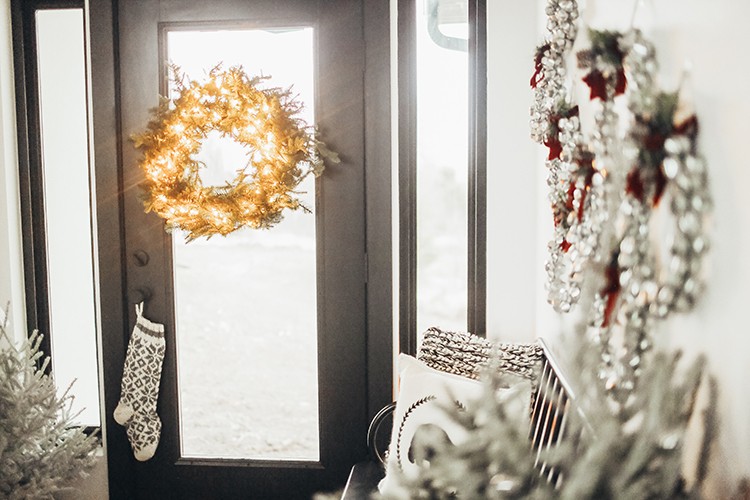 I know many people put wreaths on the outside of the front door, but let's not forget the inside! It's a great way to add more twinkle lights to the interior. The wreath I chose for the front door is an artificial Norway 32" LED wreath. The faux greenery impressed me with how real it looks. I also grabbed a 2 pack of candles with a silver base to place in front of the sidelight windows.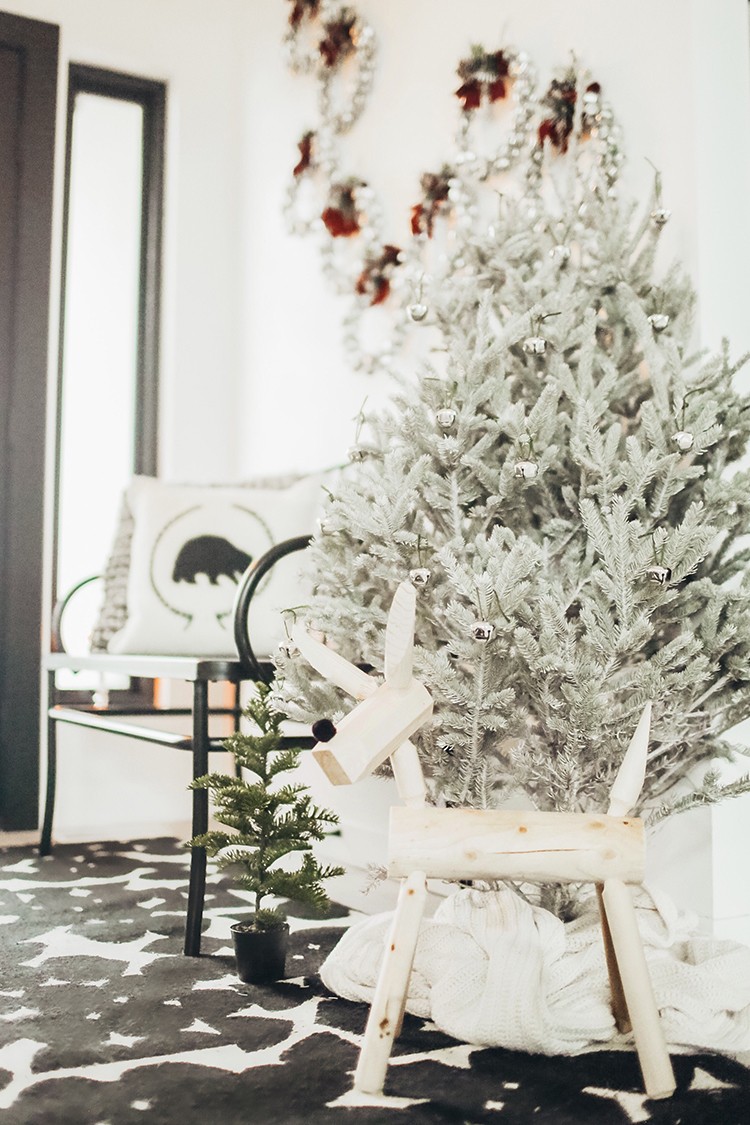 I already had a black bench in the foyer and knew a mini tree would be a great addition next to it. The great debate was whether I would use an artificial tree or a fresh-cut tree, a flocked tree or green tree. Once I headed out to the garden center at my local Home Depot store, I couldn't stop looking at the short white coated trees. With the size of my foyer, I could only grab two and each were different heights. That's what I love about real trees. You get to choose what will work best in the specific space you're working with!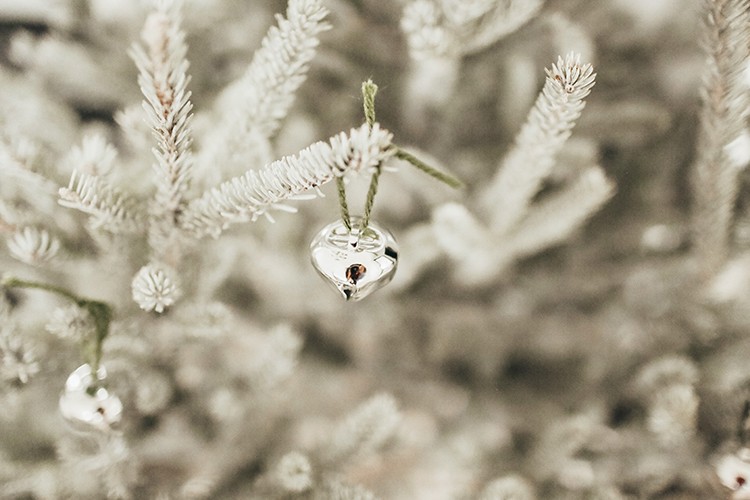 There are various sizes and colors of ornaments to choose from online and in store. To tie things together, I went with silver jingle bell ornaments to match the wreaths on the wall.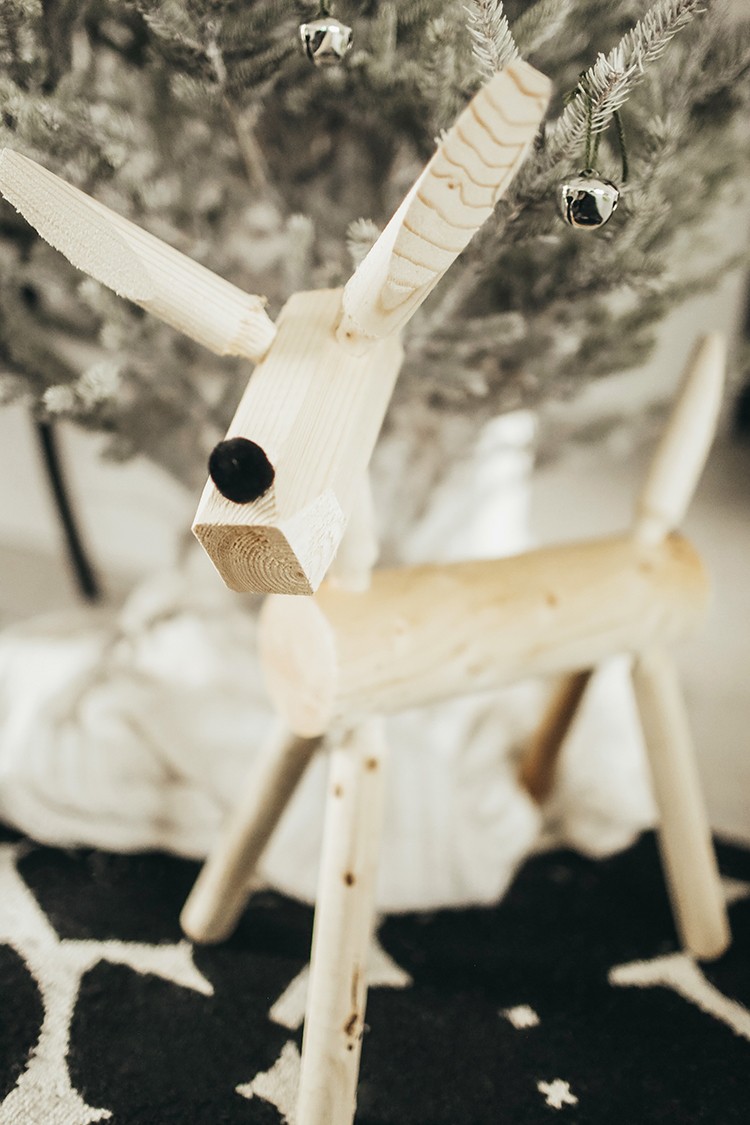 One last fun holiday touch to add to the space was the wood deer that gives guests a warm welcome when they enter our home. You can actually paint it, stain it or leave natural. I decided to leave it natural next to the mini tree. The kids love it!
I'm so happy with how the space turned out. It's so fresh and inviting. I'm so thankful that The Home Depot has such a selection of Christmas decor that fits with my modern taste!
For more Holiday Style Challenge and Holiday decor inspiration, read through The Home Depot Blog.
The post Two Holiday Porch and Entryway Styles appeared first on The Home Depot Blog.