For a master bedroom refresh, choosing a different color paint can drastically transform your space. Monica Benavidez of
Monica Wants It
was able to take advantage of  Home Depot products, showing how an accent wall can make a huge difference in a bedroom refresh.
My master bedroom was looking a bit bare. I took down some wallpaper that didn't work out on this accent wall. When I was thinking about what to do next in this space, I decided to stick to my trusty BFF paint. Because paint can transform a space in as little as one weekend.
Paint as Decor in a Master Bedroom
My inspiration for the paint colors came from my obsession with two things – Paris and the color pink. I wanted a pink that was grown up and sophisticated, and not so much on baby pink side, so I chose Pink Quartz by Behr in the matte finish from their Marquee line.
Utilizing the new digital paint color experience made choosing colors a breeze. You can view by color family or by what's popular and trending. This is how I was able to choose my ceiling color.
Painting the tray ceiling was a must in order to soften the contrast a bit, so using the online paint experience I found the perfect color – Elephant Skin by Behr in a flat finish from their Behr Premium Plus Paint and Primer in One line.
Truthfully, this was my first time using Behr paint on my walls, and it couldn't have been a better experience. We were fully prepared to do two coats on our ceiling. We were going from black to gray, but it took just one coat for a flawless finish.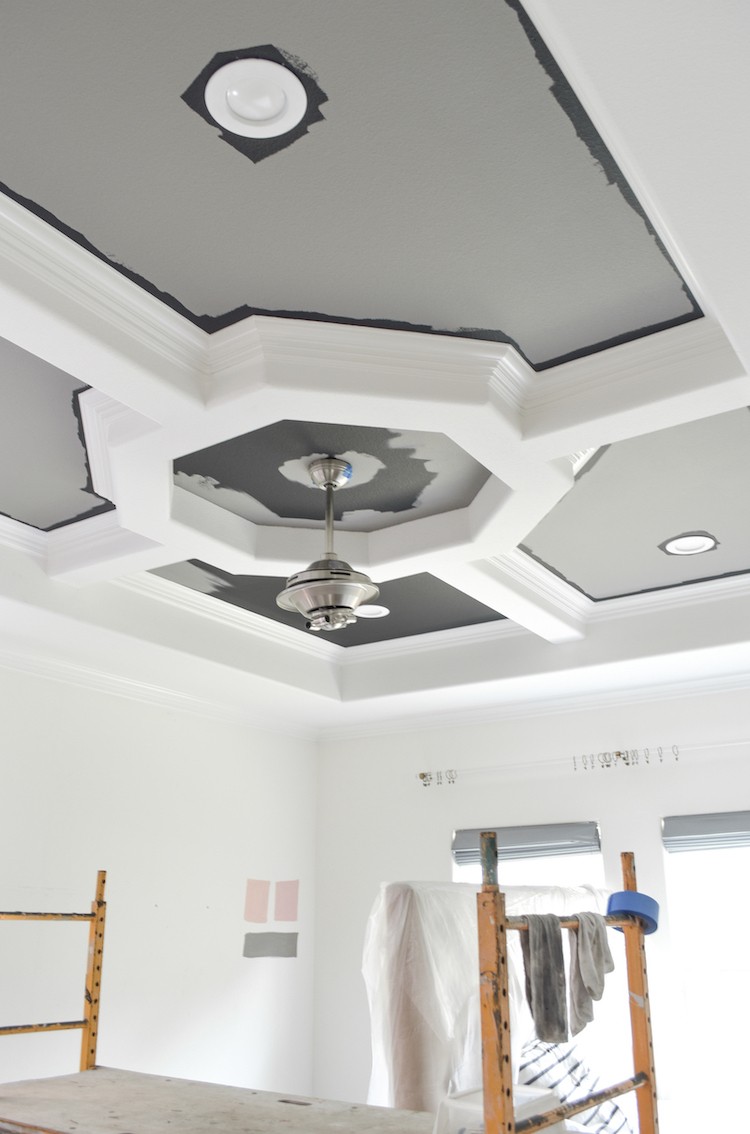 While I was cutting in on the tray ceiling, my husband was on the ground using the roller on the larger sections. This definitely saved us a lot of time.
The Marquee paint was superb as well. My husband and I couldn't believe how smoothly and easily it went on. We did two coats on this wall, because I knew I'd be adding some picture molding and I wanted a super opaque and durable coat.
We accomplished all of this painting in about seven hours on a Sunday. That included a trip to The Home Depot for the paint, supplies and scaffolding rental.
Adding Picture Molding to a Wall
I loved the new paint colors, but I wanted to amp up the style a bit more by incorporating some picture molding panels. I decided to paint the moldings the exact same color as the wall for a chic, monochromatic tone-on-tone look.
I decided to use some lightweight, easy to work with decorative corner flourishes and beefy panel molding that would not require any miter cuts. The bonus is that the decorative corners are very Parisian, large and add a ton of panache to my wall.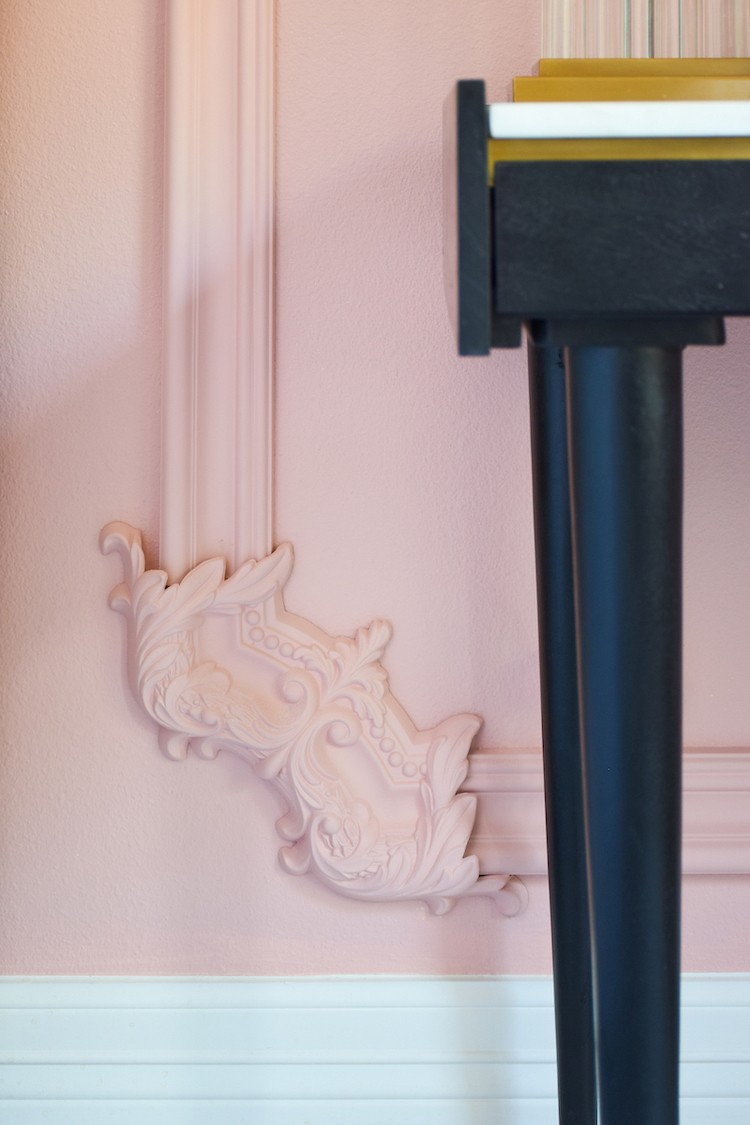 I decided to make two very large panels around the area where our nightstands and mirrors are that would frame the area. For the area over the bed, I made a wider version that compliments the width of our headboard.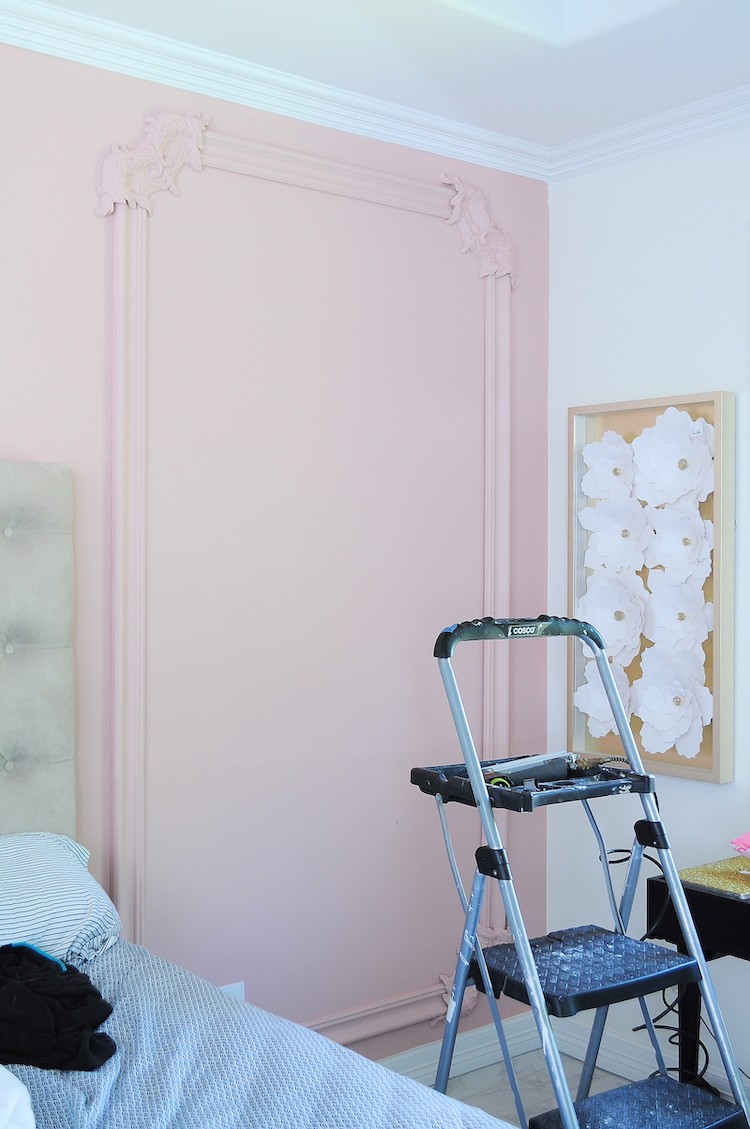 The laser level that I used for this project was the best! It spared me from crooked panels, and overall made this project very easy for someone to accomplish on their own. The picture molding project took me about four hours, but it was truly easy once I figured out my measurements. Since the moldings are made of polyurethane, I was able to trim them to size using a hand saw and a miter box.
The impact this made on our space is huge! And again the Behr paint worked flawlessly, this time in a paint sprayer, to easily get all of these moldings painted before putting them on the wall.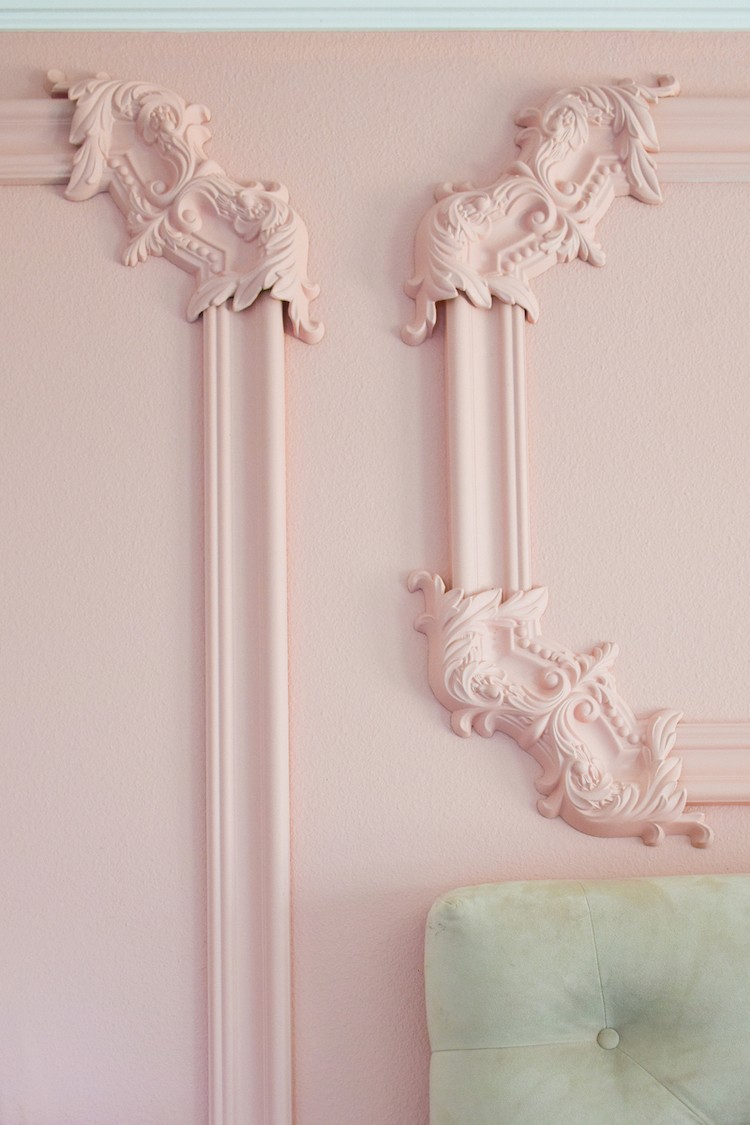 Textiles & Decor for a Luxe Master Bedroom
Our master bedroom felt like a whole new space with just the paint. The addition of some new decor and accessories really took it another level.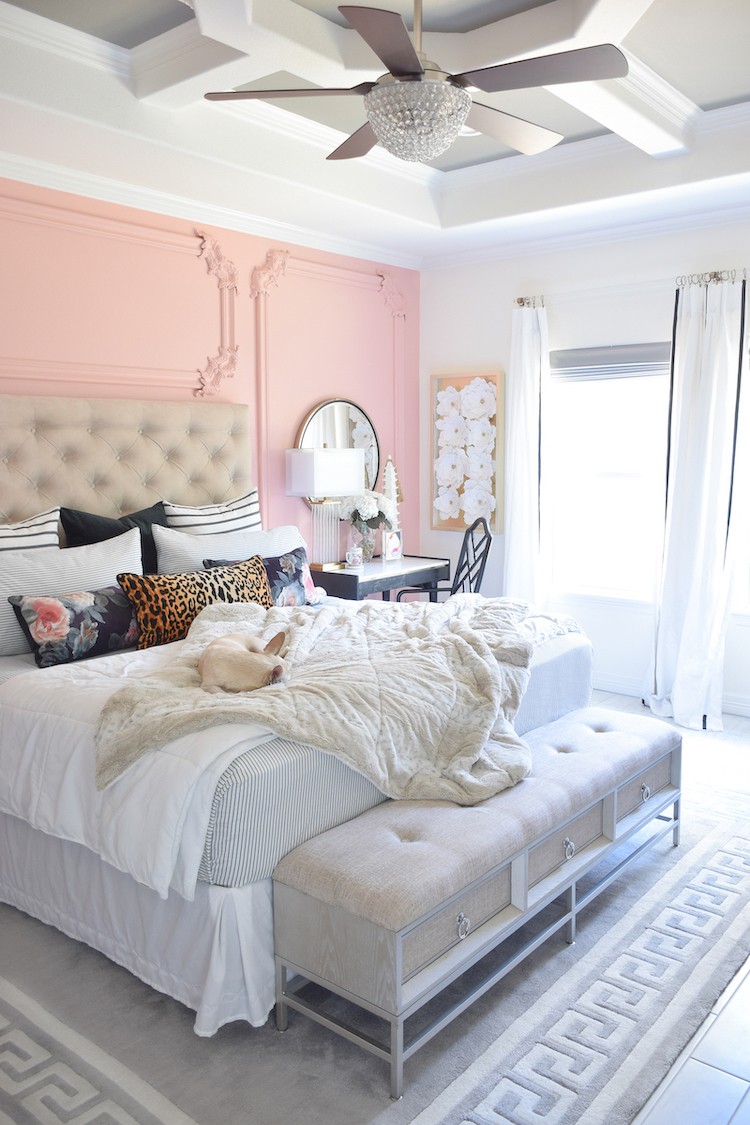 On our bed, we have an oversized faux fur throw along with new hotel inspired down surround king pillows from the Home Decorators Collection. We are very picky about pillows, and these feel like you're at a five-star hotel.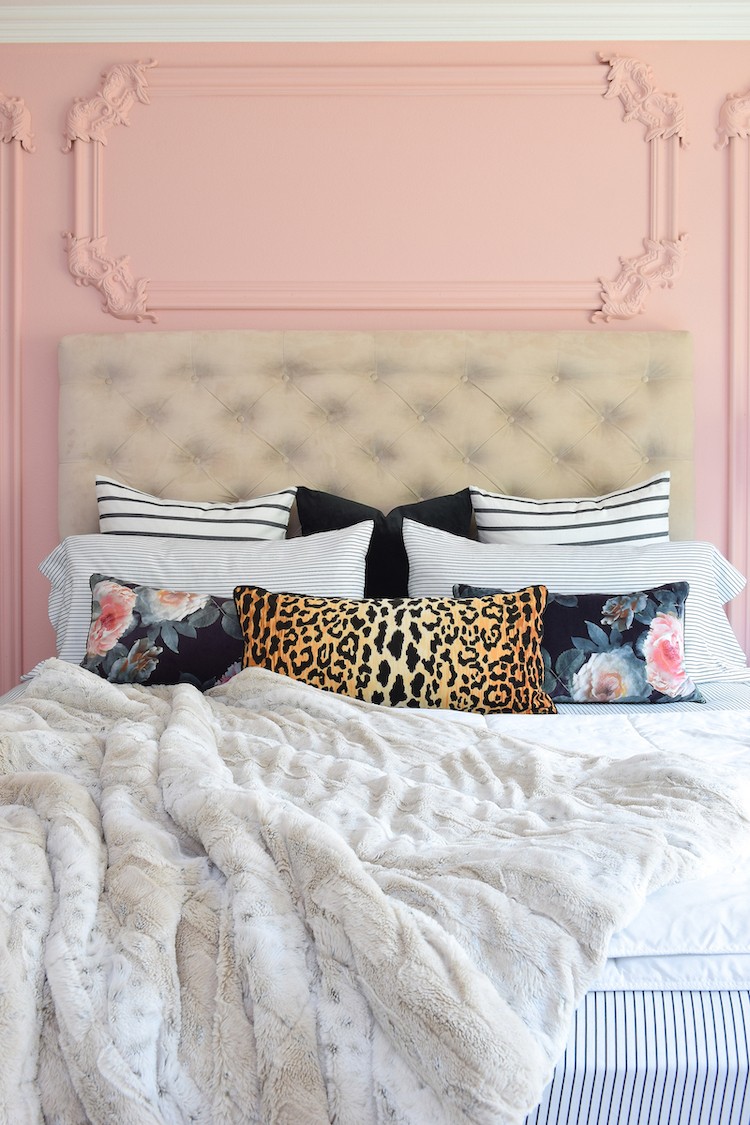 Pee Wee is particularly smitten with the oversized throw. I think it may be his now, but he's so cute that I truly don't mind.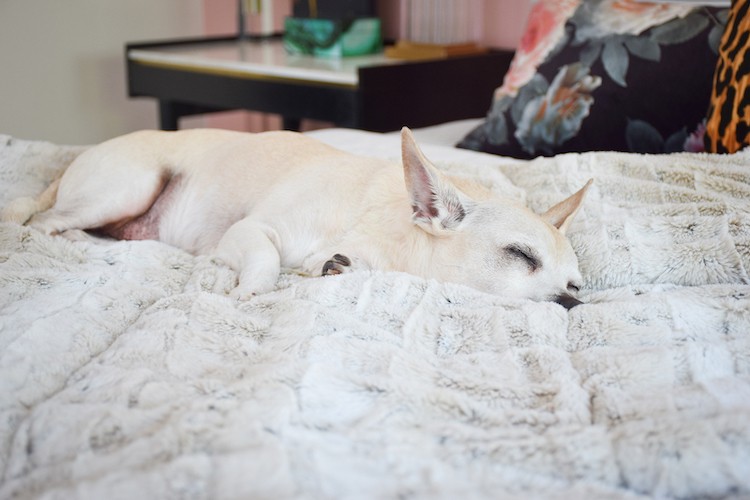 For this empty corner in the room, I selected a gilded gold floor lamp that has a bit of bamboo chinoiserie vibe. I love the striking contrast of the gold against the white walls and curtains in this spot.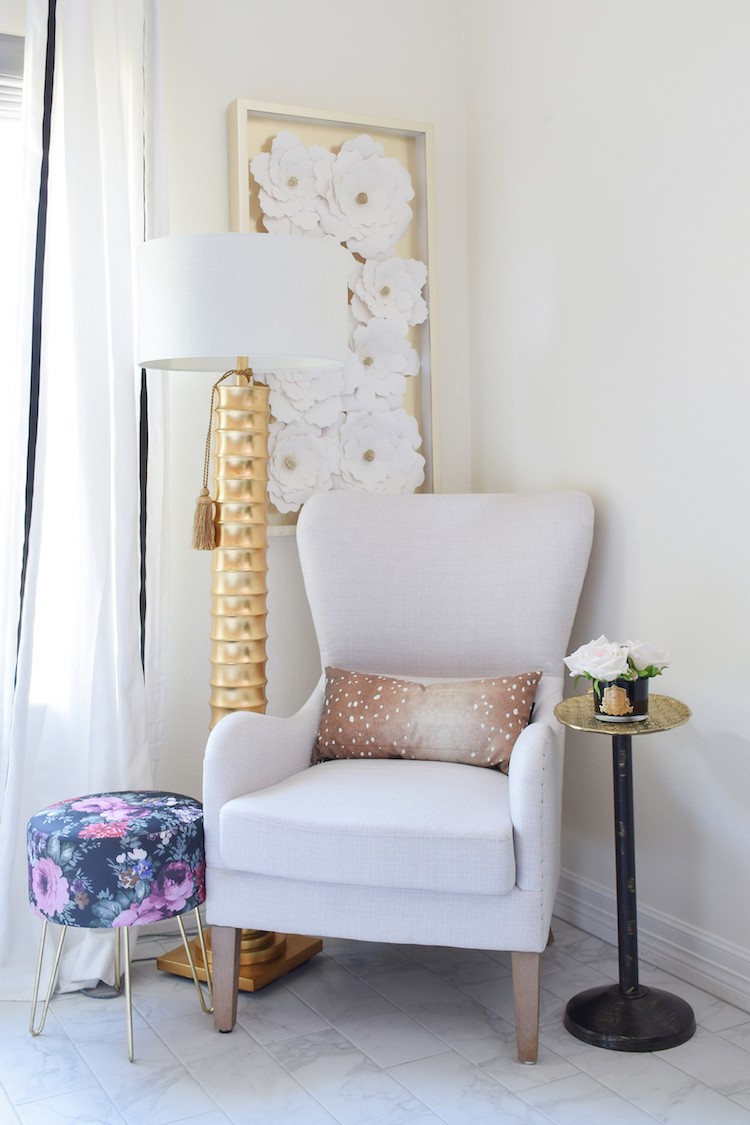 I also added in a fun and quirky pineapple side table. The bistro type base was perfect for this little nook, and I love the gold and black finish. I can imagine seeing this type of table in a boutique hotel in Paris, can't you?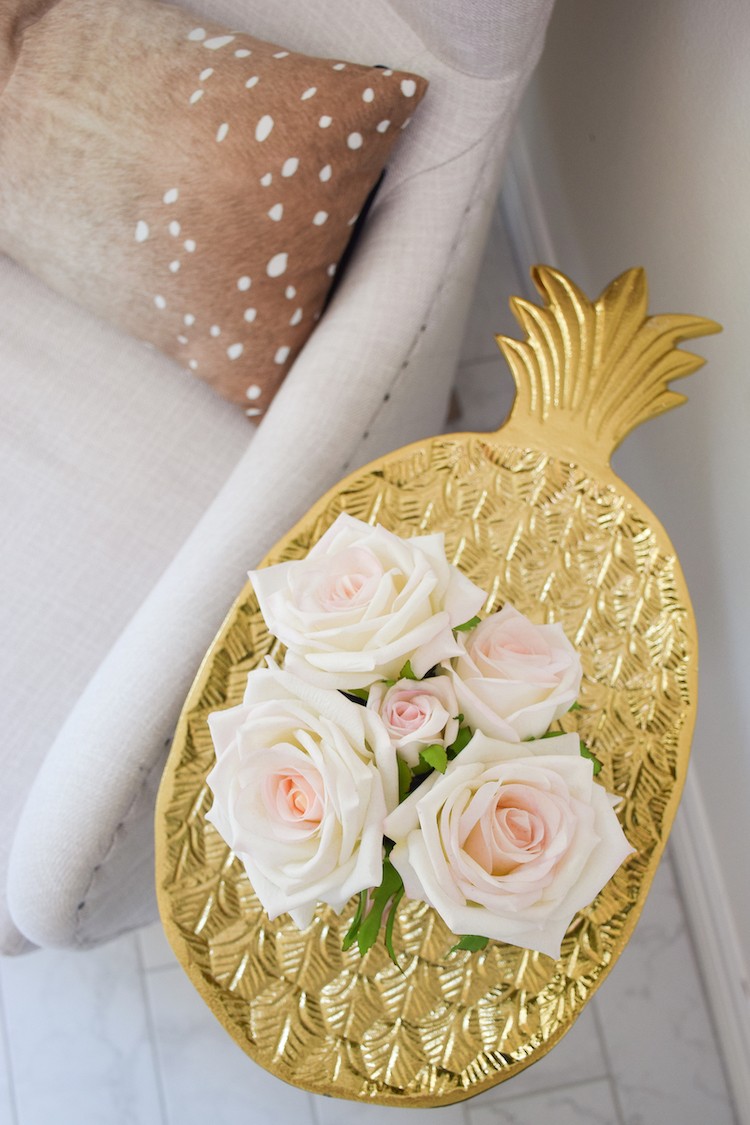 For my husband's side of the room, I selected a stunning crystal bud vase for his nightstand to stand alongside that custom pet portrait I got him for his birthday.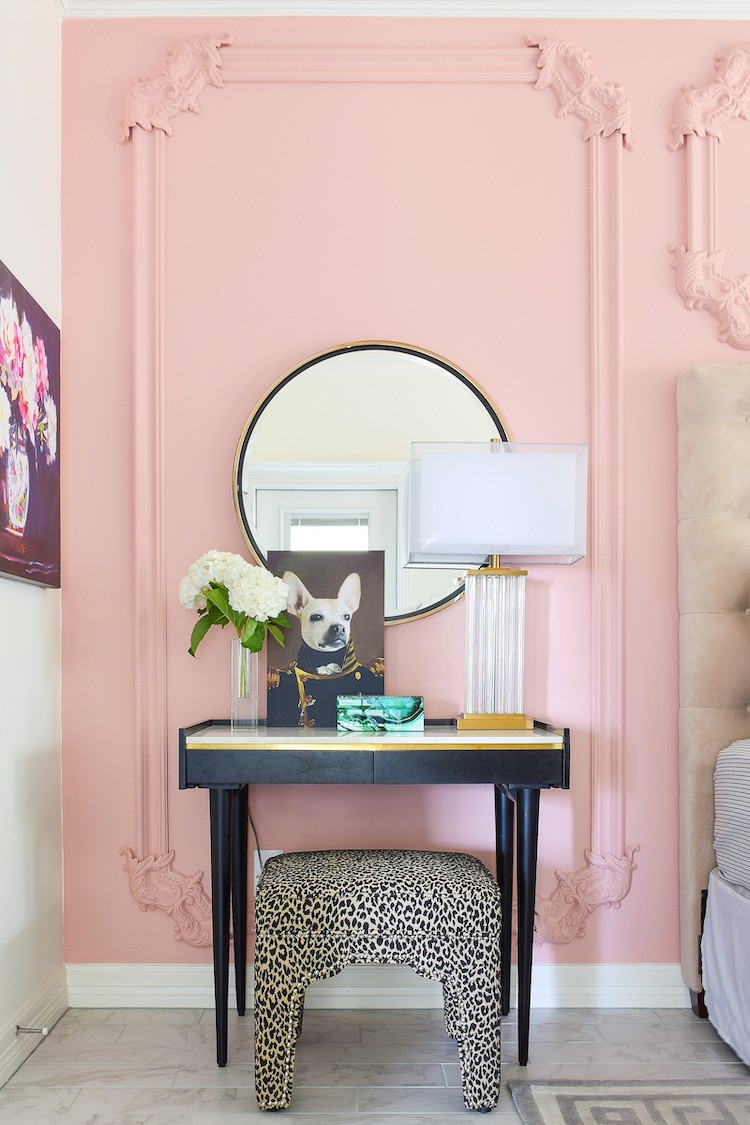 Another decor addition is a large canvas art print of a ginger jar with florals. My heart was very set on incorporating French vibes with chinoiserie influences, and I made it happen.
It's hard to stop gushing about this space because I love it so much! Truly the bulk of this makeover was using paint as decor. In under a weekend, you too can accomplish a makeover like this by shopping at The Home Depot.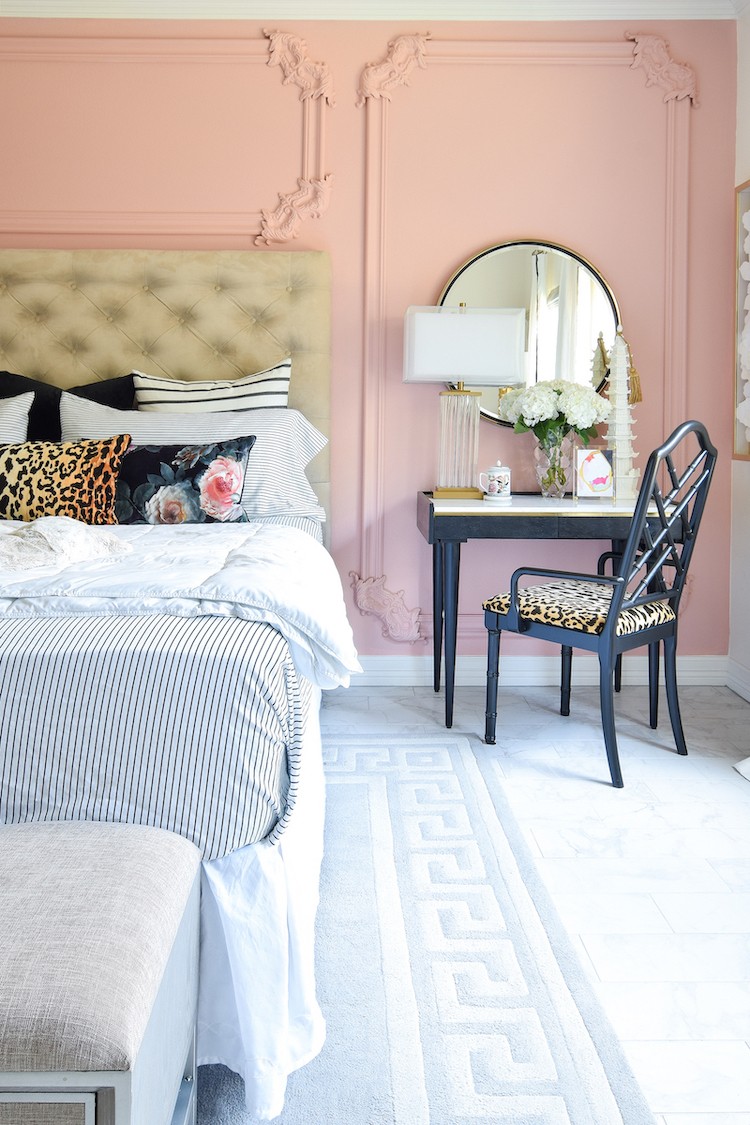 From paint to decor to accent walls, they truly have it all! And now, it's time to start working on another room.
The post Accent Wall Paint as Décor in a Master Bedroom appeared first on The Home Depot Blog.