Halloween is around the corner, and families are getting ready to scare up some fun. Jessie Ecker of
Eye In The Detail 
 created the ultimate pirate ship in her yard with the help of a few Home Depot products.
This is my first year participating in The Home Depot's Halloween Style Challenge. When I was invited to partner with The Home Depot for this Challenge, I was beyond excited and a little nervous. This is my first year really decorating for Halloween. The Halloween decor at my house normally consists of white pumpkins. My kids, on the other hand, could not wait to get started. They have begged me to decorate for Halloween for as long as I can remember. So, I was super excited to finally give them the Halloween of their dreams.
Designing the Space
First up was designing the space. My theme for the Halloween Style Challenge is pirates. I always start with a focal point when designing any space. This time was no different. I wanted to make something special for this style challenge, so I opted to build a pirate ship as my main focal point. Yes, you heard me correctly, a pirate ship! Once the plans for my ship were drawn out, I chose where I wanted it in my front yard. Next, I decided on what other decorations I would like around it. In my head, I envisioned some kind of dock with water all around it.
Time to go Shopping
The Home Depot has all sorts of pirate themed decor for Halloween. Because I wanted this to be a fun experience for the whole family, we all went shopping together to pick out our decorations. Of course, I had my design in mind and all drawn out, but my kids had a completely different idea in mind. Isn't that the way it always works? I'm glad I had a theme because, otherwise, my decorations would be all over the place. The Home Depot has witches, monsters, inflatables, skeletons and so much more.
In the end, we chose a pre-lit pirate ship with skeleton, an animated steering wheel and a set of 2 skeleton pirates . None of that comes together without a fog machine, fog Juice and a fog tube. We even went back last minute and picked up a thunder light projector and a few blue flood lights.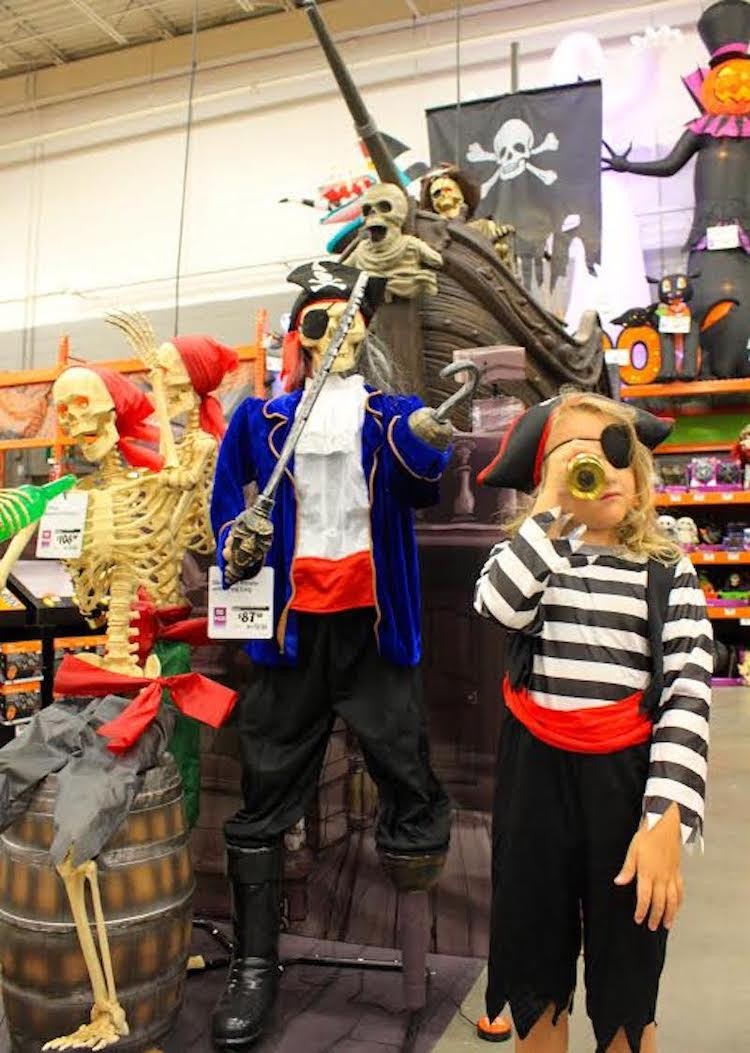 Let's Get Building
Once I got started building my pirate ship, I realized I wanted to make something that would last way longer than just the Halloween season. So, I decided to build the pirate ship into an outdoor playground space that I will move to my backyard after the holidays. How you ask? Now, that's a problem for future me, but at least my kids can enjoy it all year round.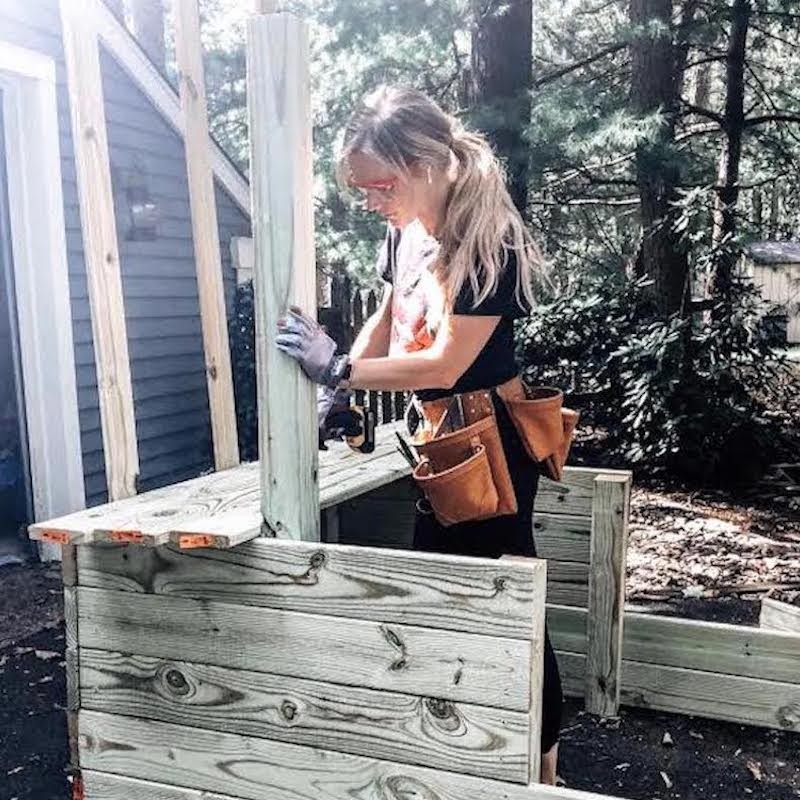 The ship has three sections. There's a standing space with a pirate flag pole on the front deck. The center of the ship has a section that I will turn into a sand box and a bench for sitting. The back of the deck has stairs leading to it, creating a higher spot for standing. Under that space, I cut out spots for cannons that I built with a black PVC pipe and plumbing pieces. The top space has a ledge for support. It also has a location for the ship's steering wheel and a spy scope. On the back of the ship, I built a mast using 1′ X 2′ s, old curtains for the cloth and brown twine rope.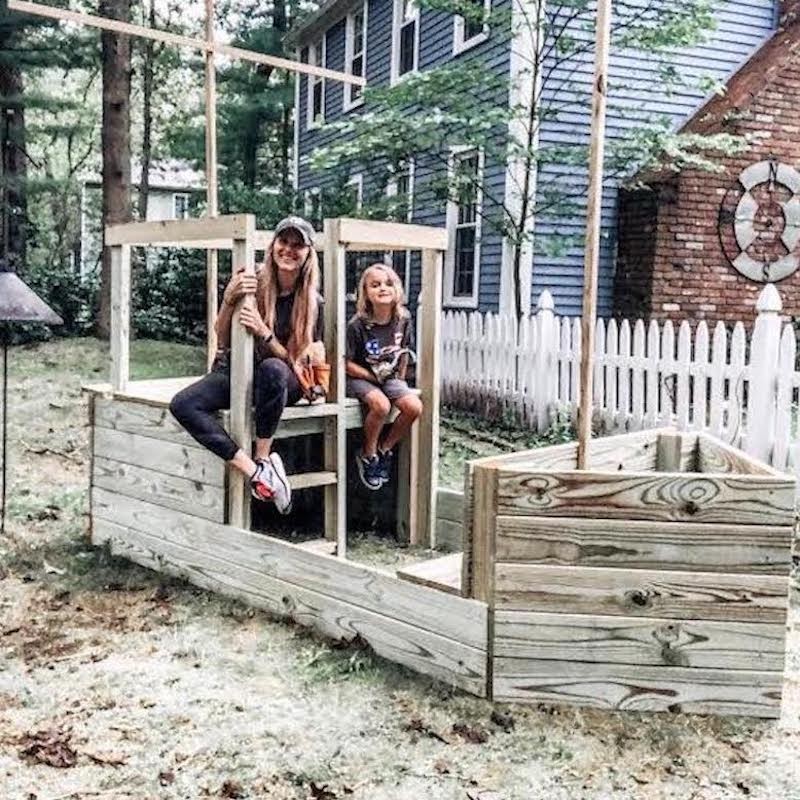 Supplies
I used pressure treated deck boards and secured them together using 3 inch deck screws. On occasion, I used my kreg jig for extra support. I also used a miter saw, circular saw, jig saw and clamps. When I was done building, I debated whether or not I should paint the ship or stain it. I ended up staining the whole thing black with Varathrane's Charred Wood Accelerator. It creates a charred wood look that was perfect for a pirate ship. The whole thing cost under $200.
If you are not up to building your own pirate ship, The Home Depot has the most amazing 9.5ft tall pirate ship with a skeleton pirate, animated steering wheel and pirate flag. You can't beat that! I saw it in the store display it was very impressive.
Styling the Space
My favorite part of the project was putting everything together and adding the finishing touches. It's those final details that really make a space incredible. I added blue tarps on the ground the ground to resemble water, and I used old pallets, 2′ X 4's and brown twine rope to make my dock. The pirate sign was made with leftover wood scraps, stain and white paint. This was such an easy project that really added to the whole scene. Skulls, rats, swords and gold coins scattered into spaces really finished everything off.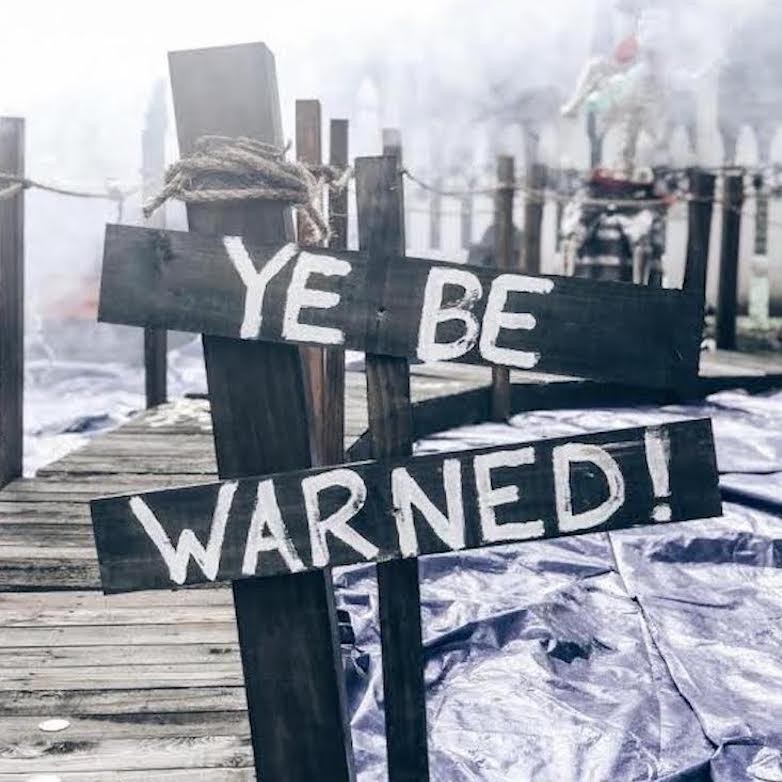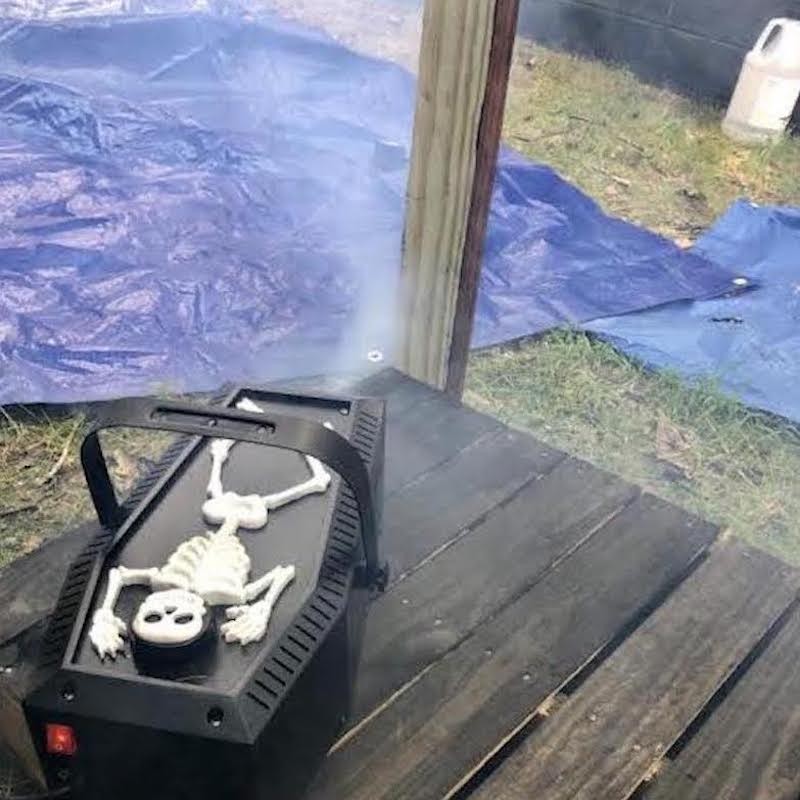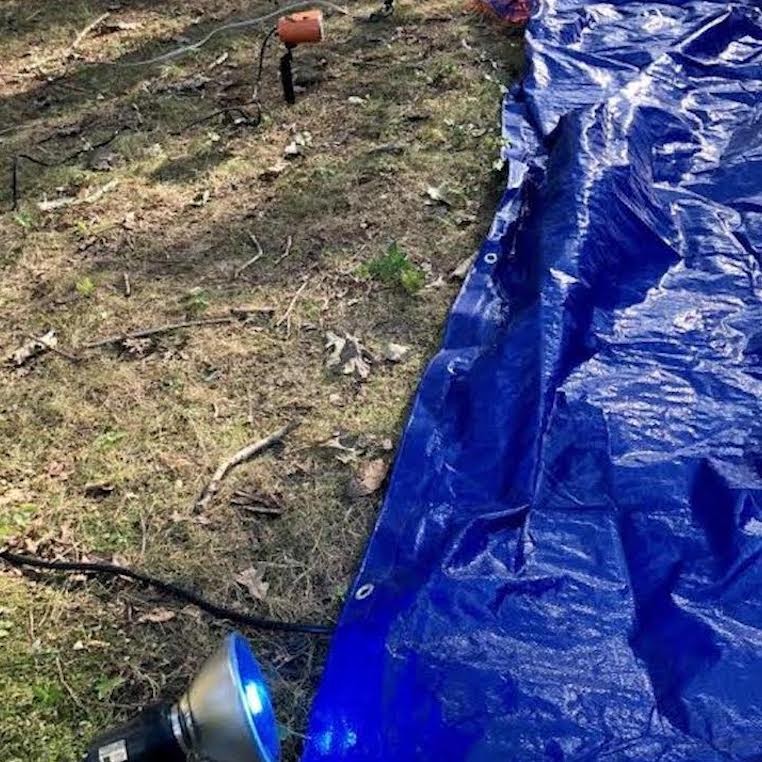 Final Reveal
So here it is, my Home Depot Halloween Style Challenge in all its glory. I took photos at a few different times of the day so you can see how everything looks during the day and at night. All my little pirates had to join in on all the fun too. Ahoy Matey! All Hands on Deck!!!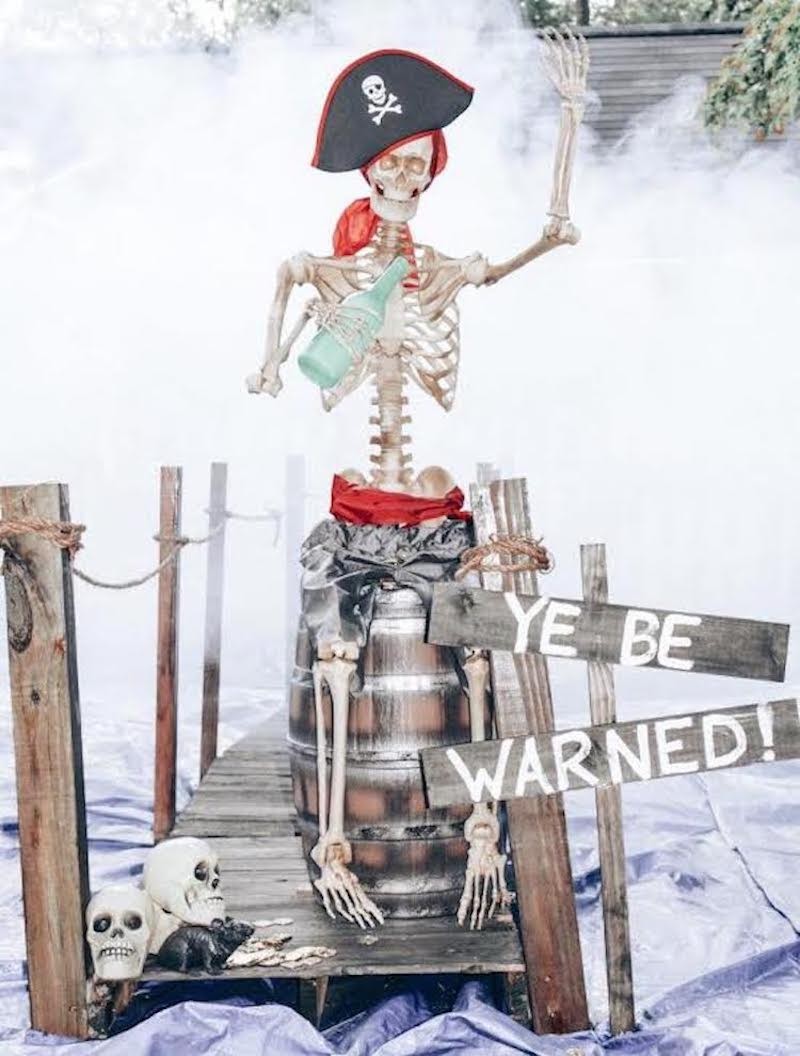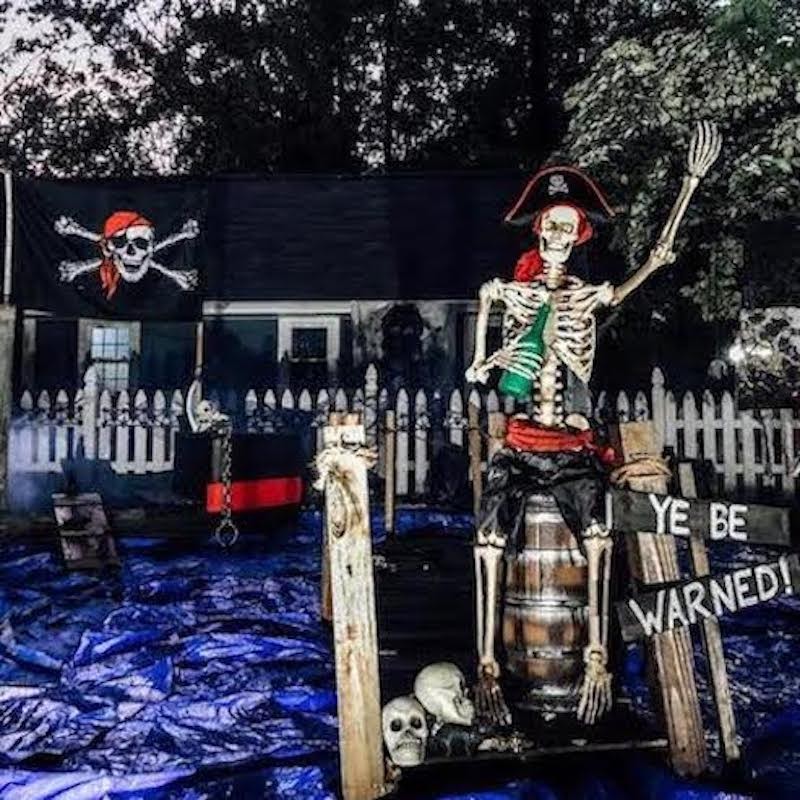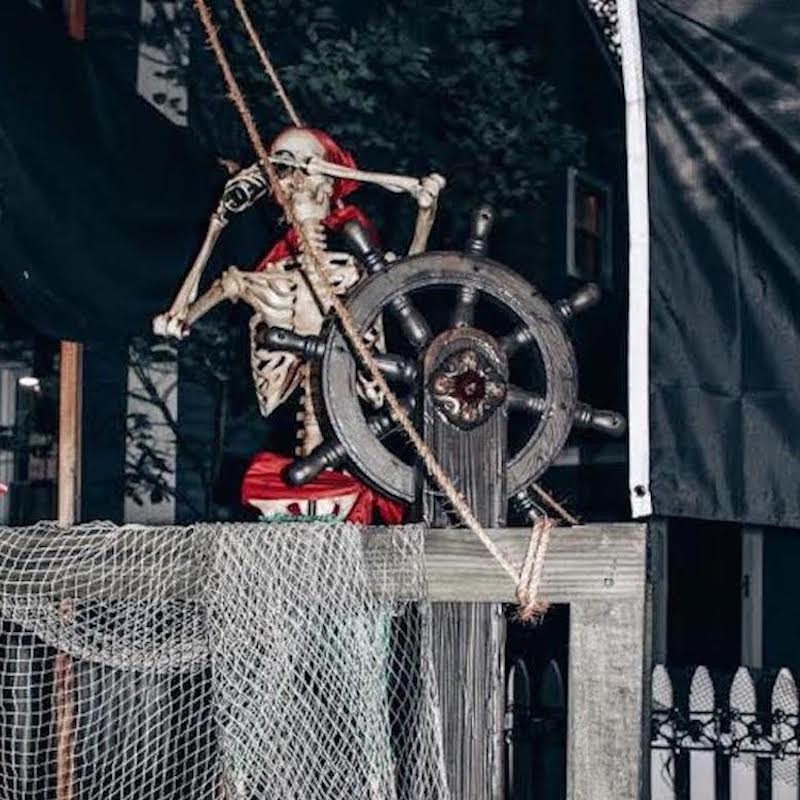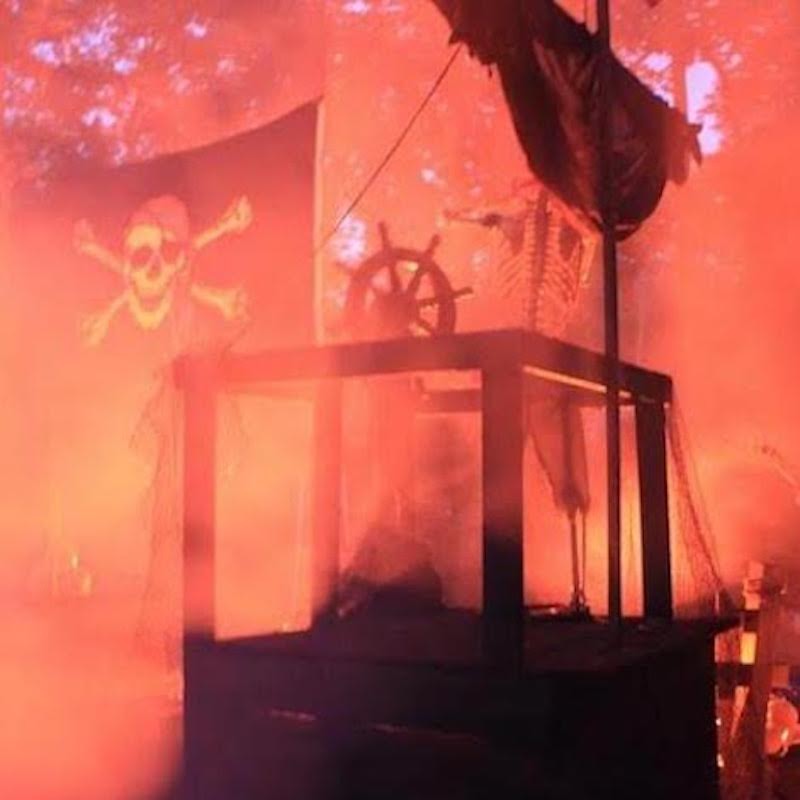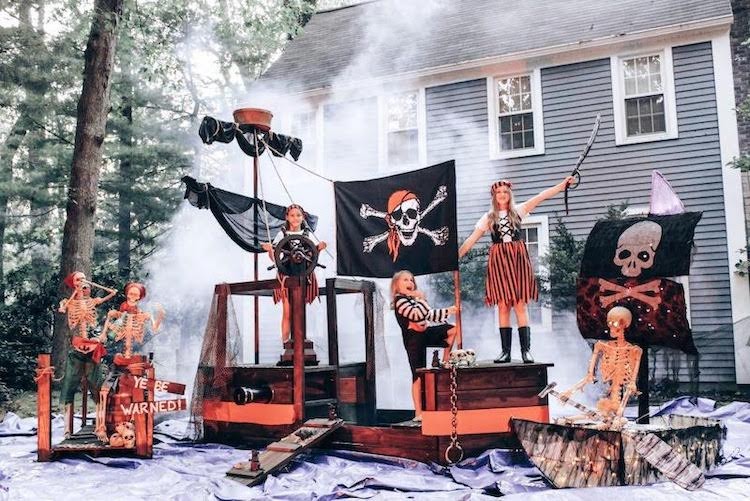 Special thanks to The Home Depot for inviting me to participate in the 2019 Halloween Style Challenge. Building, styling and making my kids' dream Halloween yard was a blast. I put in a lot of hard work, but the end result was absolutely worth it!  I am beyond grateful for this incredible opportunity.
Find more
Halloween and Harvest decor
at the Home Depot. Searching for more inspiration? Check out our other Halloween and Harvest Style Challenge posts
here
!
The post Ahoy Matey – A Pirate Themed Halloween appeared first on The Home Depot Blog.