In the past years, kitchen didn't receive much attention and budget. Today, it is different as for many people their kitchen is definitely the house's hub even beyond cooking. Many dining rooms have been replaced by open lounges and bistro-style kitchens. Forget about the old food preparation centre for a house, it is now like a second guest room. Imagine a Wireless Fidelity found in the kitchen thus a family member can comfortably go online and start surfing while in this room.
There is definitely no doubt that we all covet one of those kitchens that you walk into and you are just left dumbfounded by the style. A lot of people assume that it takes a lot of major bucks to pull off a stylish look and sometimes it does. You can, however, make your kitchen look stylish by just implementing a few simple changes here and there.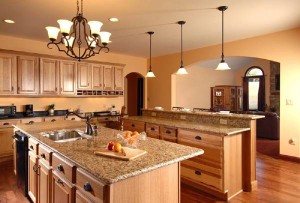 Colour
The 2013 kitchen is expected to have sparkling white interior colour and beautiful adding's as shades. There is now uniformity in terms of the colouring applied. However, it is now clear that all accessories in the kitchen absolutely mix and match. Using the right combination of colour for your cabinets and kitchen appliances will make your kitchen look modern and stylish.
Capitalize on Storage
One of the best ways to bring a style and maintain it in your kitchen is to make sure that you properly use the storage options that you have. Most kitchens do not have a clear style shining through simply because there are so many things lying about and those that are stored are not properly put away. So many people will leave a kettle  or other small appliances that they hardly use right on the kitchen counter. Simply storing these away properly will allow you to make the most of the space you have.
Get Rid of Clutter with Style
Due to the fact that we are consistently buying things to use in the kitchen, clutter is always constantly accumulating and you have to get rid of it. When you are getting rid of clutter however you have to visualize each and every single thing in the stylish setting that you want. For example, you may know that you need to use a coffee jar for storing sugar once the coffee is done. If your kitchen's style is mostly red then go for a coffee jar that has a red cap. Your toaster and kettle should complement the decoration.
With time you will end up having only matching items that emphasize your style. All it takes is a bit of vision and creative choices when it comes to deciding what is useless and what can be of great significance.
Arrangements and Settings
The way you arrange things around your kitchen can totally change up the style. Keep trying different arrangements of the appliances and utensils until you find one that makes the place pop. For example, instead of just putting away all your spices and oils in a cupboard, you could arrange them neatly in a holder or even on the counter in an appealing way.
Glass Jars
Another great way to add some style to your kitchen without spending too much money is to use some good looking jars. You can use these jars to store sugar, spices and even your spare change. Such a simple thing can greatly change the way your kitchen looks and show that you have taste.
All in all, you have to realize that if you cannot afford to make major changes to your kitchen either for financial or any other reasons, there are still plenty of tiny things you can do that will come across as stylish.
Resource box
This post has been written by Sandra Melo, SEO consultant for the hardware store Robert Dyas.