Home trends change, and over time new upgrades are needed to make a home feel new again. See how Corey Decker of
Sawdust 2 Stitches
was able to take advantage of a few Home Depot products and upgrade her '90s style kitchen.
Our Kitchen Before
When we first moved into our current home it needed some serious lovin'.  The kitchen had some oddly placed walls, early 90's golden oak cabinetry, band-aid colored walls, and a lackluster tile that pulled all the…interesting…color choices together.  I am not saying it was a horrible kitchen. I am just saying I personally was going to develop an eye twitch if left unaltered. In order to spare my eye spasms, and ultimately save my sanity, the kitchen makeover commenced immediately.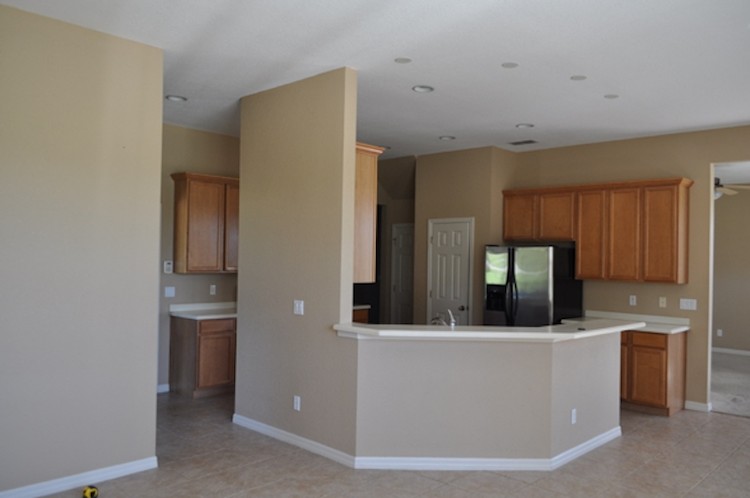 If you have followed along on my site, you have seen the initial process. The walls have since been taken down, the band-aid color abolished and the 90's oak painted. As a DIY'er I pride myself on doing as much work as I possibly can for as cheap as I can possibly do it.  I was able to get a really good handle on the kitchen using a minimal budget and a lot of elbow grease.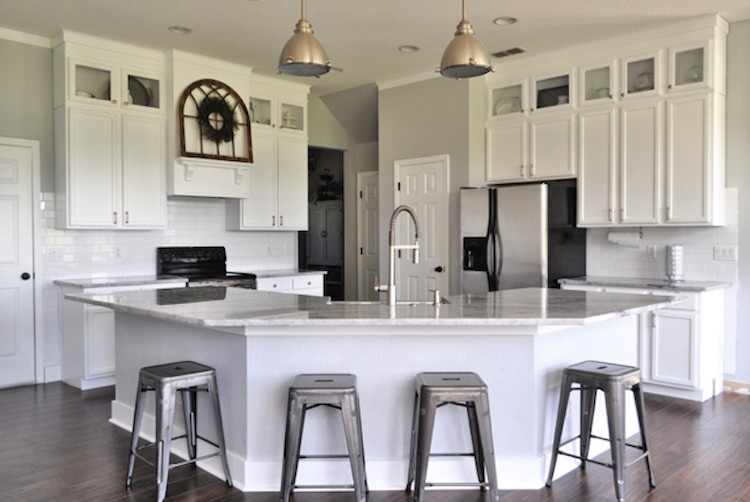 However, there was still tweaking to be done. Ultimately, the pricier purchases (i.e.: appliances) would have to wait. I was at a beautiful holding point.
So what if all my appliances were mismatched and had been swapped out with Craigslist replacements?  I did not want to rush a decision or go and buy whatever happened to be on sale. I wanted to do my homework and have some time to ruminate on all the options.
Well, I have been ruminating for over two years now, and I am happy to announce that after 2.5 years, countless hours of online research and plenty of in-store, hands-on inspections, my kitchen is complete!  I have found the appliances that this kitchen was missing, and I even dialed in the design style I was trying to find with these LG appliances. I knew that I wanted to add some strategic pops of black and add a few select pieces of natural wood tones to warm up the space.
So here was my thought process to executing those ideas.
Fridge:  LG Electronics, 23 cu. ft. 4-Door French Door Smart Refrigerator with InstaView Door-in-Door in Stainless Steel, Counter Depth
I think we can all agree that a fridge has the potential to make or break a space.   They are physically LARGE and whether we like it or not, they do play into the design aspect of a kitchen.  When I was shopping for a fridge, aesthetics was definitely a part of the search criteria. I have been loving the look of the new dark appliances, but I am planning on being in this home for a very long time and wanted to make a logical, safe decision when it came to expensive purchases.  When I add trendy or bold pieces I always opt for inexpensive, easily changeable pieces.  It is a lot easier to switch out hand towels than it is to repaint kitchen walls, get what I am saying?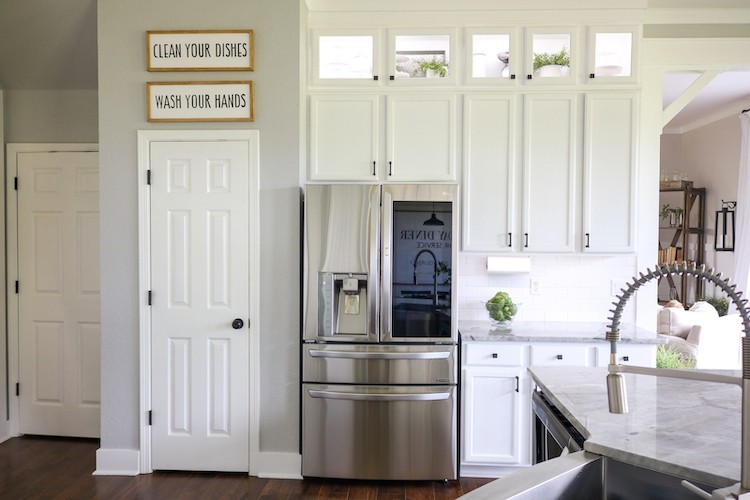 As I started looking for my dream appliances I made a list of all the features I wanted:
Brushed Stainless
French Doors
Drawer Freezer Compartment
Exterior Ice and Water Dispenser
Counter-Depth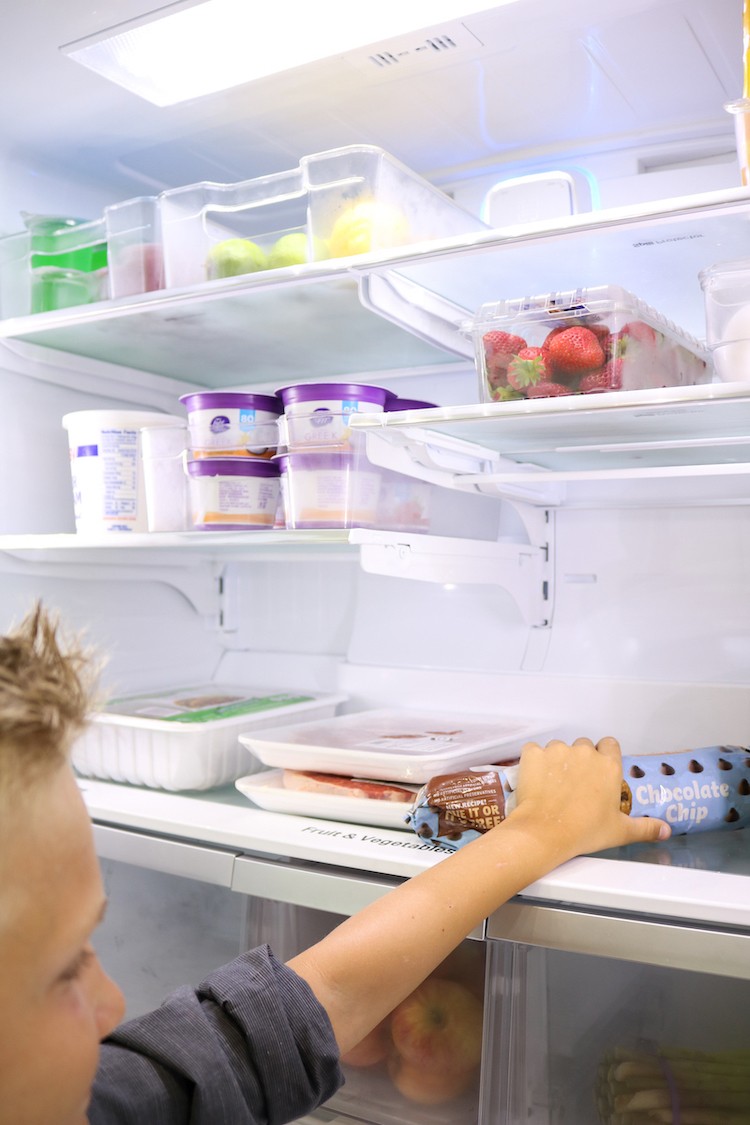 I know that "Counter-Depth" may seem like an odd requirement but it is one of those random things that makes me happy. It makes my eye a little twitchy when the fridge protrudes out into the kitchen. While I realize you do loose some cubic ft., I have noticed that when there is food tucked away in the back corners of a standard depth fridge it tends to get forgotten!   With the counter depth fridge everything is visible and easy to locate.
While there were a handful of brands that met these requirements, I ultimately fell in love with the LG Electronics 4-Door French Door, French Door, with InstaView Door-in-Door, Wi-Fi Enabled Refrigerator,
This was a thing of beauty! It has all of the above mention requirements, but it also has an "InstaView Door-in-Door". It is awesome! This allows you to view the inside of the door compartment by simply knocking twice on the panel. We use this handy little compartment to keep all our commonly used items like milk.  It allows us access to them but does not let all the cold air out of the larger unit. And, it acts as an energy-saving barrier.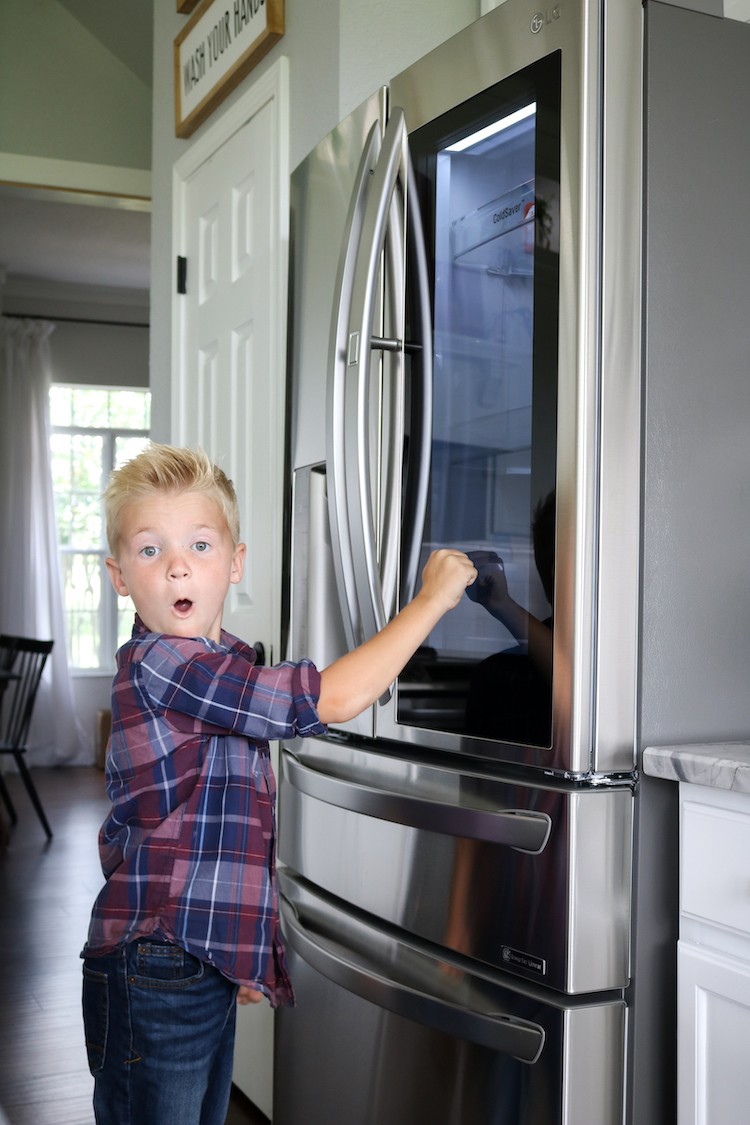 It was love at first site.  I had found my fridge and was in love with the sleek design of the LG line so finding accompanying appliances was a breeze.
Range: LG Electronics, 6.3 cu. ft. Slide-In Electric Range with ProBake Convection Oven in Stainless Steel
Remember how the "counter depth fridge" was an important requirement when selecting a fridge? Well, I had one non-traditional requests in regard to my range, I really wanted something that did not have a large control panel that visually broke up my backsplash.  Yes, it might seem like a petty request, but when you compare it to traditional style with the large upright control panel, it is a huge difference.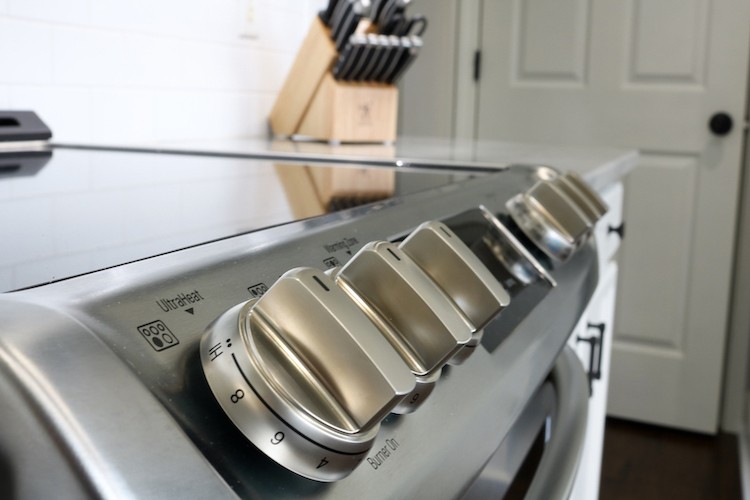 It was definitely the look that hooked me, but it was the amazing features that sold me. Well let's be honest, sold my husband. (He is definitely the chef in the family.)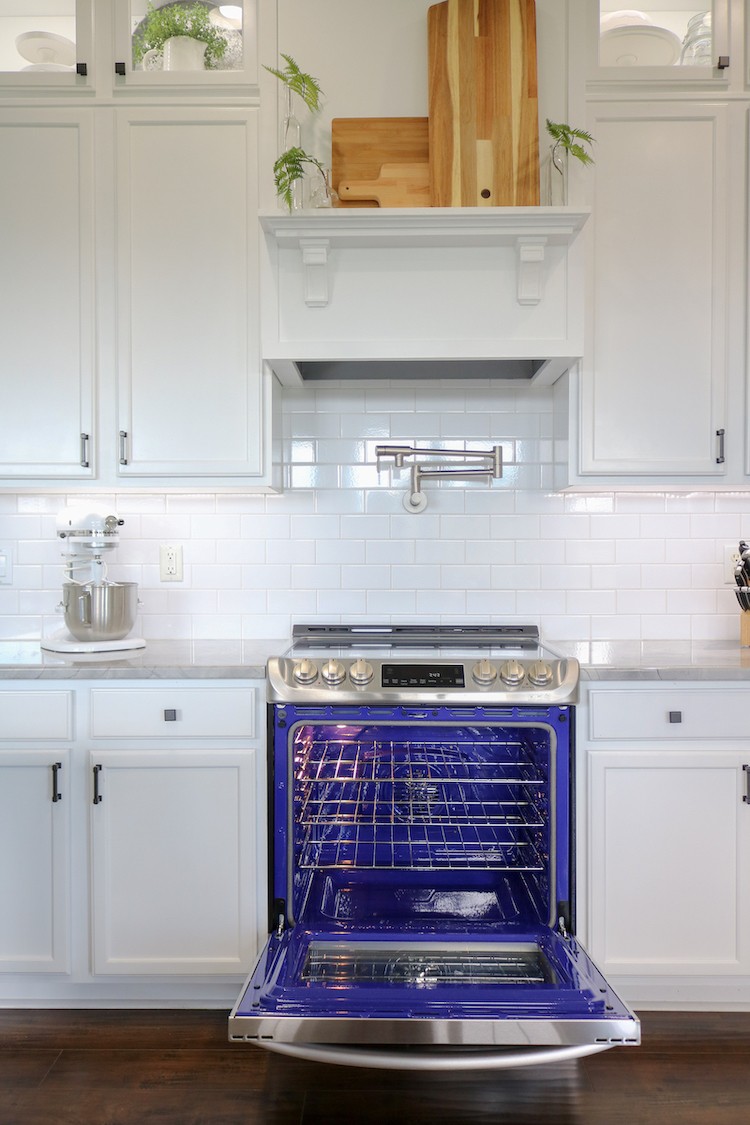 The new LG convection design is inspired by professional-style ranges, instead of heating unevenly from the bottom of the oven, it heats evenly from the back of the oven.  This ensures "optimal heat distribution".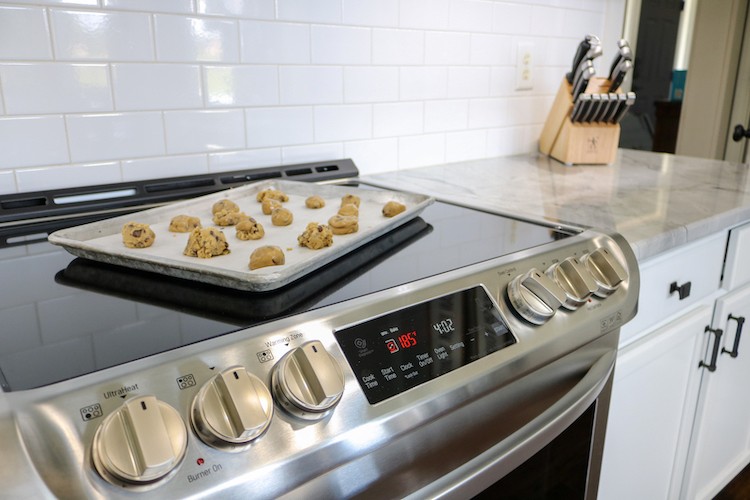 The cooktop also has really impressed me, they have flexible heating elements!  What does this mean?  Most standard cooktops include two large burners and two small burners. Well on this fancy cooktop with the twist of a dial you can turn the large elements into smaller ones.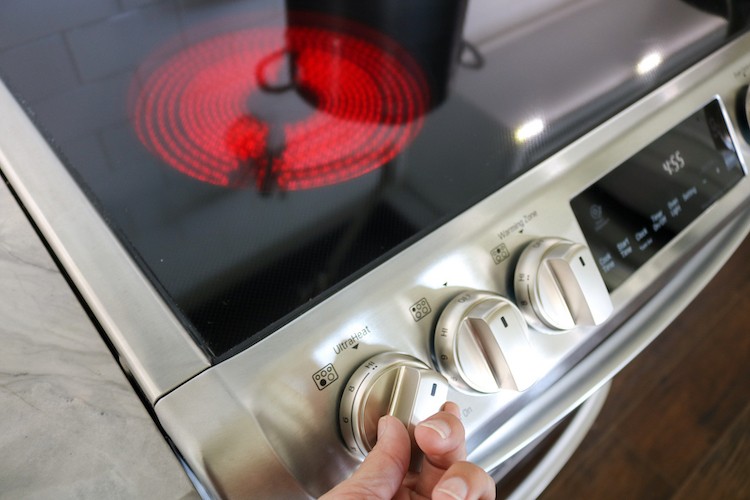 Another thing I love is in addition to the standard four burners it has a fifth cooktop heating element that is specifically used as a "warming" unit.
One last thing that I LOVE… I am not much of a cook, but I am an obsessive cleaner.  This bad boy has a ten minute quick clean setting!  That's right, no more harsh cleaners or smoking out your kitchen for a few hours.  After cooking a big meal, just put on the quick cleaner and you are good to go before you have finished eating your entrée. Boo-yah.
Dishwasher: LG Electronics, Top Control Tall Tub Smart Dishwasher with 3rd Rack and WiFi Enabled in Stainless Steel with Stainless Steel Tub
When it comes to streamlining appliances, LG pulled out all the stops.  Their dishwasher is no exception.  Look at how sleek it is.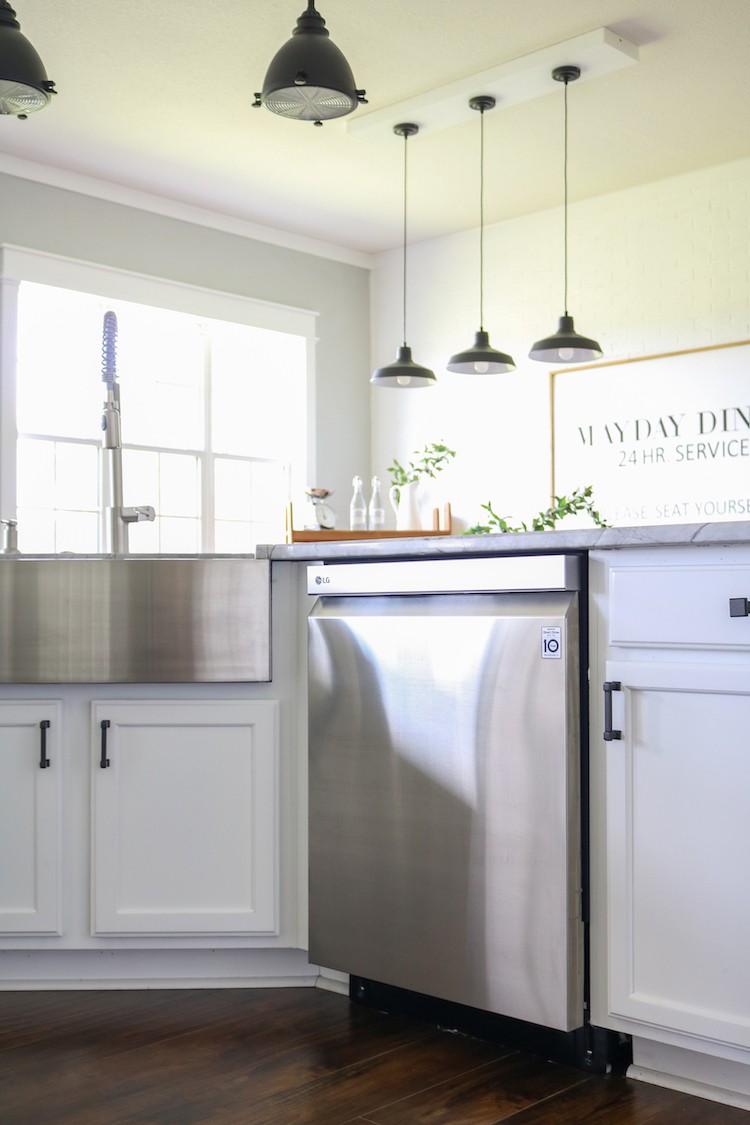 No buttons for little fingers to absent mindedly press, leaving you wondering why the dishwasher is all the sudden set to a delicate cycle when YOU KNOW you set that bad boy to "hard baked-on lasagna setting". (No it's not a technical term, but you know the setting I am talking about.)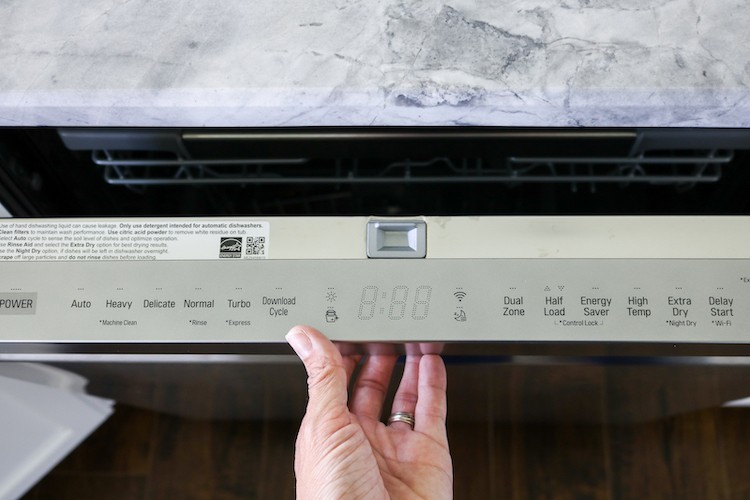 All the buttons are displayed across the top ledge of the machine.  Simply select your desired setting before closing. Done.  Once it is closed little fingers can't come and magically delay start your cycle when you are expecting company for dinner.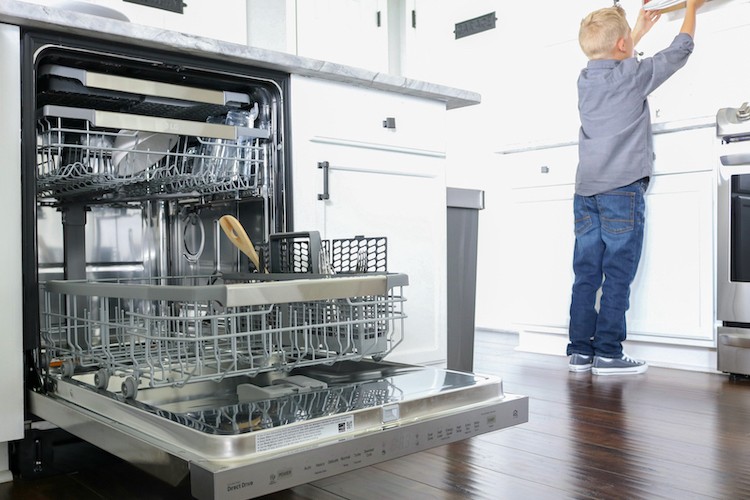 Microwave: LG Electronics, 2.0 cu. ft. Over the Range Microwave in Stainless Steel with Sensor Cook
Last but certainly not least,  the kitchen appliance that I sadly rely on the heaviest.  The microwave.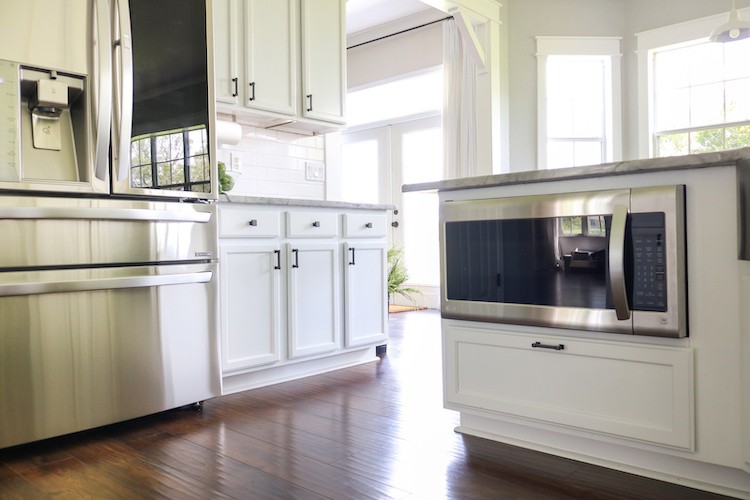 It is a bit horrifying how much I depend on my microwave. And I definitely have full faith in this beauty. Not only does it come equipped with the fancy industry-standard features, but it also goes above and beyond with its capabilities.
Naturally, it has the rotating glass turntable, various cooking options, and 10 power levels. But it has raised the bar on industry standards, my friends!  The LG Sensor Microwave has built-in sensor cooking that can determine when food is thoroughly cooked and will automatically turn off! What?!
But wait there is more! Not only can it cook your food unsupervised, but it can also do this with multiple items simultaneously. Thanks to its bi-level cooking rack. Game changer.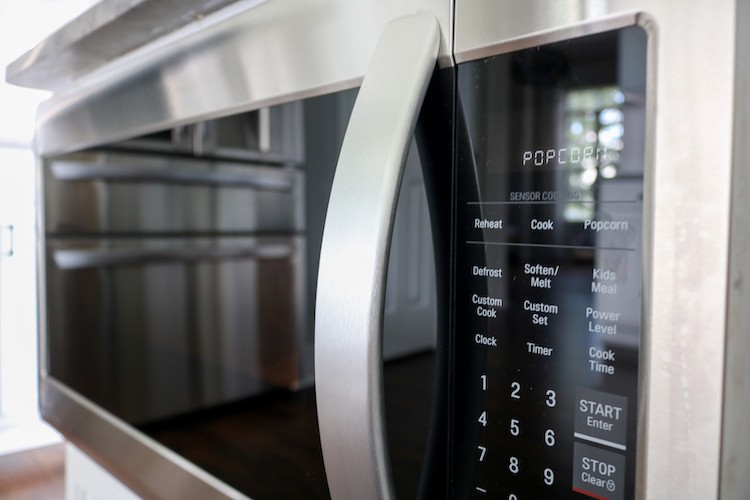 All-in-all these new LG Appliances have simplified our lives and taken our kitchen to the next level. But wait there is more, did you know they are "smart" too?   LG has an app that will allow you to access all sorts of goodies on your appliances. The app truly is a huge selling point, it can do anything from monitor your fridge temp to let you know when the dishwasher cycle is complete!  It can even run diagnostics on your appliances.  How cool!?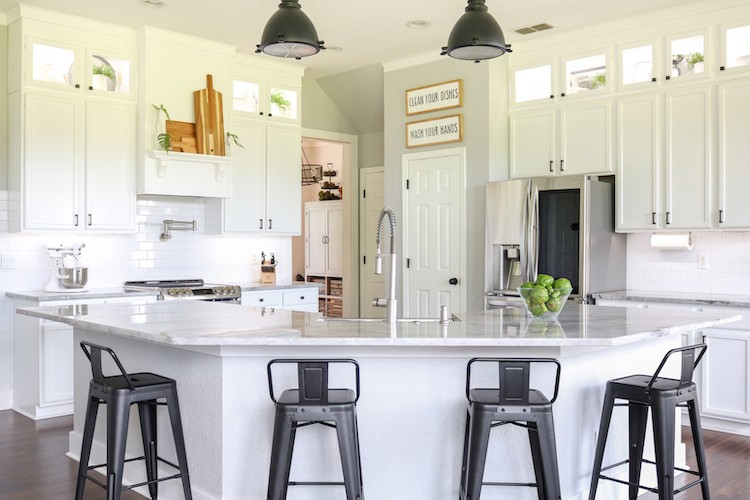 With all the smart features and it's sleek appearance, it enhances the look of this kitchen and makes it a pleasure to work in.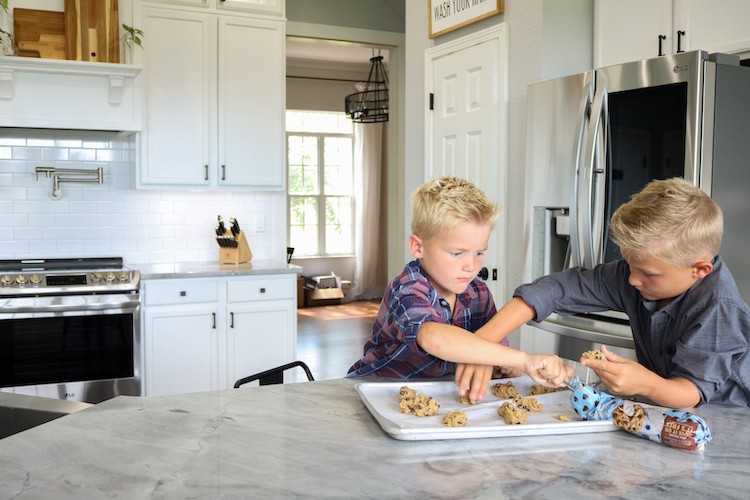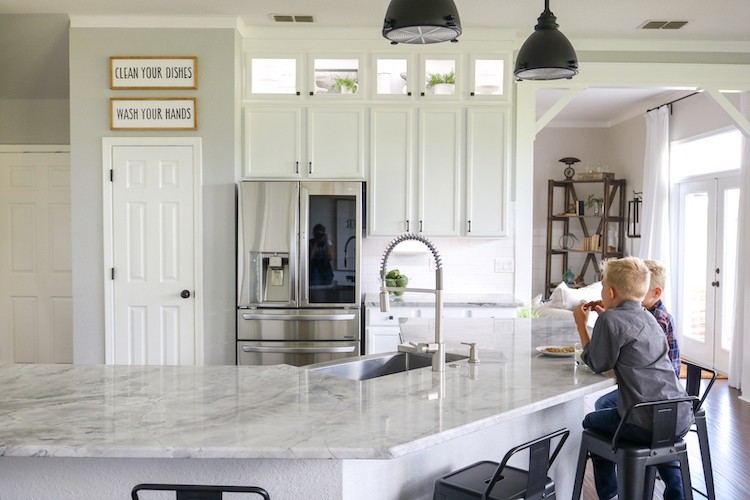 The post Kitchen Makeover with LG Appliances appeared first on The Home Depot Blog.