When refreshing your master bedroom, comfort plays a major role. Irnia Mazhukhin of
Mint and Pine
took advantage of The Home Depot's LifeProof carpet and showed how adding new flooring can make a huge difference in the look and feel of your room.
We've been working on renovating and refreshing our master bedroom recently. The first thing we wanted to do to freshen up the space was get rid of our old carpet. It was old, worn out, and even rippling in some areas. We got a chance to partner with The Home Depot to install their LifeProof carpet in our upstairs rooms. This included the master bedroom. Here is the entire process we went through from initial measure to the final product!
Before we jump into the carpet process and installation, we need to go back and take a look at what the bedroom looked like before.
Here is what the master bedroom looked like when we first bought our house: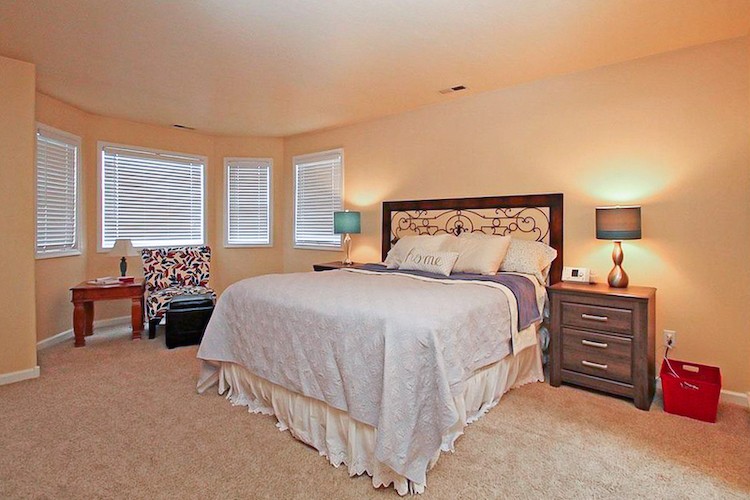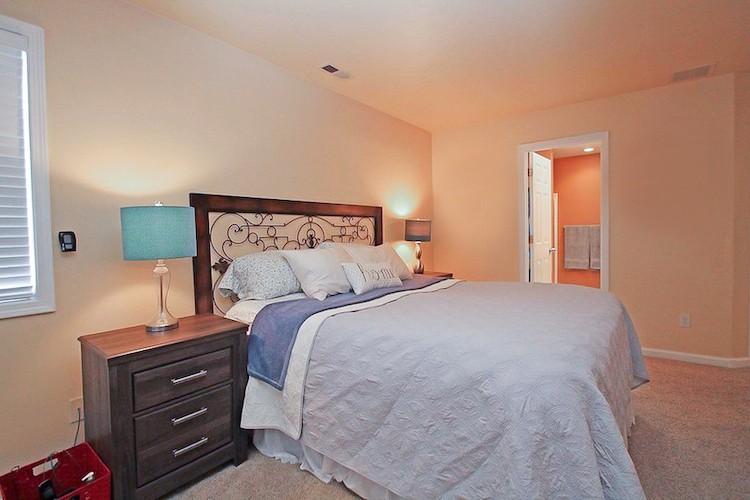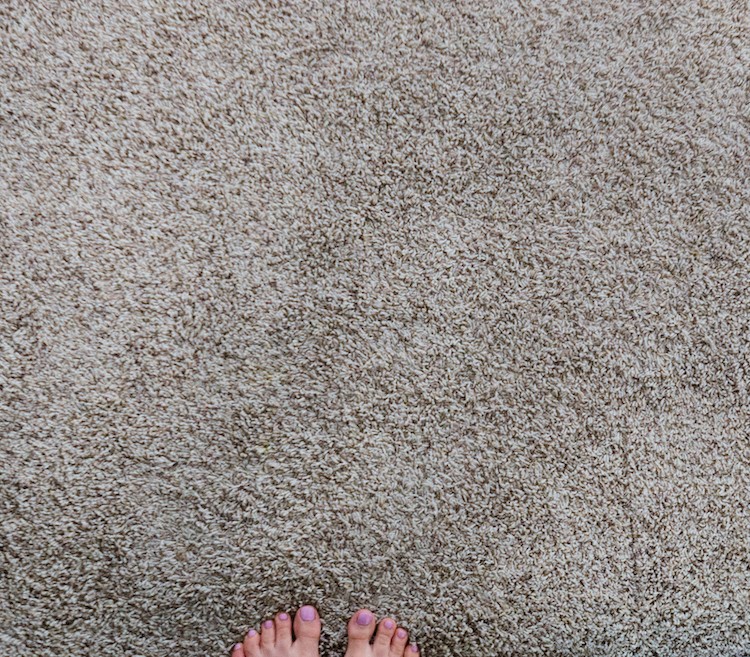 You can see the carpet rippling up in the doorway here.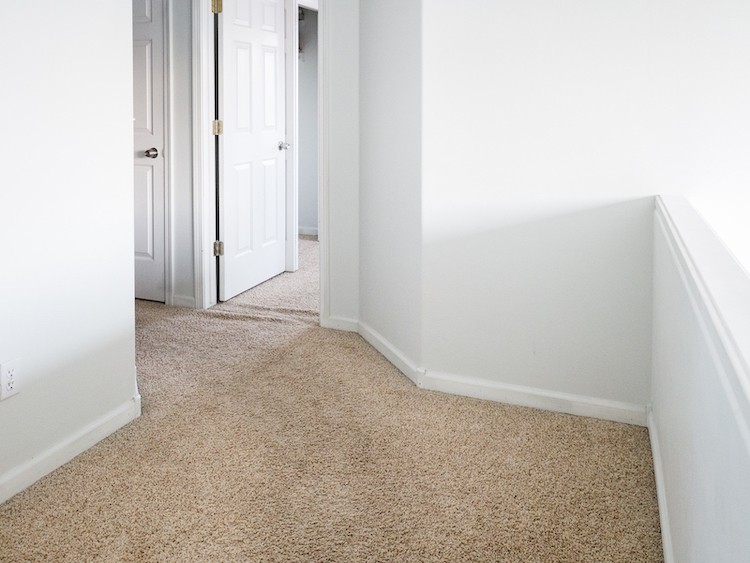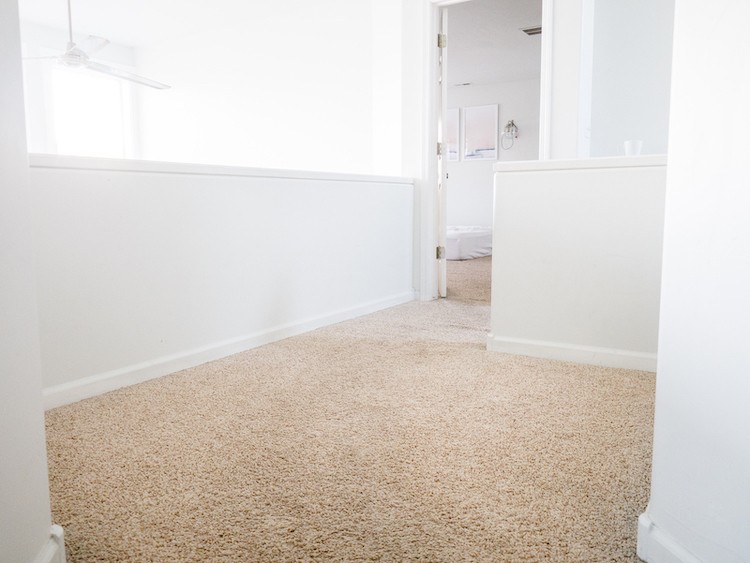 Our master bedroom really needed a facelift, and what better way to start than with carpet!
Requesting a Quote
The first step we took when we decided we were interested in carpet, was to go on The Home Depot website and schedule a carpet measure for a quote. You can find the page to schedule your measure HERE. It takes less than 5 minutes to schedule the measure online, and they can usually come out to your home the next day! There is a $50 deposit to schedule the measure, and that goes towards your overall carpet purchase when you are ready to buy. After I scheduled the measure, someone contacted me the next day to tell me the window of time they would come by to measure the carpet. So easy!
If you're not sure what kind of carpet type and style you want yet, they can give you a ballpark quote. Then adjust the quote when you do decide on which type you want.
Free Carpet Installation
Once they came by and measured our upstairs space, I got a call the very next day with a quote for the carpet. The Home Depot offers free carpet installation with carpet purchase, which definitely helps with cost!
After getting a quote, I went into our local Home Depot store to see what kinds of carpet choices there were. First of all, it is so impressive just how many styles and colors of carpet Home Depot carries! They have everything from kid-friendly to pet-friendly carpet, with so many varieties of patterns, styles and colors.
Carpet Samples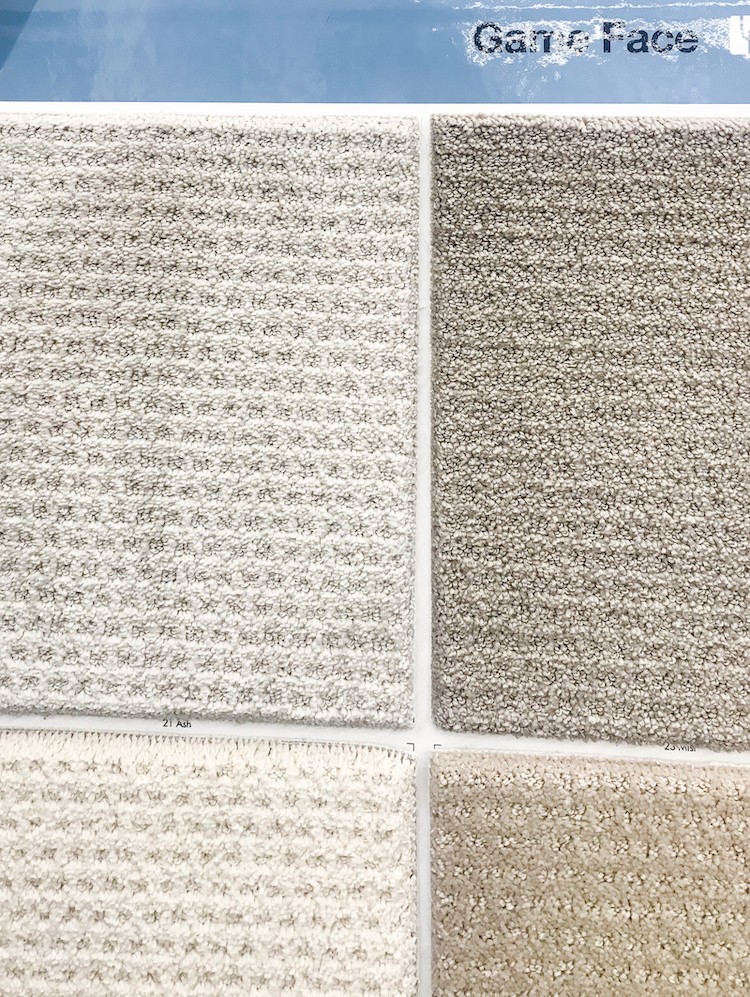 Because there were so many great options, I ended up changing my mind on which carpet type I wanted after looking at and feeling the carpet choices. The Home Depot employees were so helpful.  They gave me 3 different quotes for 3 different carpet types.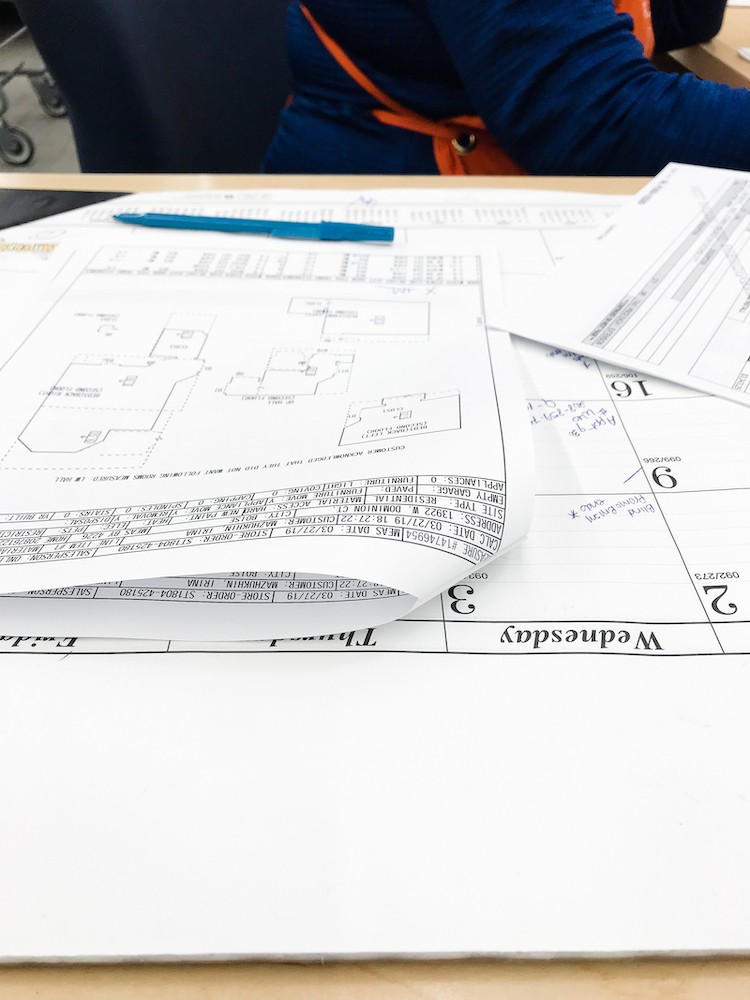 I ended up going with LifeProof Carpet in the Game Face texture, and the Ash color. You can find it HERE. LifeProof carpet is a great choice if you have children or pets. A stain resistance is built into the fiber of the carpet, so it will never wash or wear out. This was a huge factor for me, as we have 2 little boys who are very messy. LifeProof also has a lifetime pet stain warranty, limited lifetime stain and soil warranty, and a 25-year wear and tear warranty. We also ended up going with a better quality carpet pad for some extra comfort and support.
Our Carpet Choice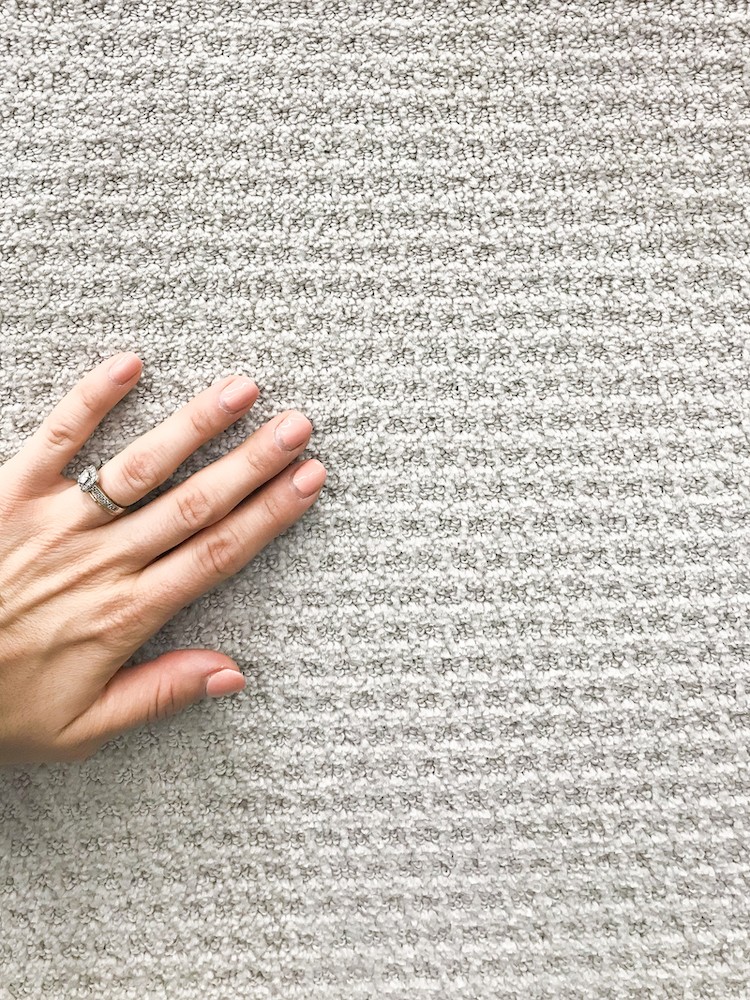 After finalizing my carpet choice and purchasing, I got a phone call within a day to schedule a day and time to get the carpet installed. We had it scheduled 2-weeks out from purchase!
Preparing for Carpet Install
Before they came to install the carpet, we took everything off of dressers and nightstands. We took down art off the walls, and made sure all of the cords were unplugged and put away. We had the disassembling of beds included in our carpet quote, so they even disassembled all of our beds when they came. This saved us so much time and energy honestly!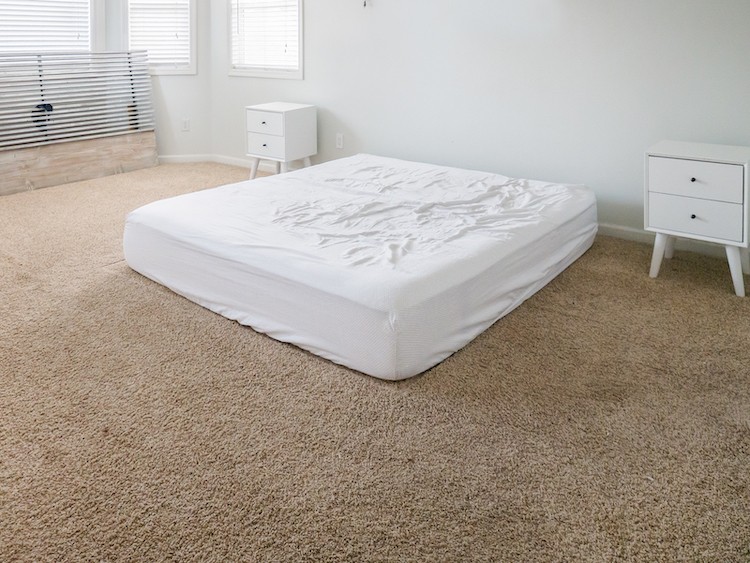 The Install Process
Once they got started, it was such a quick process! I was impressed with how quickly and efficiently they were able to get it all done. From start to finish, it took them less than 6 hours to carpet the entire upstairs. This includes disassembling beds and ripping out the old carpet.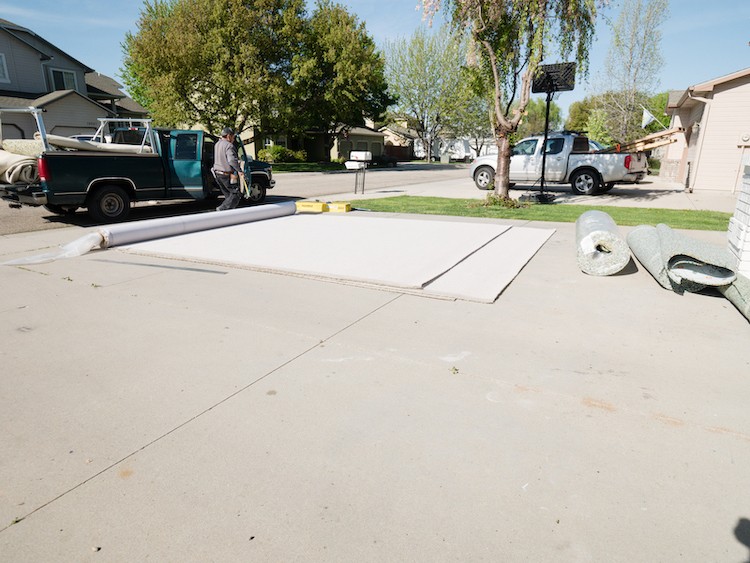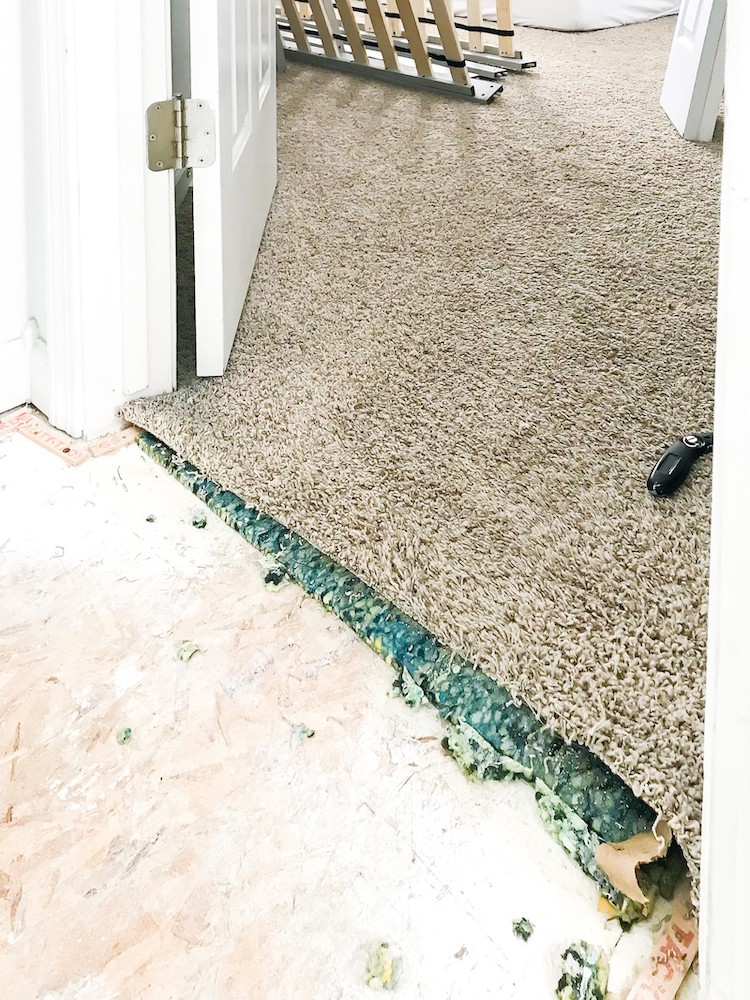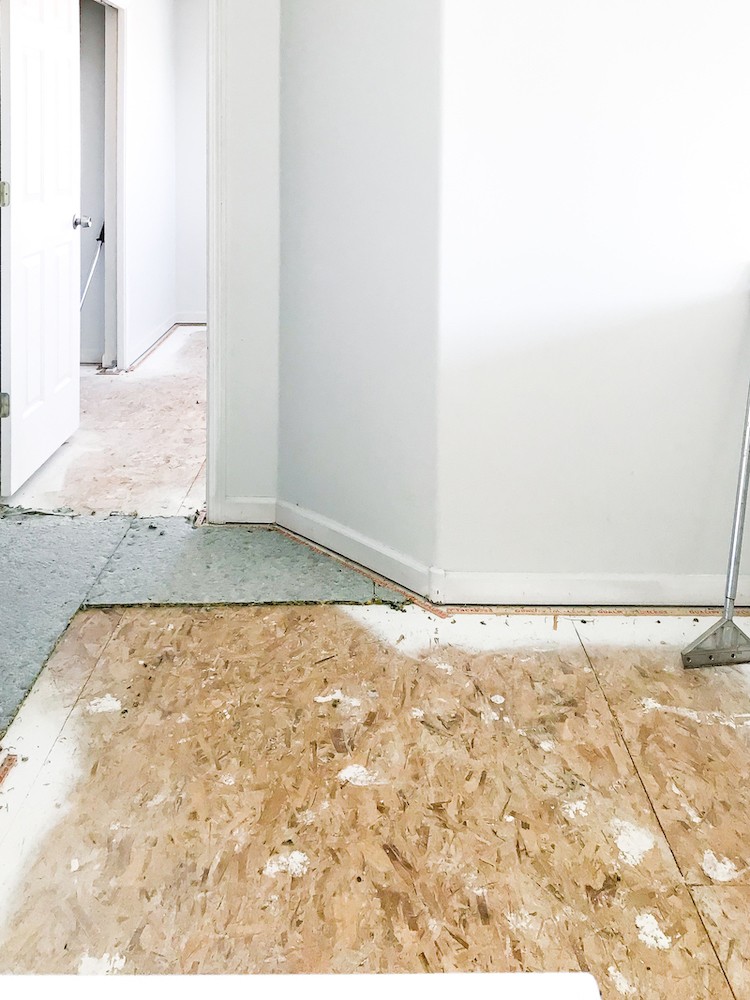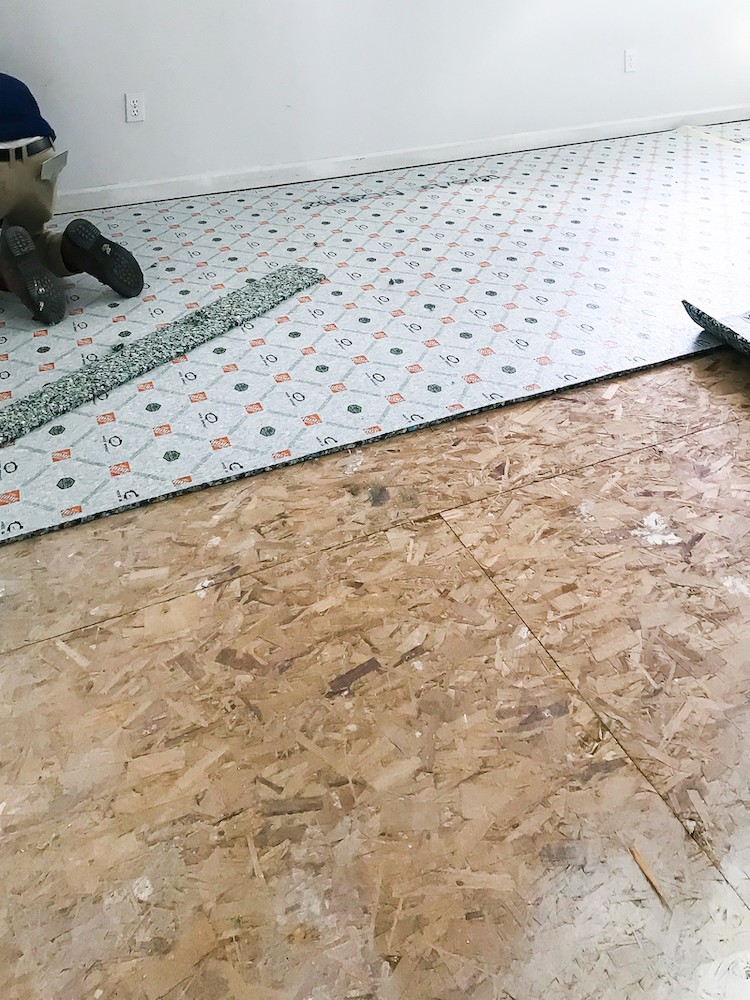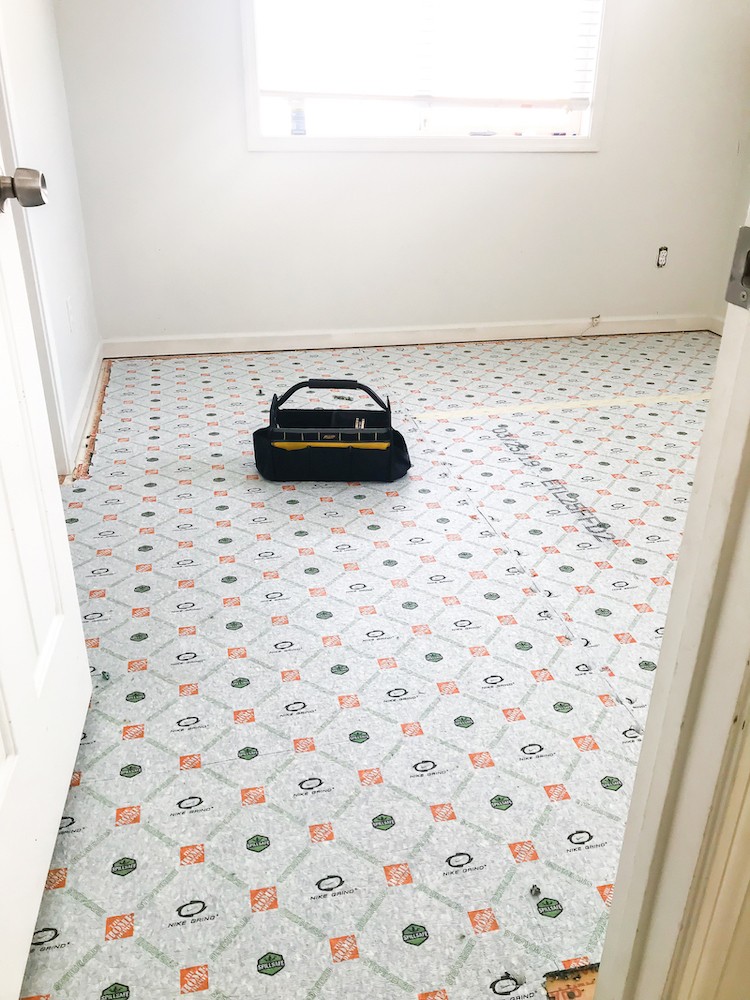 Ready to see the transformation?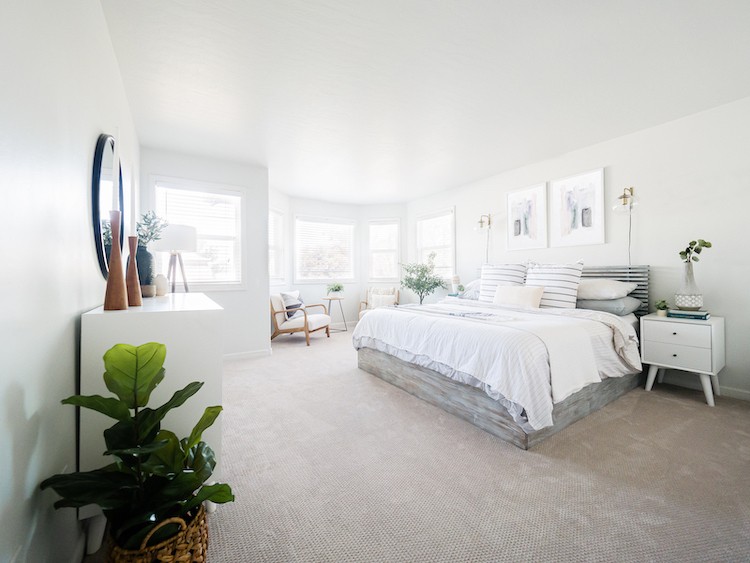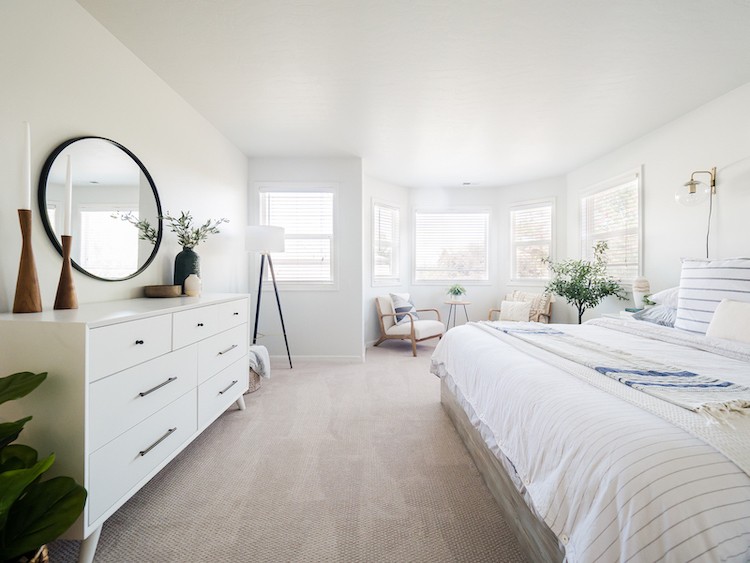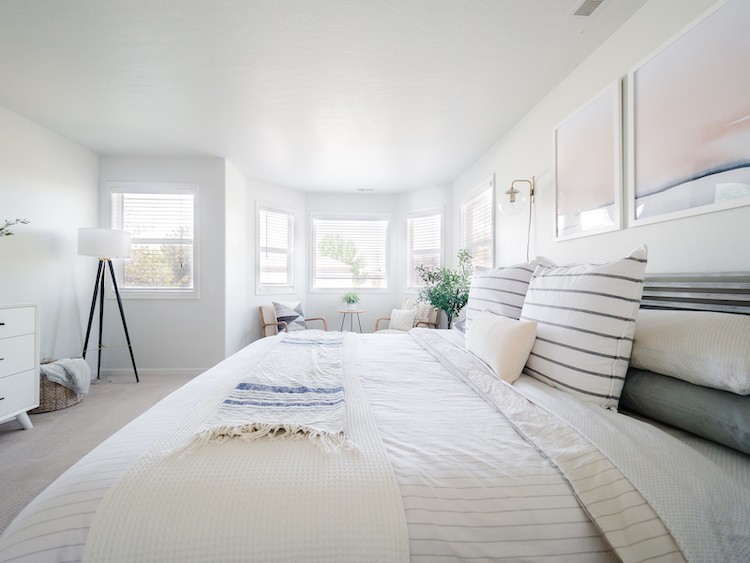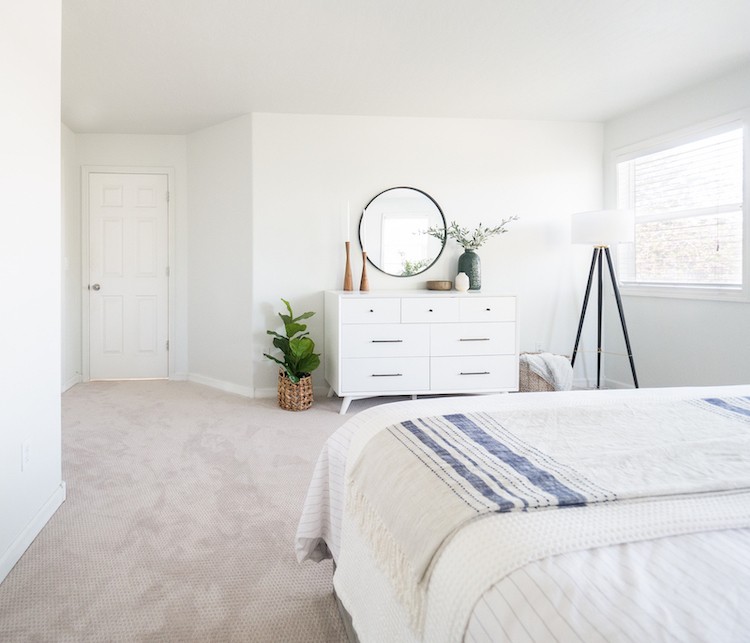 The color of this carpet is so perfect in our light and airy bedroom. It is light enough to complement the space, but also not so light that every spec of dust can be visible on it. We wanted something in between light and dark, and also a color that wasn't too cold, and so this really is the perfect shade of warm gray.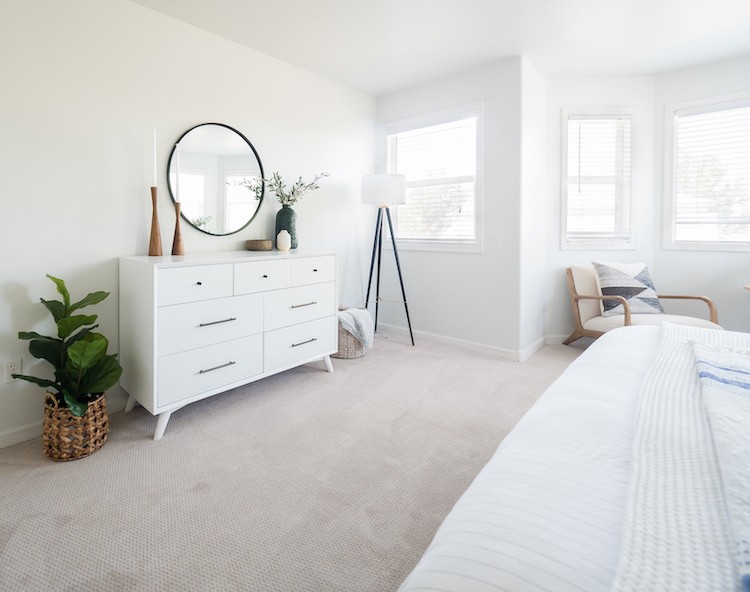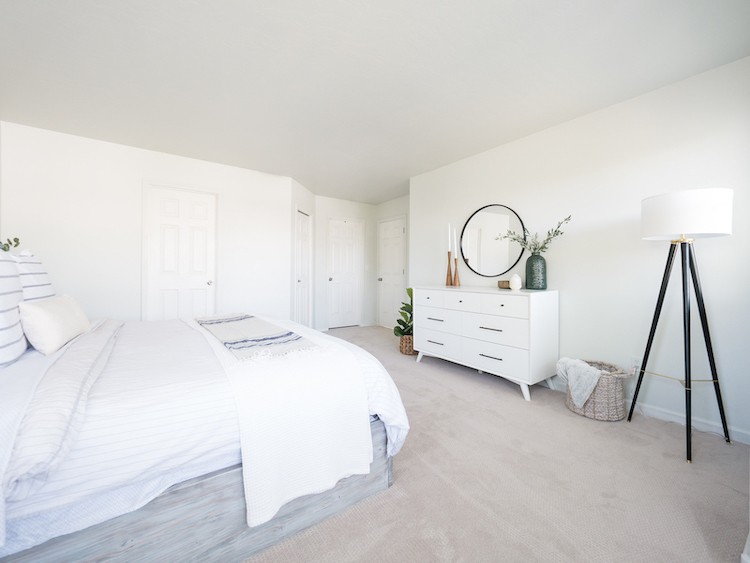 I also really love the texture and design of this carpet. It has a pattern to it, so I think it adds a nice uniform look and is also different from the typical carpet look. It almost looks like a rug instead of carpet, which I absolutely love as a designer.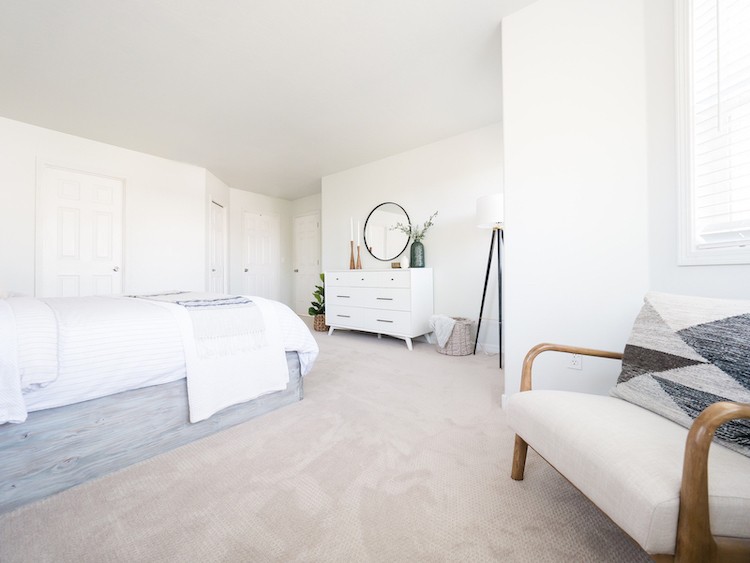 Not only does this carpet look so good, it is also so soft and comfy. Our old carpet felt rough to the touch and not very comfortable to sit on, but this LifeProof carpet is so soft that I feel I can sit on it all day long.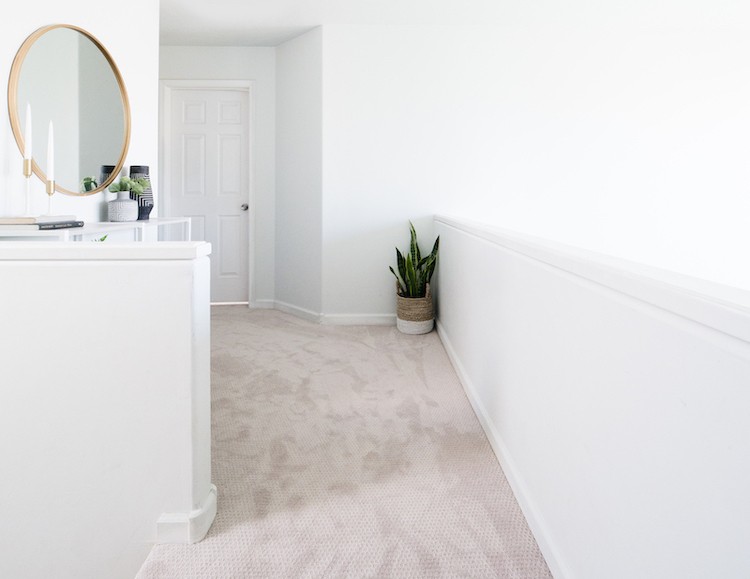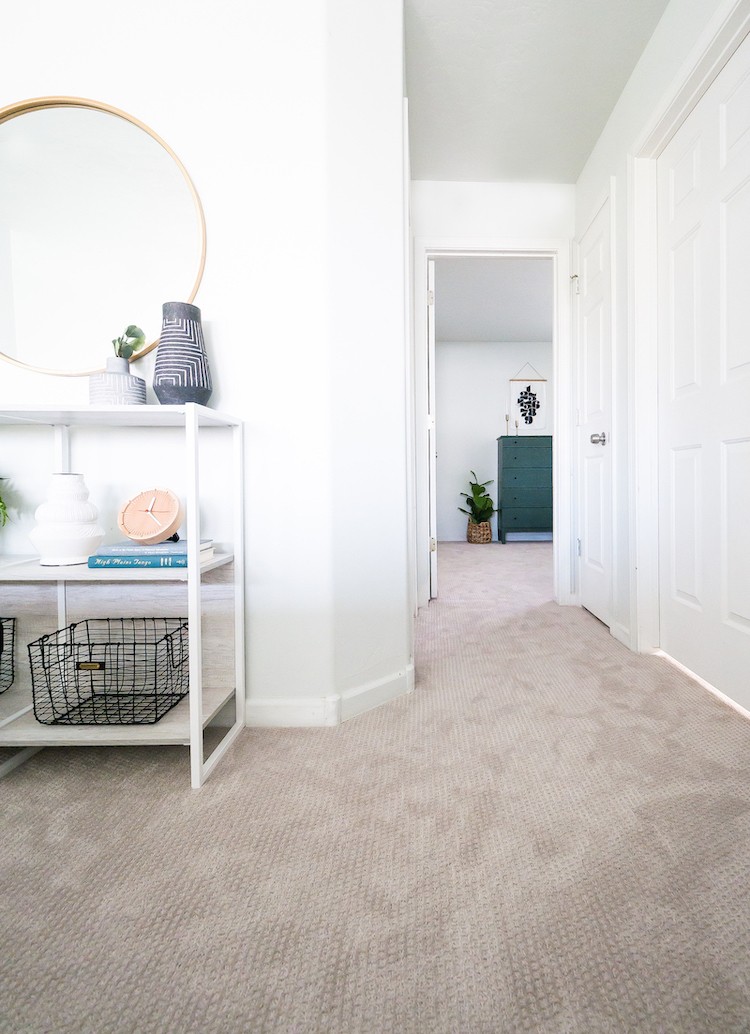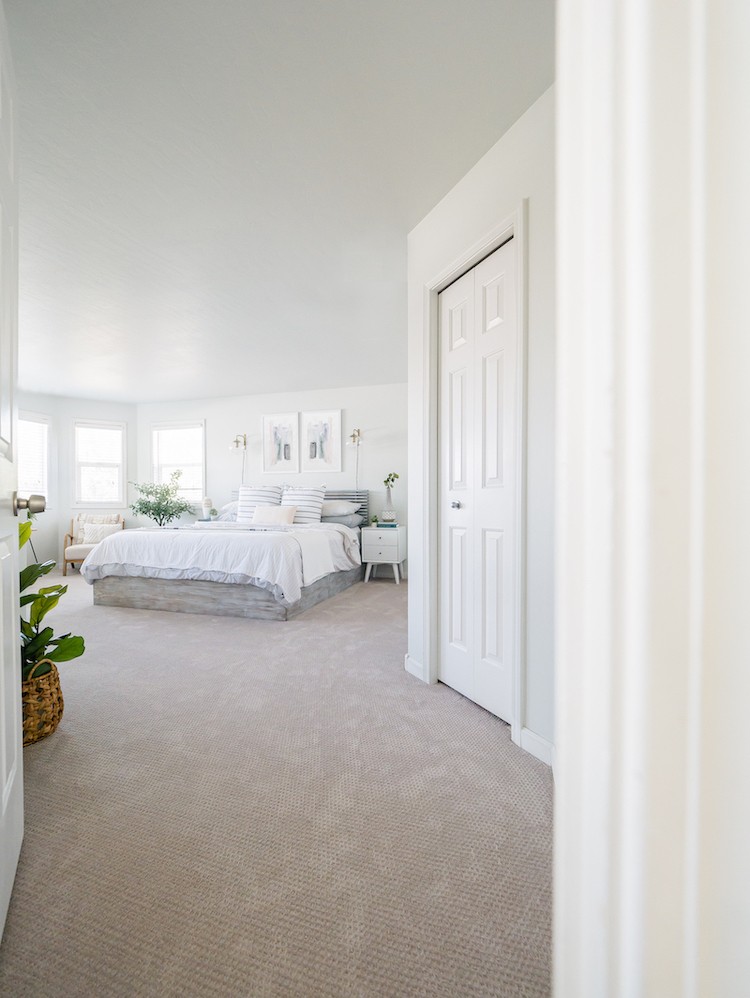 New carpet makes a huge difference! It was the base to our entire master bedroom refresh, and I am so glad we decided on changing it out!
Here are a few tips I learned about carpet along the way:
Don't skip out on a decent carpet pad. This makes all the difference.
Make sure you feel the carpet before you buy. Compare how different textures feel before you make a decision.
Take a few carpet samples home to try in your space. The store and your home have much different lighting so it could look completely different in your house. You also want to see how the carpet will look with your wall color, furniture, etc.
Get a second opinion. This always helps in any decision, really.
Go with what you love. Carpet is something you can easily regret if you don't love it to begin with. And it will cost so much more to get it replaced again.
I hope you enjoyed reading about our master bedroom transformation with LifeProof carpet, and I also hope this helps you feel less intimidated by the carpet choosing and installation process!
The post Master Bedroom Transformation with LifeProof Carpet appeared first on The Home Depot Blog.