Kelly Rowe of
Live Laugh Rowe
recently made over her living room with the help of The Home Depot. To keep with her classic, functional theme, Kelly uses simple Holiday decor to compliment the newly designed space.
Simple Living Room Makeover For The Holidays
We've all been busy preparing our homes for the holidays. Recently, a friend shared on social media that due to pets and little ones, they opted for a tree with just lights.  There is something about keeping things simple.  Simplicity can be just as beautiful as going over the top!  And I feel that we all have to embrace what works for our lifestyles too, don't you agree?
After being in our new home a little over a year, and putting our furniture through a move, we decided to give our living room new life with a makeover this season.  By adding some simple holiday touches to our new furniture, the space feels perfectly cozy and festive.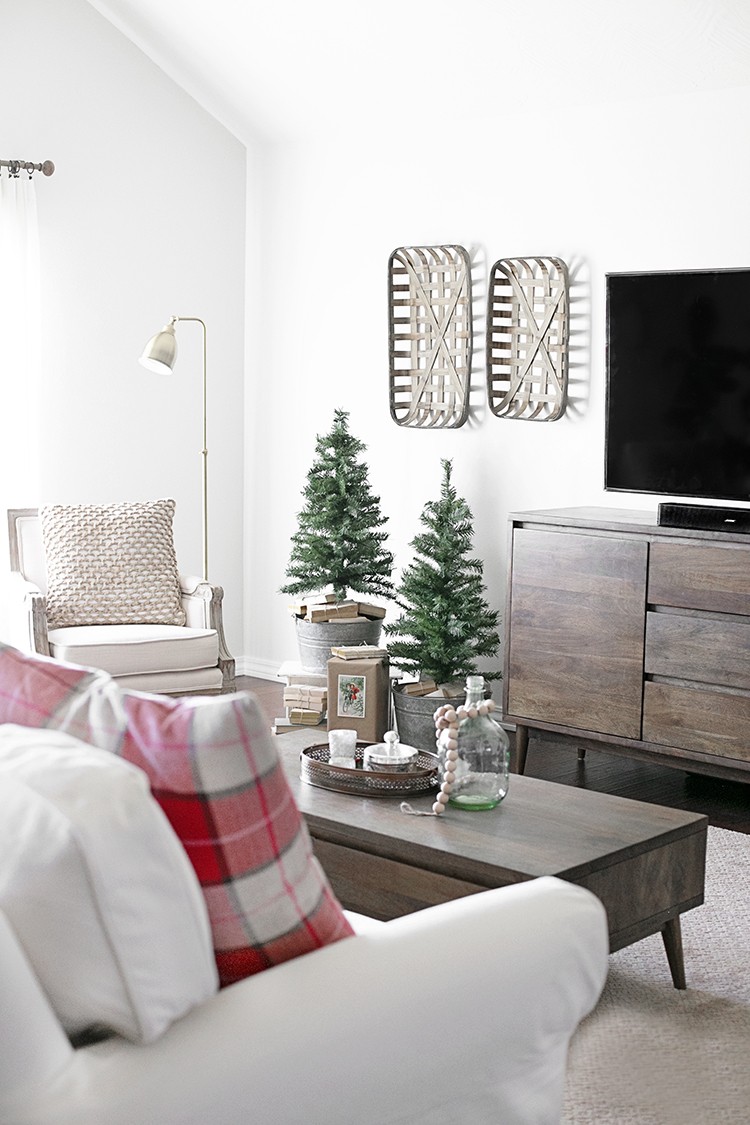 FOCAL POINTS
Big pieces of furniture will always become a focal point in a room.  I feel like our new tv stand took center stage in our living room.  It's a buffet that I thought would make a great media console/storage for our tv and other devices.  We simply drilled a few holes in the back to allow for all the cords.  Isn't this Conrad Antique Natural Buffet a beautiful piece?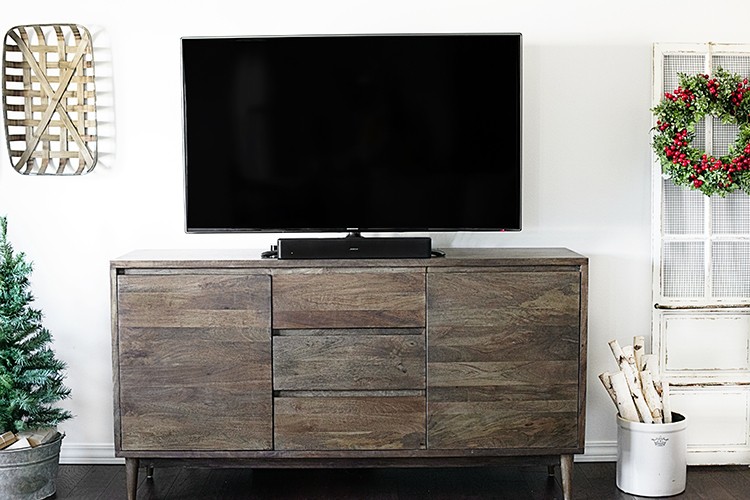 The Conrad Antique Coffee Table and the Mayfair 95" Classic Natural Twill Sofa were two additional pieces that I felt complimented the space perfectly – and, of course, made it functional.  Having a cozy sofa is essential in a living room and the table allows you to kick your feet up or set down a cup of hot cot coffee or tea.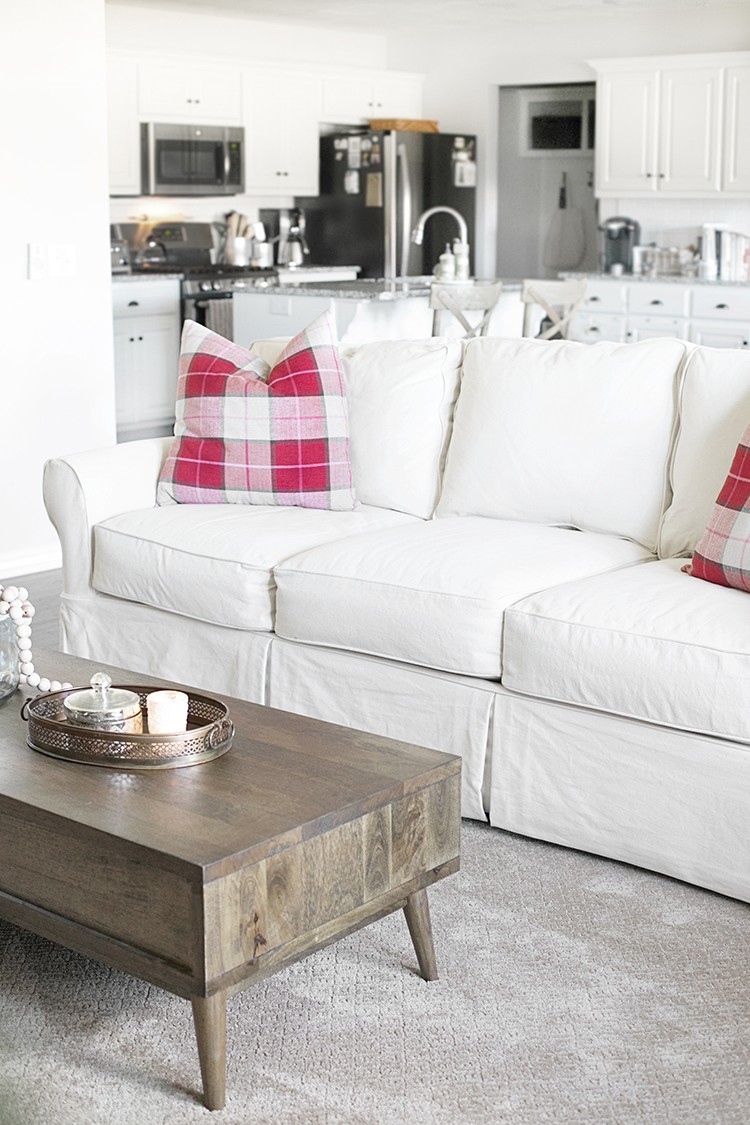 It felt as though the beautiful Miria Carre Natural Upholstered Chairs from the Home Decorators Collection were made to sit in front our large living room windows.  The Ansley Gold Glass Top Tray Table set between the chairs makes this a great spot for catching up with a friend or enjoying a few chapters in a book.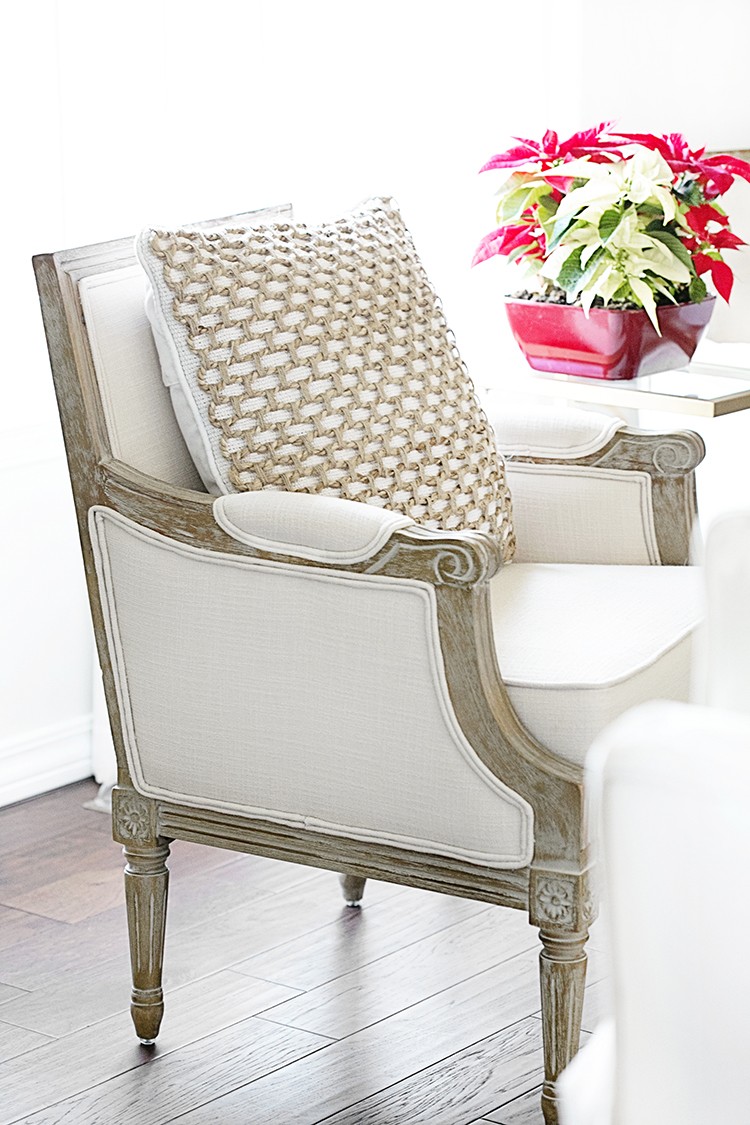 Simply gorgeous!  I love the provincial, French farmhouse feel of these chairs! 
VIGNETTES
When decorating a room, I always think of how I can incorporate vignettes into the space.  So, in our living room I not only thought about each wall, but I gave some special thought to the corners of the focal wall as well.
Until it was time to put up our tree, I thought these 3' Unlit Tacoma Pine Artificial Trees were a darling addition one of the corners.  Placing them in vintage galvanized tubs with old bundles of books added a simplistic touch and my love for vintage finds.
And in the other corner, we decided to keep it functional with an oversized basket we use for storage.  This is actually a coffee table (Kerala Brown Coffee Table), but who says you can't use a piece in a different way, right?
Keeping blankets and pillows in here minimizes the clutter as I may have a slight case of blanket hoarding (wink-wink).  Isn't that Washable Wool Gray Plaid Throw by The Company Store dreamy? It's incredibly warm too!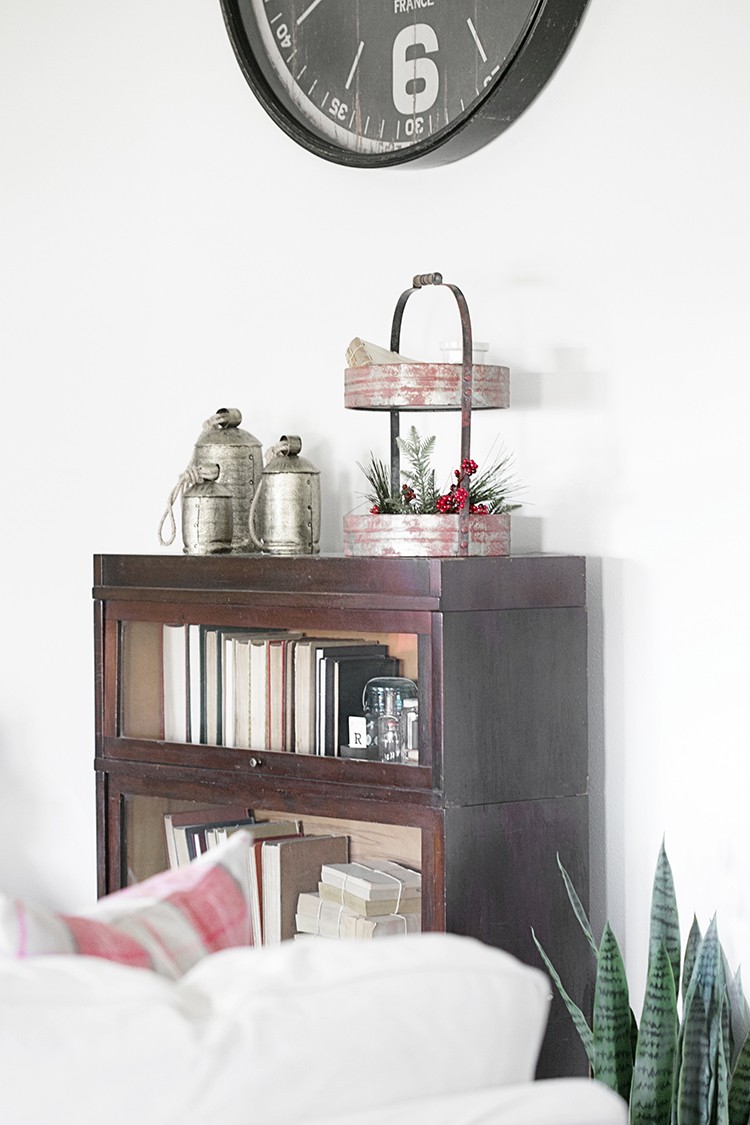 Don't be afraid to mix the old with the new too!  My mom gave me this vintage lawyer bookcase and I just adore it.  The oversized Old World Inspired Vintage Round Wall Clock and other decorative pieces truly complimented bookcase and the room.
HOLIDAY ACCENTS
You can add some holiday accents in a variety of ways, from texture to color, etc.  For me, adding some color into this space was as simple as using pillows like the Penn Plaid Red Feather Down Throw Pillows, a wreath, gift wrapped boxes, table top décor and/or a poinsettia plant.  Honestly, the possibilities are endless!
The traditional colors of Christmas make my heart sing.  Red and green truly represent the holidays and when you add a little silver and gold, you have perfection!
Maybe this year you're planning to add few new pieces to give a space in your home a makeover.  The Home Depot has so many lovely things to choose from.  Whether you're needing some wall décor, furniture, rugs, baskets or even candle votives – they've got you covered!
Do a little exploring and treat yourself to something new!  Merry Christmas, friends.
For more Holiday decorating inspiration, follow the Holiday Style Challenge series on the
blog
.
The post Simple Living Room Makeover For The Holidays appeared first on The Home Depot Blog.